If you have children, then you must have heard it. Cocomelon is all about nursery rhymes that make your child learn them by heart. It is very beneficial for infants who have just learned to speak. It helps the child to speak clear words and make them sing. Cocomelon, previously known as ThatsMEonTV and ABC Kid TV, is a youtube channel and streaming media show that originated in the United States. Cocomelon is all about the 3D animation videos of traditional rhymes and children's songs. In July 2020, it was the most viewed youtube channel in the United States and the second most viewed channel around the world. It is also one of the most subscribed channels in the world. It originated on Youtube in 2006 and is still running. The company of Cocomelon's website has about 20 employees. Bloomberg Businessweek came to know about a couple from Orange County, California, as the owners of the Treasure Studio. Treasure Studio is the owner of Cocomelon. To expand its reach, they are planning to launch their rhymes on Netflix. So, let's read further to know more about Cocomelon Season 4.
What Is The Release Date Of Cocomelon Season 4?
There is no update regarding the release of Cocomelon Season 4 by Netflix, but we can expect the announcement at any time. Based on the release dates of the previous seasons, we might have an idea about the release of the next season. 
In December 2020, Cocomelon Season 2 got aired on Netflix, whereas, in June 2021, Cocomelon Season 3 got aired. According to the pattern of previous releases, Cocomelon Season 4 is likely to release in November or December 2021. A gap of six months usually exists in between the seasons. 
We'll let you know about the release date after an announcement by Netflix.
What Is The Content Of Cocomelon?
There are videos in Cocomelon that include children, adults, and animals talking to each other in daily life. The lyrics are also available at the bottom of the screen of their talk. The content of Cocomelon got added to Netflix, Hulu, and Roku in 2020 by Treasure Studio.
Cocomelon is a three-hour-long series consisting of fantastic nursery rhyme compilations. The first episode starts with a song named First Day at School. Between them is Twinkle Twinkle Little Star and This Old Man He Played One rhyme. These songs express views on the first day at school. His family advises him what he should take along with him and whatnot. They prepare him for school very well and make him aware of his level of emotions. He will be experiencing it there. All these things happen in the first song. The first song finishes, that was of three minutes. Now 57 rhymes are left.
The content of Cocomelon keeps on repeating until a person gets a hangover of it. So, it's not a show to be watched by adults. It is for kids who are at the stage of learning rhymes. 
It is sometimes irritating for a pre-school child as well. The Cocomelon available on Netflix is usually an edited highlight reel of the Youtube version. It is the second most viewed channel on the Earth, having an income of $120m annually. Youtube is the first place where it existed initially. It is suitable for children between one to three years of age. They will surely enjoy it.
Characters in Cocomelon Season 4
The characters in it float around the city weightlessly. Many of the songs follow the dream logic of the movie of David Lynch. The key to the success of Cocomelon is not that it's good enough, but is that it's reliable. Youtube, especially kids youtube, is full of the uncultivated, uninhabited and inhospitable region.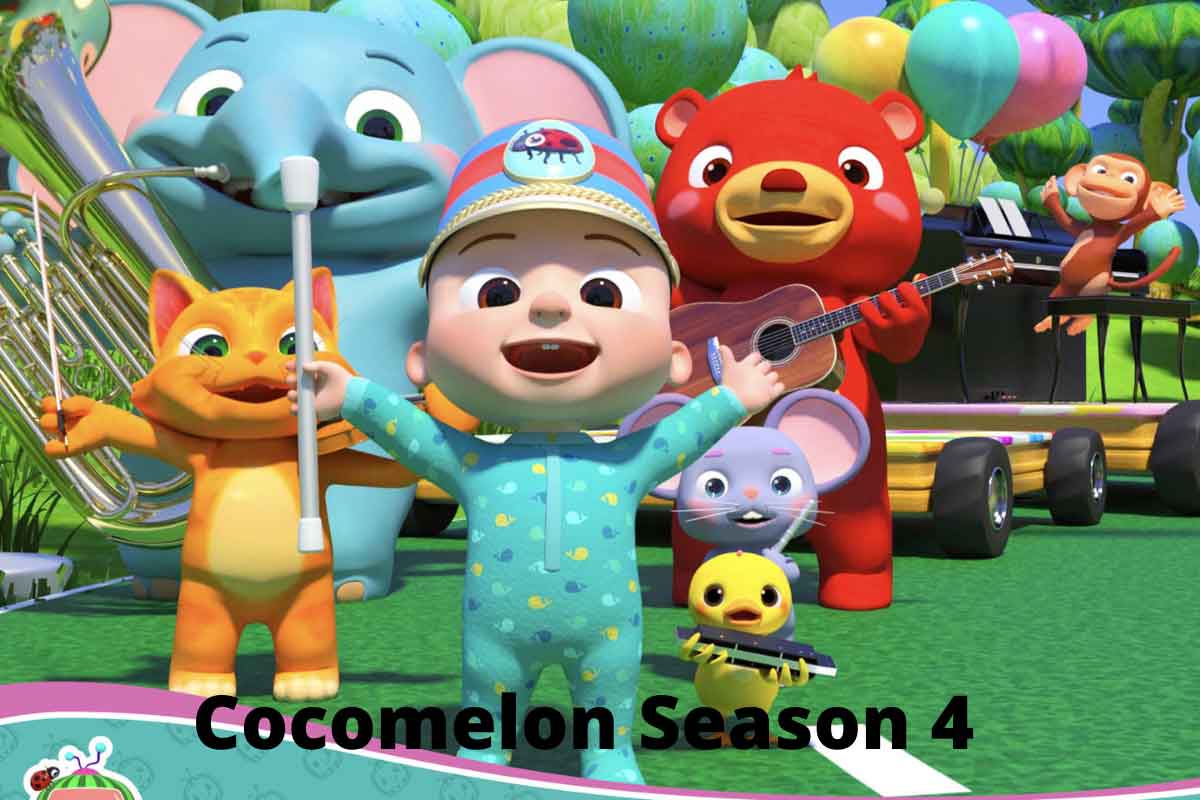 With Cocomelon, you are very well aware of what you are getting. It is a series of inoffensive cartoons, which is slightly unsettling. The rhymes are continuous and allow you to do the other work. Due to the subsequent factor, Cocomelon is doing excellent on Netflix.
Is There Any Trailer Available For Cocomelon Season 4?
There is no trailer available for this season. We are waiting for the announcement of the release by Netflix.
Who Is Going To Be A Part Of Cocomelon Season 4? 
Characters of the previous seasons will be present in this season too.
Hannah An giving voice to Tomtom / Yoyo / Schoolchildren

Alice Cho giving voice to Cece / Nina

Ava Madison Gray giving voice to Bella / JJ

Kristen Princiotta giving voice to Mom / Mimi the Mouse

Brittany Taylor giving voice to Cody's Mom / Doctor / Miss Appleberry

Jake Turner giving voice to Boba / Dad / Grandpa / Wally

Brody Yun giving voice to Cody / Nico

Lin Gothoni giving voice to Mom

Erin Webbs giving voice to ASL Translator

Nyeisha Prince giving voice to ASL Translator
Conclusion:
Cocomelon is very famous all around the world and is loved by children.
If you want to do your work, then Cocomelon will help to keep your child busy.