"With the entry of her new boyfriend and her mother becoming her super boss, Lahela's life is going to be difficult this season."
Season 1 of the bubbly medical show on Disney +, Doogie Kamealoha, MD, has concluded its season 1. Now the fans are looking forward to more life stories of Lahela in season 2.
Set in Hawai, the show revolves around an extraordinary 16-year old teenage doctor, Lahela nicknamed "Doogie". She is juggling between her profession, family, and her personal life.  
The show is based on a 1989 medical drama, Doogie Howser, M.D, premiered on ABC. 
Created by Kourtney Kang, the first episode of the show premiered on 8th September 2021. Season 1 ran for ten episodes and concluded on 10th November 2021. Starring Peyton Elizabeth Lee, Jeffrey Bowyer-Chapman, Kathleen Rose Perkins, Jason Scott Lee, and Ronny Chieng.
The series is quite popular among Disney fans. Now, the fans are curious to know about Season 2. Well, we have a few interesting insights for season 2 right here. So, don't go anywhere without reading till the end if you are a fan of the medical drama.
M.d. Season 2: Renewed or Canceled?
Season 2 of the comedy-medical drama is yet to renewed. However, creator Kourtney Kang has revealed that he has already planned for season 2 and is hopeful that Disney will soon renew the series for the second installment. 
However, as of now, the renewal seems strenuous. There are numerous medical dramas already present on different streaming platforms.
Moreover, the series got an average rating from the critics. It only received an IMDb rating of 6.3 out of 10. However, it is renowned among the Disney audience. There is a slight chance that the series might get renewed soon.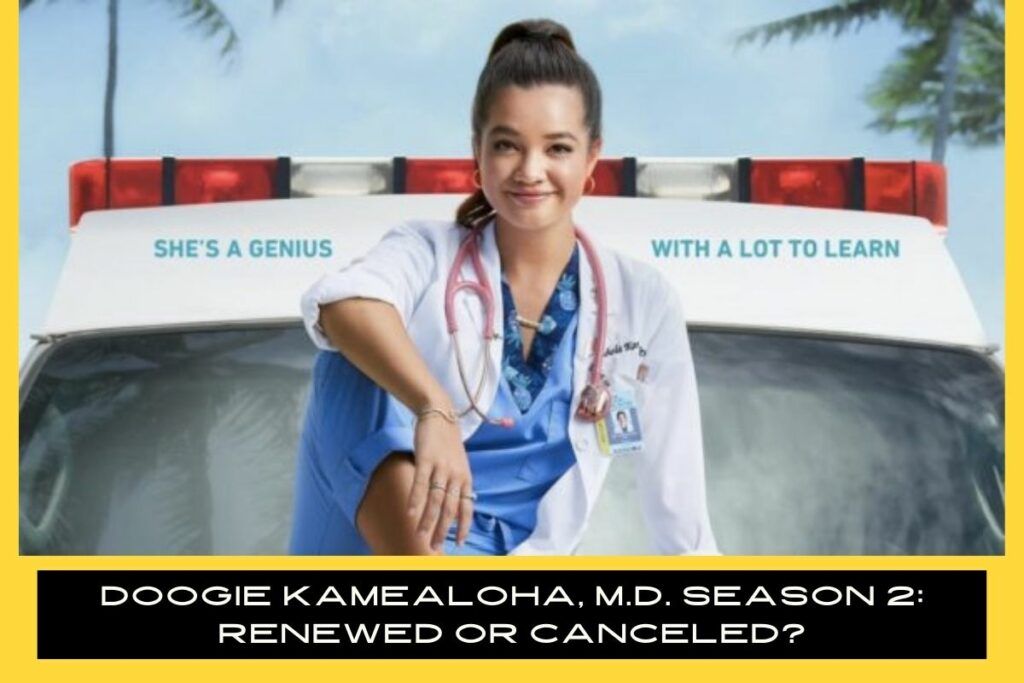 Doogie Kamealoha, M.d. Season 2 Release Date
As stated above, the series is not renewed for the second helping so far. So, it's improbable to guess its release date as of now. Creators announced season 1 in April 2020 and Disney took it over in September 2020.
The first season premiered in September 2021. It took almost one and a half years from its announcement and almost one year after Disney took it over. 
Accordingly, our best guess is the series will likely to release in the fall of next year or at the beginning of 2023.  
Biden's Minimum Book-tax Would Hit These Industries the Hardest, Analysis Shows
 Doogie Kamealoha, M.d. Season 2 Cast
If Disney decides to give a green light to the second season of the series, we can expect the following characters will reprise their respective roles. 
Peyton Elizabeth Lee as Lahela Kameāloha (Doogie)

Emma Meisel as Steph Denisco

Jeffrey Bowyer-Chapman as Charles Zeller

Jason Scott Lee as Benny Kameāloha

Mapuana Makia as Noelani Nakayama

Matt Sato as Kai Kameāloha

Wes Tian as Brian Patrick Kameāloha

Kathleen Rose Perkins as Dr. Clara Hannon
We may also see new faces in the second season, but nothing has been confirmed so far.
Doogie Kamealoha, M.d. Season 2 Plot/ Storyline
Though Disney has not renewed the series for the second season, the show's creator, Kourtney Kang, shared a few fascinating potential storylines for season 2. 
The life of Lahela and everybody connected to her is going to change in season 2. Kang said season first introduces us to the beautiful characters. Season 2 will delve more into the life of all the characters.
Upcoming challenges of Lahela

– Lahela is moving forward in her life. The year was tough for her. Working with her mom, who was also her boss, was a great challenge. However, overcoming all her difficulties, she also began her 1st romantic relationship. In the end, she thought she had managed everything. However, more challenges are awaiting her in her professional life, love life, and friendship.
Women's March Apologizes for Email Reporting an Average Donation of $14.92: 'A Year of Colonization'
Walter and Lahela's relationship-

Walter and Lahela made a romantic bond, and both think they will manage their long-distance relationship. However, the long-distance is not as easy as they assume. Season 2 will reflect their long-distance love life.

Clara the new chief of staff- In

the finale, Clara became the chief of the staff which made her super boss of Lahela. The characters of both the women were strong during the entire season 1. Season 2 will bring new turns into their relationship.

Other Characters-

Season 2 will delve more into the life of Benny and his family. 
Doogie Kamealoha, M.d. Season 2 Trailer
Usually, the trailer of any season arrives before four to six weeks of the release of the season. So, it is confirmed that the trailer is not coming any time sooner as the series has not been renewed yet.
We will keep you posted if any teaser or trailer arrives. Till then, have fun while watching the quirky trailer of season 1 here.