Could more Americans be going meatless this Thanksgiving? 
According to the U.S. Department of Agriculture, frozen turkey stocks have stumbled taking into account the higher prices and disturbances in the supply chain, and are approximately 25 percent below three-year average volumes. 
During a recent interview, Greenleaf Foods COO Adam Grogan said "Turkey consumption over the last number of years is down across the board — [slipping] about 20% over the last 25 years." Greenleaf is the plant-based section of Canadian consumer food company Maple Leaf Foods (MLFNF).
COO further stated that Greenleaf is experiencing a rise in customer urge for increased plant-based offerings, describing that "93% of all new consumers that are coming into our space are meat-eaters." 
The St. Louis Federal Reserve published an analysis last week promoting the benefits of a "soybean-based dinner" that, at 66 cents per serving, costs nearly less than half of a Thanksgiving meal emphasizing poultry, and in comparison, gives approximately twice the protein. 
Although the central bank showed up for heavy contempt and satire on social media, the COO advised they might be onto something. He added "We're seeing an explosion of plant-based roasts that are made for the holidays, both for Thanksgiving and the Christmas timeframe. In the last year, it's up about 48%."
Samsung Will Build a $17 Million Chip-making Factory in Texas
Even Meatless Items Struck by Covid, Inflation
According to Forbes anticipation, this holiday 4.5 million plant-based turkeys will be delivered as the nation's diet shifts. Presently, nearly 5% of the U.S. population have been identified as vegan and/or vegetarian whereas 25% claim they are 'flexitarians' (a cross between completely vegan and vegetarian with the capability to periodically have traditional meat.)
Increasing prices have also left demand affected. According to a recent Wells Fargo analysis of USDA data, Turkey prices have increased by approximately 25% in comparison to last year and about 50% over the five-year average from September.
Still, plant-based companies are not resistant to inflation or COVID-related hardships. Greenleaf Foods have seen 6.6% fewer sales in the latest quarter in comparison to 2020. In the earlier quarter, the division announced a year-over-year sales fall of 20.6%.
In the meantime, Beyond Meat (BYND) curbed its fourth-quarter revenue guidance following a disappointing earnings miss as dropped sales of grocery and higher prices reduced demand.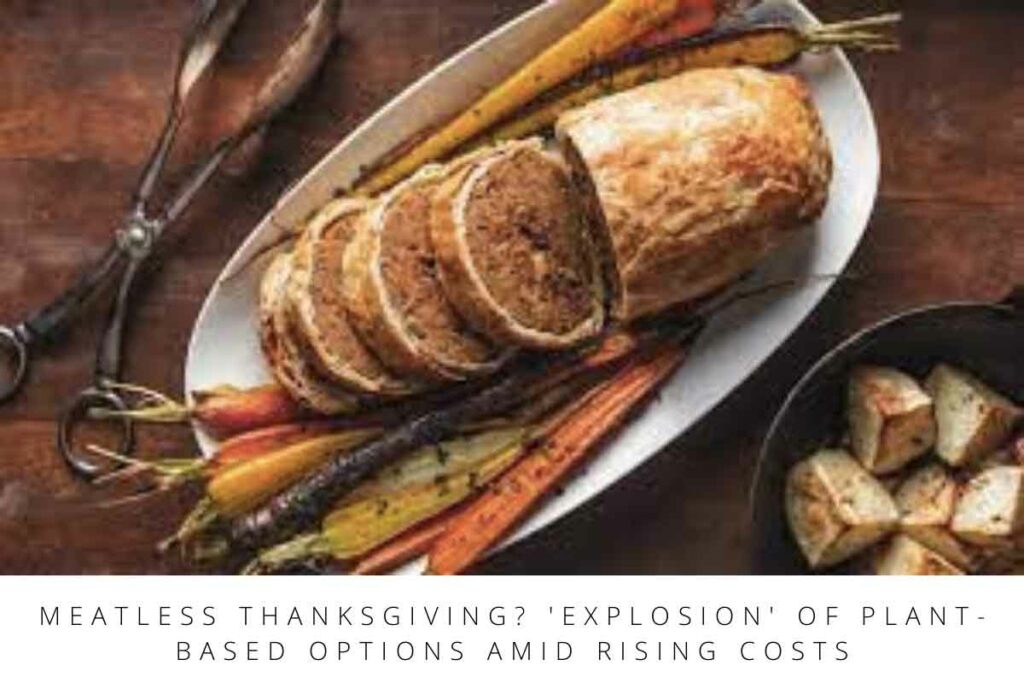 Grogan stated that "Meat costs across the board are up quite substantially, around 12%. For us plant-based, we're also facing several cost increases — a combination of labor and input costs."
The COO continued to describe that the company is "evaluating" what other things could have helped in boosting the sales.
He said, "Over the last couple of years, the category has reached a year-over-year sales growth of 100% since 2019." Adding further "And while many other categories have had what I would deem to be a 'COVID bump'…the plant-based category has stayed relatively stable at an elevated level…so a slight decrease in category consumption [was] to be expected."
While continuing, Greenleaf Foods COO Adam Grogan said "We have a whole new generation of consumers that are interested in mixing their plates with both animal-based proteins as well as plant-based proteins."
According to the latest Good Food Institute industry report, in 2020, U.S. plant-based food sales boosted double times as quickly as animal-based food sales, which totals $7 billion. Within that category, plant-based meat crossed the billion-dollar mark and grew 45% in dollar sales from 2019.
Although, labor crises at retailers and food services have "really stymied some of the innovation and growth that we were seeing before the pandemic."
Grogan typically thinks that customer interest will result in a plant-based revival.
He said, "We have a whole new generation of consumers that are interested in mixing their plates with both animal-based proteins as well as plant-based proteins."
Meat and Dairy Sector Responsible for 14.5% of Greenhouse Gas Emissions
Moreover, despite labor and supply chain difficulties, the COO disclosed that "plant-based has fared a little bit better relative to animal-based protein" as a result of increasing tensions over health, wellness, and the environment (According to the UN's Food and Agricultural Organization, the meat, and dairy industry is accountable for nearly 14.5% of greenhouse gas emanations). 
While concluding he said "There's incredible tailwind here. We'll see how that progresses over the next couple of years…But we're excited about the future."