LaMelo Ball is blossoming into a superstar in his sophomore season, attracting attention for his jaw-dropping assists and keeping the Charlotte Hornets in the hunt for the Eastern Conference playoffs.
As the youngest Ball brother's talent and impact develop, so does his trademark PUMA shoe, the MB.01, with three new colorways debuting in February: a Rick and Morty collaboration, the Hornets-themed 'Buzz City,' and a simple grey and red makeup.
Ball's love of interdimensional cartoons is evident in his two-colored MB.01, with the right shoe dressed in neon green and yellow and the left shoe dressed in a watermelon-like variety of neon reds.
Nightmare Alley Will Be Streaming on Hbo Max and Hulu: Released Date Confirmed
Portraits of Rick (left shoe) and Morty (right shoe) appear on the inside of each tongue, and the lace keepers feature the show's characteristic slime green interdimensional transit portals.
On each heel, a contrasting 'M.E.L.O.' design emerges however we'd have rather see this replaced with 'Rick' and 'Morty'! Fans of the animated series will also be excited to find out that a capsule collection of clothes, including jackets, sweatshirts, and more, will be released alongside this sneaker.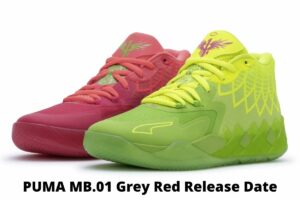 The 'Buzz City' was first introduced around the start of the year. It has already been worn on the court by Ball is a tribute to the Charlotte Hornets, with a black and bright teal color scheme.
The color blocking emphasizes the distinctive 'wings' emblem around the collar, the insoles have a unique galaxy design, and 'RARE' hits can be seen beneath the translucent outsoles. The 'Buzz City' will also come with a complete set of clothing.
The Puma Mb.01
The PUMA MB.01 has a grey top with grey T.P.U. Overlays in high wear areas and vivid red accents throughout. The rocket flame-inspired design on the ankle collar and the one-of-one tattoo-inspired design on the tongue are both in brilliant red, as is the contour of the PUMA Formstrip on the lateral toe.
IRS Is Warned About a 'frustrating' Tax Season: Will the Agency Provide Relief to the Taxpayers?
To cap off the shoe, nitro foam is visible in the grey midsole for impact protection, and the semi-translucent outsole is shown in a translucent grey.
Release Date and Price
The MB.01's February release will commence on February 2, when the 'Buzz City' will be available through the PUMA webshop and the more prominent Foot Locker family of stores.
Both the Rick and Morty collaboration and the grey/red pair will be available on February 18 at the PUMA web store and Foot Locker, while the latter will be available at the PUMA web store, Champs Sports Eastbay. The PUMA MB.01 "Grey & Red" will be available for $125 on February 18 at PUMA.com and select stores.