Claim to Fame viewers may have guessed who Lark's supermodel relation is. The 24-year-old star of the ABC show, which is presented by Kevin Jonas and his younger brother Frankie, has revealed that one of her celebrity relations is a well-known model.
On the reality show Claim to Fame, twelve people with renowned ancestors compete for a $100,000 grand prize. The competitors must keep the identity of their famous relative a secret while also attempting to determine the identities of their co-stars' famous family members while living together in a house without access to social media to help them find out who their co-stars are.
Each week, one participant is assigned as "the guesser," and he or she must correctly identify the famous link of another contestant or face elimination. If they correctly identify a player, that person is required to pack up and depart.
In the first episode, Chuck Norris' grandson was evicted for using a smartphone, Zendaya's nephew Michael was eliminated by Pepper in the second, and Lark correctly anticipated that X was tied to Laverne Cox in the third, sending them home.
If you want to read more articles about this type of topic, check out the links below:
Who is Lark from "Claim to Fame" Related to?
Lark, a Claim to Fame candidate, was found to be Cindy Crawford's niece, and following her eviction, Lark explained how her famous aunt responded to her appearance on the show. Lark advanced to the competition's Final 4 because her fellow contestants thought she was related to Martha Stewart for the whole of the season. Lark was able to keep them on the Martha Stewart track until the final challenges revealed more and more evident indications about Cindy.
Lark Skov is her full name. Cindy's mother is the 24-year-old's sister. Lark was the Guesser twice during Claim to Fame. She was voted the Guesser by her fellow contestants the first time, and she successfully removed X (Laverne Cox's twin brother) from the game. Lark won a competition with Louise (Simone Biles' sister) the second time, but the victory did not come with the usual immunity from elimination.
As a result, they chose to make themselves the bottom two, with Lark elected as the Guesser. She then accurately identified Amara (Whoopi Goldberg's granddaughter) and dismissed her. When Pepper (Dean Martin's granddaughter) correctly recognized her identity with the help of eventual champion L.C. (Keke Palmer's sister), Lark was eliminated from the competition. When Lark was exposed, she expressed gratitude for Cindy's presence in her life, saying that she was "so lucky" to have her.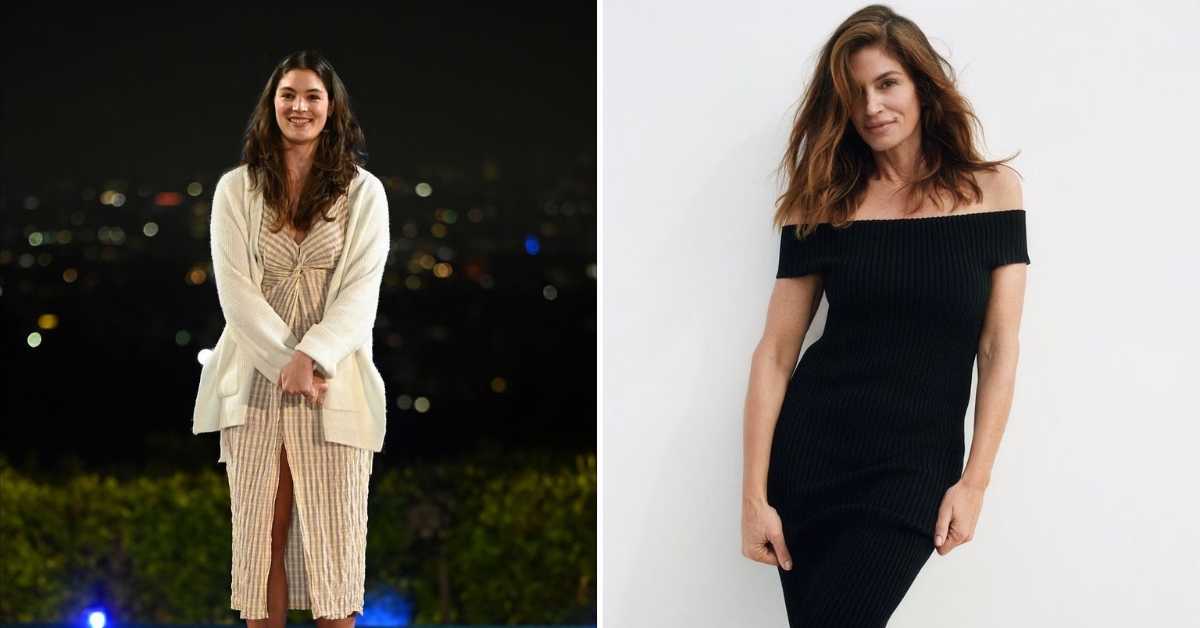 Lark told Newsweek about Cindy's reaction to her being a participant in Claim to Fame. She stated that her famous aunt's advice to her about the game was to "just stay true to myself." Lark noted that her entire family is "very competitive and really loves playing games together, but she wouldn't have wanted me to do anything at the expense of who I am as a person."
Cindy and her daughter, as well as Lark's cousin, model and actress Kaia Gerber, watched the show, according to Lark. Lark stated that, while Cindy did not appear on the show, she had an important role in it, which her aunt enjoyed watching. "I think it's pretty fun for Cindy to see because she obviously wasn't a part of the filming or the competition, so she has no idea what to expect, but she is very much involved and the show includes so much about her life and career," she said.
During the Claim to Fame lie detector challenge, Lark's co-contestants wondered if her celebrity cousin was friends with Snoop Dogg because he and Martha Stewart have an odd bond. Lark said no, but she wasn't sure if Cindy was acquainted with Snoop. Lark highlighted Cindy's reaction to the scene in her interview, adding, "The funniest text I got from her after an episode was after the lie detector challenge. She sent me some pictures of her and Snoop Dogg and said 'I guess you didn't know I was tight with Snoop.'"
Lark took her aunt Cindy's advice and stayed loyal to herself on Claim to Fame. She played the game honestly and tried to stick with her alliance members, even when they betrayed her. During the game, she made her family, including Cindy, very proud. Lark performed admirably in Claim to Fame.
If you want to read more articles about this type of topic, check out the links below:
Who Are the Other "Claim to Fame" Contestants Related to?
Fans of Claim to Fame were already aware that Amarah was Whoopi Goldberg's granddaughter, and they were led to believe that Logan was the cousin of country music star Jason Aldean by a TikTok video.
Pepper may also be the grandchild of Rat Pack member Dean Martin, according to a lot of evidence. Twitter users disagree on whether Brittany looks like Lauren Conrad from The Hills, and many think Kai is related to Tiffany Haddish. The focus of speculation has turned from Dominique's potential relation to Rev. Al Sharpton to a link to Lonni Love.
In conclusion, In the competitive reality show "Claim to Fame," Lark Skov, who was revealed to be Cindy Crawford's niece, negotiated strategic challenges while being authentic throughout the game. Despite her removal, Cindy, who avidly watched the competition, praised Lark's sincere attitude. Lark's journey in the high-stakes competition showed resilience and family pride.