American presidents never fail to draw attention by speaking unpredictably weird statements. Trump, Bush and now even Biden- All are alike. This time, the unpredictability came from President Joe Biden and made the headlines. 
President Joe Biden stated on Friday that disinformation regarding Covid-19 and vaccinations on social media is "killing people," and the White House stated that Facebook needs to clean up its act. 
Surprisingly, Biden's remarks come a day after US Surgeon General Vivek Murthy labelled vaccine falsehoods a global health danger, and US experts cautioned that deaths and serious sickness from the virus are nearly preventable thanks to immunizations. 
Biden was heard further saying "They are killing people. We only have one pandemic, and it is among the unvaccinated…They're also killing people "As he headed for a weekend at the presidential retreat in Camp David, Biden addressed reporters at the White House.
Biden's unsupportive pressure over social media companies
Well, this is not the first time when Biden's government is seen arching at social media companies like Facebook. Critics say they do this because they are 'afraid' of them having monopolistic concentration over the market. But this time, this happened-  The White House is putting more pressure on social media giants to correct widespread misconceptions about coronavirus vaccinations, according to officials.
A recent surge in Covid-19 deaths and illnesses across the country, according to US health experts, is almost entirely affecting persons who have not been vaccinated.
"There is a clear message that is coming through: this is becoming a pandemic of the unvaccinated," head of the Centers for Disease Control and Prevention- Rochelle Walensky told reporters this week.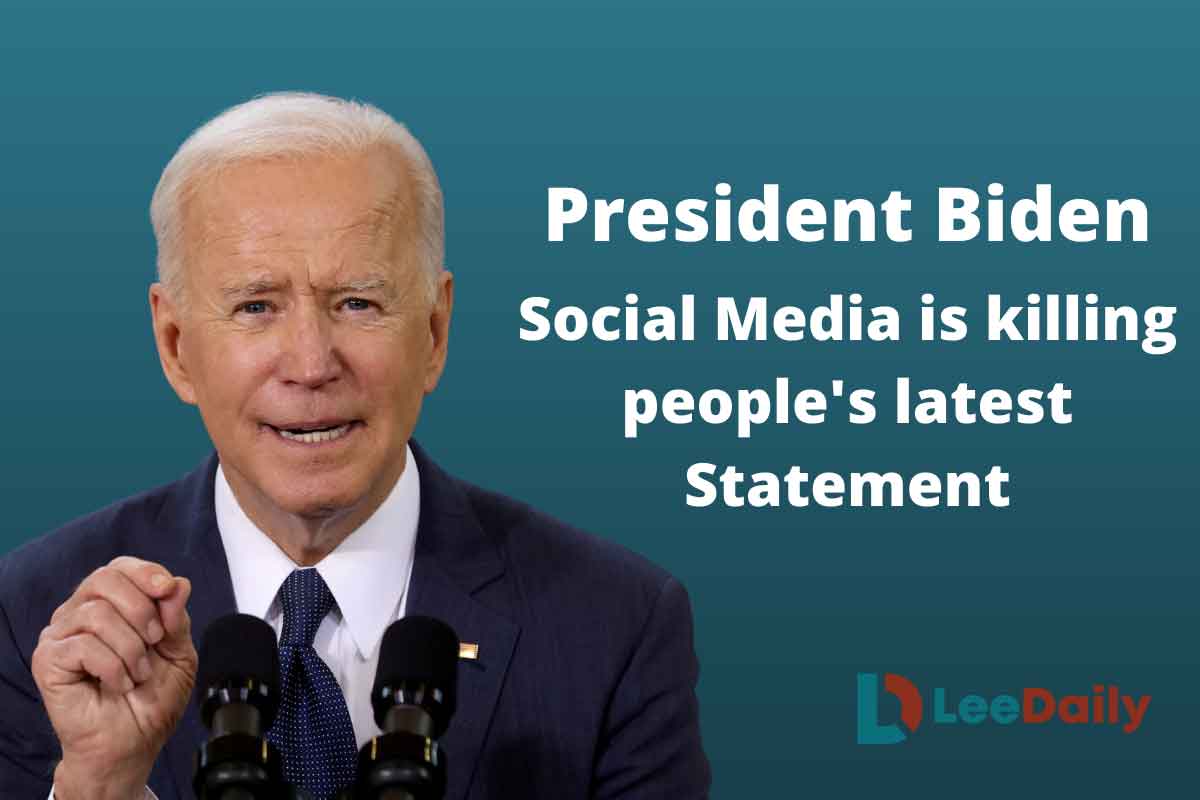 Even though vaccinations are widely available across the United States, many people refuse to get them because they are afraid of the jabs.
Murthy warned on Thursday that misinformation about COVID-19, which the World Health Organization (WHO) has labelled the misinformation as an "infodemic," and as it Is lethal.
Must Check: Cursed Season 2 Release Date, Cast, Plot, Trailer
Addressing speeches at the White House on Thursday, Murthy said, "Misinformation poses an immediate and insidious threat to our nation's health." "As a nation, we must address misinformation. It could save lives."
what Facebook said in response to the allegations
"We will not be sidetracked by charges that are not supported by facts, " said Dani Lever, who is a Facebook spokesperson. Indeed, more than 2 billion individuals have accessed authoritative material about COVID-19 and vaccines on Facebook than anywhere else on the internet. More than 3.3 million people in the United States have used our vaccination finder to learn where and how to get vaccines. If facts are to be believed, Facebook is assisting in the saving of lives. Period."
And now hear what twitter said
"As the COVID-19 pandemic revolves around the world, we'll continue to do our part to elevate trustworthy health information," Twitter wrote on its platform.
Present State of coronavirus in the US
According to US officials, the Delta version of the coronavirus has become the prevalent strain internationally, associated with an increase in deaths in the United States, almost completely among uninfected people.
COVID-19 cases in the United States are up 70% from the previous week, with mortality up 26%, with outbreaks happening in areas with low vaccination rates. According to White House COVID-19 response coordinator Jeff Zients, the most dramatic increase in cases has happened in Arkansas, Florida, Louisiana, Missouri, and Nevada. All of the states have immunisation rates that are below the national average. The Delta form of COVID-19, which is substantially more contagious than the original variant, has been found in over 100 countries worldwide and is now the prevalent variant. In a letter to clients, Michael Newshel, a healthcare analyst at Evercore ISI, suggested that outbreaks in harder-hit states may be driving more demand for immunizations. Residents of Utah and California, he added, are also seeking vaccinations at a faster rate.