According to sources, on Wednesday, the House is planning to vote on a resolution that both censures Republican Rep. Paul Gosar and banishes him from his committee assignments.
Tweet Shows Him Stabbing President Bien and Even Killing Ocasio-Cortez
Last week a tweet that Gosar published reflected an edited Japanese anime cartoon showing President Joe Biden being stabbed by him and killing Representative Alexandria Ocasio-Cortez, D-N. Y, but later he deleted the tweet. 
As per reports, during a GOP conference meeting, Gosar apologized for his tweet on Tuesday, behind closed doors later. Though Republican Leader Kevin McCarthy stated that he talked to Gosar personally regarding the tweet but then no further actions were taken by him on this subject. 
The democratic move to condemn Gosar and eliminate him from his committee assignments was being opposed by the Republican leader.
Gosar Claimed the Video Has No Intention of Encouraging Violence
His staff posted the video only to reach a younger audience and there were no intentions of encouraging violence as confirmed by Gosar. No public apology has been made yet by him.
During a Tuesday press call, House Majority Leader Steny Hoyer said to reporters that "I have never in 40 years seen such a vile, hateful, outrageous, dangerous, and inciting to violence against a colleague, ever."
About Republicans, Hoyer said, "The fact that they would not take some action themselves or make some comments themselves, which I have not seen, is a testament that perhaps they are rationalizing, as they rationalize other items of criminal behavior, this particular action."
So while I was en route to Glasgow, a creepy member I work with who fundraises for Neo-Nazi groups shared a fantasy video of him killing me

And he'll face no consequences bc @GOPLeader cheers him on with excuses.

Fun Monday! Well, back to work bc institutions don't protect woc https://t.co/XRnMAKsnNO

— Alexandria Ocasio-Cortez (@AOC) November 9, 2021
Gosar will be removed from the Oversight and Reform Committee as a result of the resolution, which he serves together with Ocasio-Cortez. He will also be removed from the Committee on Natural Resources.
Democrats Enraged With Gosar's Behavior
Nancy Pelosi, House Speaker told reporters on late Monday night that it was totally upon McCarthy to inhibit and rebuke his conference members but Gosar's behavior left Democrats in anger which consequently pushed a floor vote.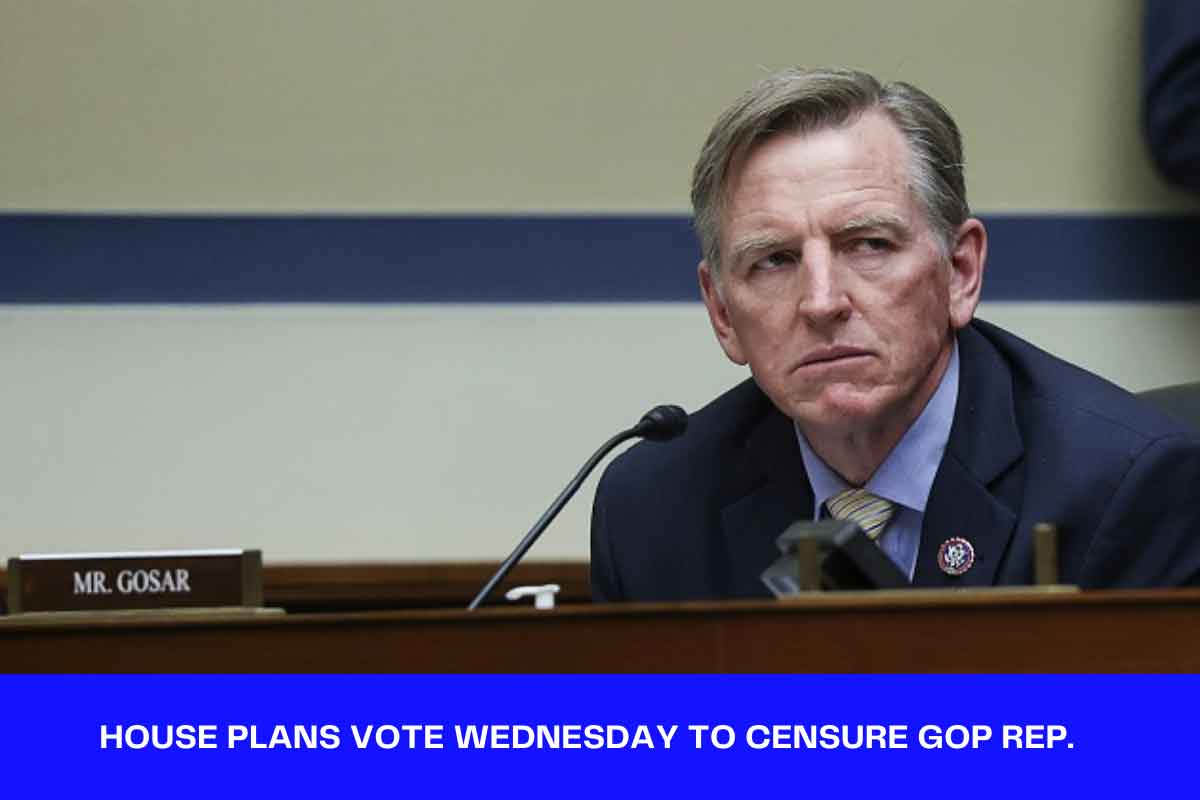 Pelosi in Support of Resolutions, Says We Cannot Have Such Members
According to the Tuesday statement by Pelosi, the resolution is a relevant initiative. While supporting the resolution, Pelosi said "Why go after [Gosar]? Because he made threats, suggestions about harming a member of Congress…We cannot have members joking about murdering each other as well as threatening the president of the United States."
Jpmorgan Sues Tesla for $162 Million Over Warrants Musk Tweets
A simple majority of lawmakers who are present and voting are required for a censure resolution. Gosar could be bound to stand in the middle of the House chamber since the resolution censuring his behavior will be read loudly, if the resolution is approved.
Gosar posted a tweet of a meme on Tuesday evening, that reads, "God gives his hardest battles to his strongest soldiers."
⬇️⬇️⬇️ pic.twitter.com/7fQ7PrzvNT

— Paul Gosar (@DrPaulGosar) November 16, 2021
According to a 2016 Congressional Research Service Report, for misconduct, twenty-three members of Congress have been censured. 
Last Member Who Condemned for Misconduct
In December 2010, the last member of Congress to be condemned was former Rep. Charlie Rangel, D-N.Y., who had been charged with the accusations of about a dozen ethics violations.