The diligent false reporting by media that claims Kyle Rittenhouse was armed with an AR-15 style rifle when he "crossed state lines" prior to his fatal shootings in Kenosha, Wis., has resulted in corrections and remarkable mockery since the relying on the false coverage of the trial still continues.
What Insider described as "perhaps the most persistent myth" over the case was hyped continuously in the media, ahead and even during the trial.
It has been found out from testimony and police records that the rifle that was used by Rittenhouse for shootings of three people, was already in Kenosha. Rittenhouse's friend Dominick Black had bought an AR-15 style rifle for him and kept it at his house.
False Information Reported by Most of Media
The often-used media line that he traveled around "state lines" gave an impression like he was an outsider and traveled from far away, however, he traveled only less than a half hour to Kenosha from his town Antioch, Illinois.
After Rittenhouse discharged from all accusation when he stated he acted in self-defense, Mark Strassman, CBS News correspondent reported on Sunday's "Face The Nation" that "Rittenhouse drove in from Illinois armed for battle," that led the outlet to release a rectification along with an apology for its language.
He was not the only one to use such phrases, dozens of pundits have also done the same during the case.
Ana Kasparian of the left-wing Young Turks criticised the teen for having "crossed state lines with an illegal gun" last month before she corrected herself on a later show, claiming it was essential to have the "facts."
Psaki Refuses to Retract Biden's Characterizations of Kyle Rittenhouse as White Supremacist
Last year, MSNBC's John Heilemann said "The 17-year-old vigilante, arguably a domestic terrorist, picked up a rifle, drove to a different state to shoot people."
On 1st November this year, MSNBC host Joe Scarborough said "Not only was he not standing his ground, he wasn't even standing in his own state," adding "He crossed state lines with an AR-15, threw himself in the middle of all this and started shooting people."
Left-wing CNN anchor Don Lemon stated on 16th November "In Wisconsin you have Rittenhouse, a White teenager who crossed state lines with an AR-15-style rifle. Killed two men and wounded another and was told by police to go home."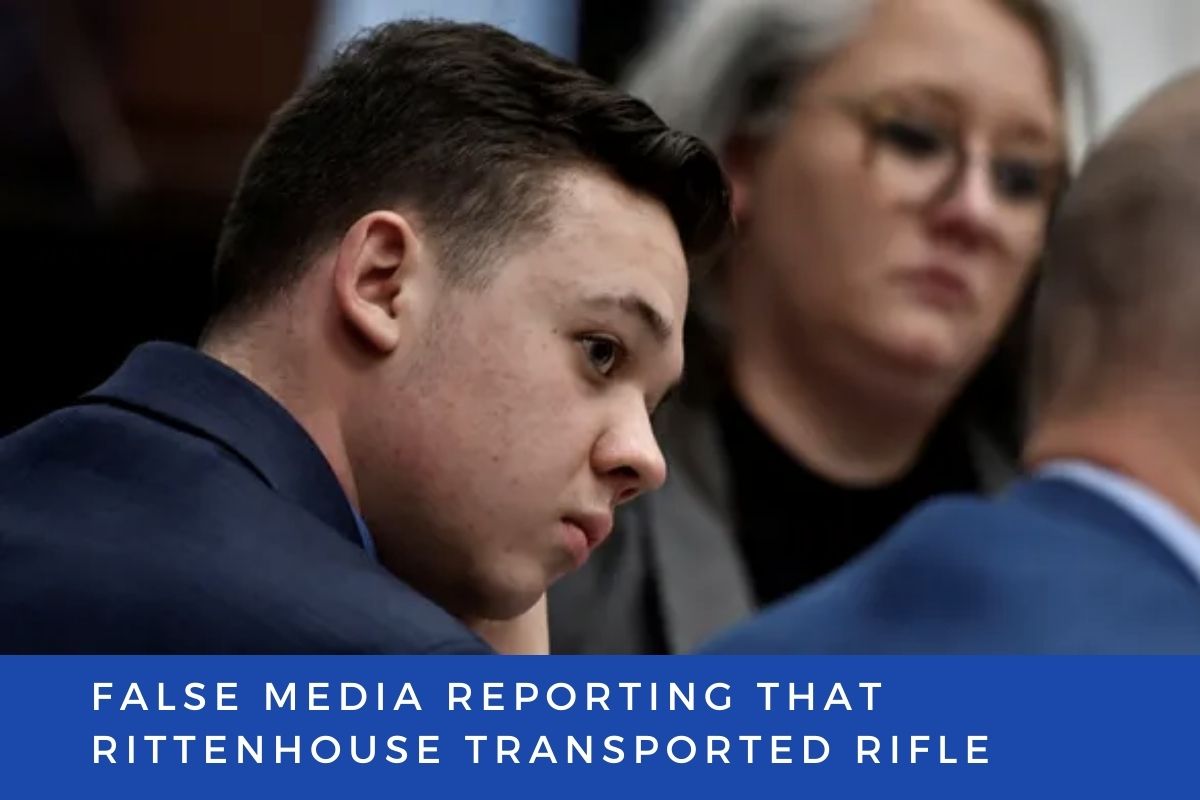 Last month, Ayman Mohyeldin, MSNBC anchor said that "Now if you recall, the teenager drove from his home in Illinois across state lines armed with a semiautomatic rifle to the site of the protests where he shot and killed two men and wounded another."
On 11th November, ABC's Joy Behar had made two incorrect claims, stating Rittenhouse "goes across state lines with an AR-15, with his mother."
CNN's Bakari Sellers also made a false claim saying his mother did not drive him to the city, however the claim was later rectified by Behar after a few minutes but didn't correct regarding the rifle.
Amber Ruffin, left-wing "Peacock" comedian also moved ahead with misinformation. The viral videos with more than 8 million views on Twitter but hasn't been signaled as falsehood.
She said "It's not OK for a man to grab a rifle, travel across state lines, and shoot three people, and then walk free."
This is an interesting artifact, especially the idea that she is communicating "very big, obvious truths that no one is saying on TV," shortly before reciting a list of talking points, many of them factually false, disseminated in every single mainstream outlet. https://t.co/fK9Unhvb78

— Jesse Singal (@jessesingal) November 20, 2021
Endless Examples on Falsehood
If we continue to present examples of falsehood it would be endless. "The View" co-host Whoopi Goldberg, MSNBC's Dean Obeidallah, legal analyst Areva Martin and MSNBC legal analyst Maya Wiley have also made incorrect statements.
Just after the day of verdicts, the New York Times' Glenn Thrush stated a gun control proponent grumbling that Rittenhouse could "grab an assault weapon, travel across state lines" and murder people without any outcome.
He told Thrush that "Only in America can a 17-year-old grab an assault weapon, travel across state lines, provoke a fight, kill two people and injure another and pay no consequences,", with no words that indicated what he claimed was false. Thrush hadn't responded when he was asked to remark if he would correct the reporting.
Greater Georgia Sues for Transparency on Zuckerberg's $5.6m Donation to Raffensperger in 2020 Election
The falsehood was also seen in Reuters and the Washington Post by Fox News Digital, which have both since corrected and also the opinion pieces in Esquire, Glamour, Gothamist and Deadspin. 
A rectification at the top of the Reuters article now mentions "This Nov 19 story corrects the third paragraph to make clear Rittenhouse did not bring his weapon from Illinois to Wisconsin."
The Washington Post reported "An earlier version of this story incorrectly stated that Kyle Rittenhouse brought his AR-15 across state lines. He has testified that he picked up the weapon from a friend's house in Wisconsin. This article has been corrected,".
Calls for remarks from Fox News Digital to CNN, ABC, MSNBC, Gothamist, Peacock and writers at Glamour, Esquire, and Deadspin remained unanswered.
In fact, outlets that appropriately reported that the rifle was already in the city, or simply neglected that fact, yet made a point that he had "crossed state lines," which have the false classification like he travelled afar or was not linked to Kenosha in any ways.
The former New York Times opinion editor, Journalist Bari Weiss, who left the newspaper earlier this year, acknowledged that she was so misinformed by media coverage that she maliciously deemed for a moment that Rittenhouse actually traveled with his rifle across state lines to a town he is not familiar with.
With the headline, "Media Warns Thousands Of Americans Planning To Cross State Lines To Celebrate Thanksgiving," the sarcastic Babylon Bee joined the mockery.
On Friday, Rittenhouse was discharged from all accusations after successfully stating that his actions came out only as self-defense.
In an interview with Tucker Carlson that aired on Monday, the teen said that he could proceed with taking legal actions against those media outlets who passed false information in the case.