James Hetfield, Metallica's lead singer, and leader of Metallica, and his wife of nearly 25 years, Francesca Tomasi, have requested a divorce. This post will find all the information you require concerning James Hetfield's divorce file.
All the Details on James Hetfield's Divorce That You Need to Know
According to several rumors, Metallica vocalist James Hetfield and his wife of 25 years, Francesca, are divorcing.
On August 13, TMZ initially made the split official, citing a "source close to the former couple"  who confirmed to the entertainment media outlet that Hetfield filed divorce papers in Colorado earlier this year. In a statement, Francesca later reaffirmed the information.
"After 30 years of ups and downs but always with a lot of love, I am extremely saddened that my marriage has come to this," she told.
The two started dating in 1992, and they got hitched in 1997. Together, they are the parents of Castor, Cali, and Marcella.
Hetfield addressed his audience emotionally the day after the TMZ report was released at a Metallica concert held at PNC Park in Pittsburgh, Pennsylvania.
Also, You can check out more related articles given below:
"Are you feeling good right now? You've all felt darkness before? This song is about something we're not supposed to talk about," the 59-year-old singer and guitarist said, introducing "Fade to Black."
"We're not supposed to talk about suicide, right? 'Cause, it's scary. It's really scary. Everyone here's been touched by it one way or another. You all struggle — we all know what darkness is — and if you are feeling like you need to take your all life, please don't. Please wait. Please talk to somebody. Somebody loves you always. There is someone who will listen. And I love you, no matter what. No matter what you've done. You are not alone."
In order to be nearer to nature and since Francesca, who was born in Argentina, grew up there, Hetfield relocated his family to Vail, Colorado, in 2016. However, he also wished to distance himself from the "elitist" politics of the Bay Area, despite the fact that Metallica's headquarters are still located in San Rafael.
"I kind of got sick of the Bay Area, the attitudes of the people there, a little bit," In 2016, Hetfield spoke to podcaster Joe Rogan. "They talk about how diverse they are, and things like that, and it's fine if you're diverse like them. But showing up with a deer on the bumper doesn't fly in Marin County. My form of eating organic doesn't vibe with theirs."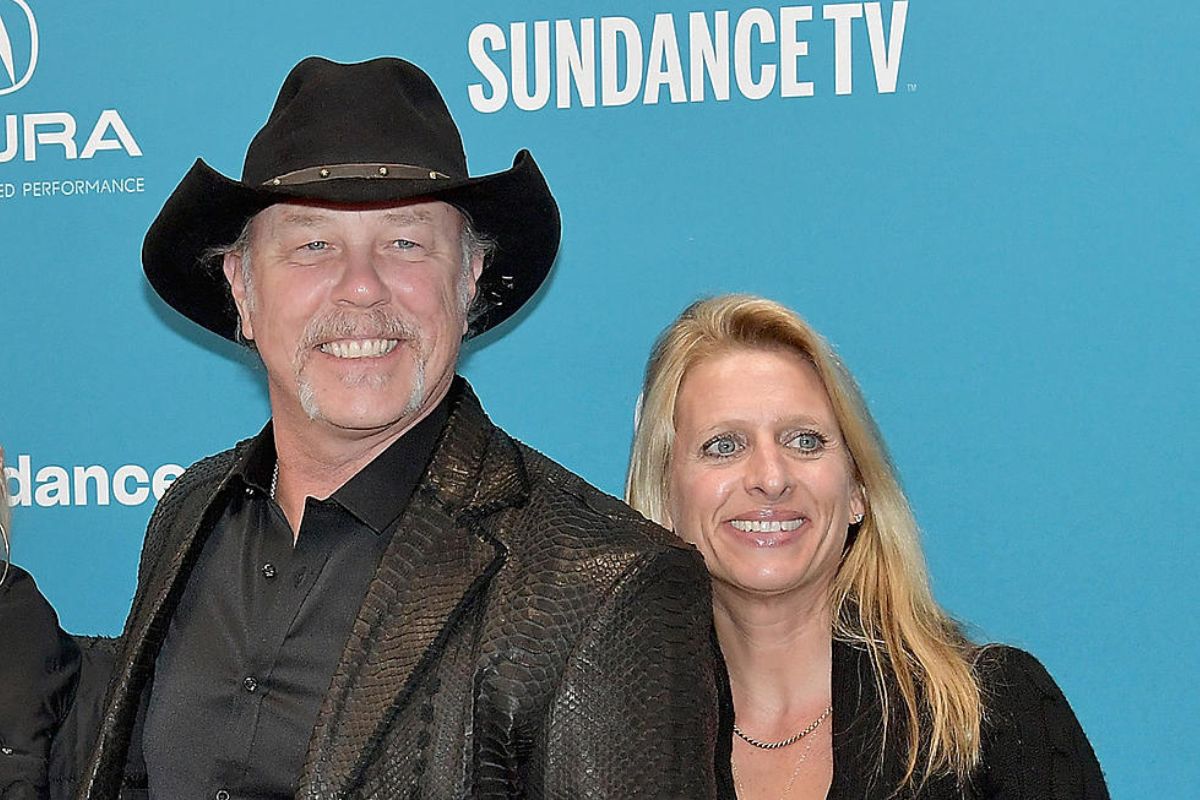 Hetfield clarified, "there was an elitist attitude there — that if you weren't their way politically, their way environmentally, all of that, that you were looked down upon. … It wasn't healthy for me. (I was) starting to feel like I was just fighting all the time, and I just had to get out of my own head."
The Metallica frontman broke down in tears in May while discussing his worries with fans during the band's performance in Brazil.
"I've got to tell you, I wasn't feeling very good before I came out here. Feeling a little bit insecure, like, 'I'm an old guy, can't play anymore' — all this bulls— that I tell myself in my head," On May 12, Hetfield addressed the fans at Belo Horizonte's Estádio do Mineiro.  "So I talked to these guys, and they helped me — as simple as that. They gave me a hug and said, 'Hey, if you're struggling onstage, we've got your back.' And I tell you, it means the world to me."
The band had to postpone their "WorldWired" tour dates in Australia and New Zealand in 2019 after Hetfield entered rehab. His colleagues at the moment released a joint statement on Metallica's website that read, "As most of you probably know, our brother James has been struggling with addiction on and off for many years. He has now, unfortunately, had to re-enter a treatment program to work on his recovery again."
Hetfield originally checked himself into rehab in 2001 as a result of his battles with alcoholism "and other addictions," according to a statement on Metallica's website that year.
The metal titans were frequently referred to as Alcoholica during their prime in the 1980s. The short-lived separation of the singer and guitarist from the band was chronicled in the 2004 documentary "Some Kind of Monster." Many of Hetfield's problems can be traced back to his early years.
He frequently gave Francesca credit for helping him control his temper and substance misuse problems.
Final lines
According to those familiar with the situation, James has already filed for divorce from Francesca Hetfield in Colorado. Surprisingly, no news outlet covered their file, and the couple did their best to keep it out of the public eye.
Please stay connected with us on Leedaily.com for the latest and recent updates.