When Lori Harvey was recently photographed with Damson Idris, she once more made headlines. The latest development reached a head when the couple revealed their on-going romance in a slew of Instagram postings, setting off a firestorm on social media.
To the amusement of social media followers, the couple flaunted their love for one another in a number of Instagram postings. Harvey celebrated her 26th birthday over the weekend with a star-studded party attended by many famous people, including Lizzo, Justine Skye, Kendall Jenner and her new beau Idris, among many others.
As she entered Lavo Ristorante in West Hollywood, California, Harvey, who is renowned for her sculpted figure, looked magnificent. The successful businesswoman and well-known model wore a plunging, form-fitting black one-shoulder dress that was accessorized with strappy, open-toe heels. She accessorized simply with minimal jewelry.
Do check more related articles:
Idris had appeared to confirm the couple's supposed affair by posting many pictures of Harvey before the event earlier that day. Rumors about the couple have been circulating for months. Harvey and Idris were seen leaving Catch LA in December, which sparked rumors. As is customary, the social media community did not hold back when it came to sharing its opinions on the recent incident.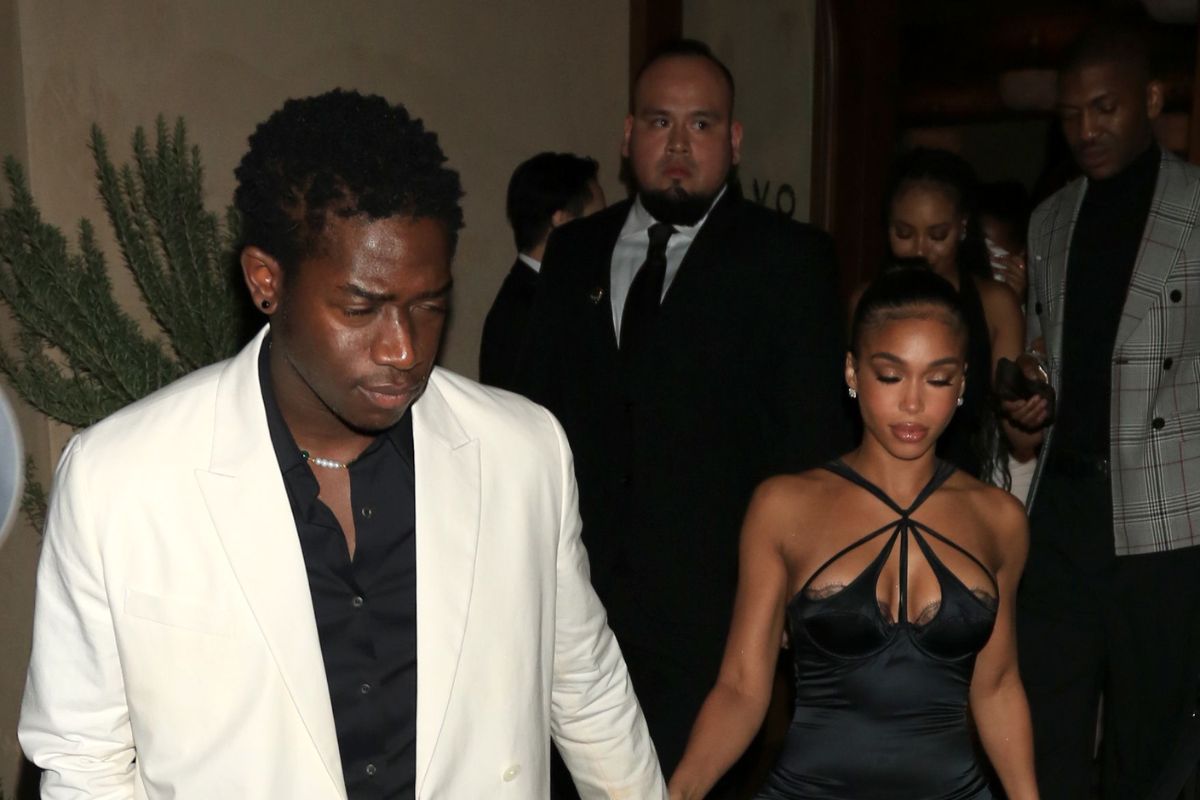 The 26-year-old bombshell had time in a recent interview with E! News to address various claims that have been circulating about her love life and courting past. She emphasized that some remarks regarding her love life are false and made up. She also said that there were multiple occasions when the individuals she was accused of having s*exual relationships with had never ever met her.
Harvey, who has flawless skin, also talked about her skincare routine and revealed the precautions she takes to keep her cosmetics working properly.
"I've always put my eye mask in the refrigerator," she revealed. "Lately, I've been putting my eye cream in the refrigerator and it really wakes me up in the morning," said the SKN by LH founder. In the upcoming weeks (and months? ), Harvey and Idris will undoubtedly share a lot more PDA-heavy posts, and we are totally cool with that.
Damson Idris Confirms Engagement With Lori Harvey
After Damson Idris posted a photo of Lori Harvey and him cuddling up on his Instagram Stories, the two appeared to confirm their relationship.
The actor uploaded a picture of himself kissing Lori on the cheek, captioning it "Happy Birthday Nunu." The apparent affirmation comes just a month after the couple's initial sighting at a Hollywood restaurant where they were dining together, even though they had only recently come out in public to celebrate Lori's 26th birthday. Together, they went to Zack Bia's birthday celebration that same evening.
I think people forget when Judge Lynn Toler said this, therefore go Lori Harvey. You are doing your twenties CORRECTLY! pic.twitter.com/mhrBsMJY1y

— BRI🦋 (@_BriNikole) January 14, 2023
Following her breakup with Michael B. Jordan last year, Lori declared she was going to take some time to focus on herself. She stated to Essence in December that "this moment is for me." I sense that it has always been about me being connected to something or someone. It's about me this time. Self-care, self-love, and introspection. Right now, I'm being a touch too selfish.
My time has come. Idris refrained from denying the allegations that they were courting after the interview became public, but he did congratulate her on the magazine cover by posting a picture of it on Instagram.
In November 2020, Lori and Michael B. Jordan began courting; their romance ended in June 2022. She has previously been associated to Trey Songz, Justin Combs, Lewis Hamilton, and Future, whose song "Maybach" made reference to the breakup of their romance.
Final Lines
Lori Harvey And Damson Idris are courting and social media has a few words. Recently Lori Harvey made headlines again when people spotted her with Damson Idris. This is all we have. Maintain your connection with us so that you can receive additional information from our website, Leedaily.com.