China's GDP only grew by 3% in 2022, which was one of the worst results in almost 50 years and far below the government's stated aim. Months of widespread Covid lockdowns and a historic decline in the real estate market had a significant negative influence on growth.
Nevertheless, the result was marginally better than market predictions, and due to official assistance for infrastructure investment and credit growth, there were some signs of stabilization in the final weeks of 2022.
The fourth quarter saw a 2.9% increase in gross domestic product (GDP), according to data released on Tuesday by China's National Bureau of Statistics. According to a Reuters poll of experts, growth will only be 1.8% in the fourth quarter and 2.8% in 2022.
Kang Yi, director of the NBS, stated during a news conference in Beijing that "China's domestic economy has endured unforeseen shocks in 2022, including repeated Covid outbreaks and extreme heatwaves." The environment is becoming more complex, severe, and unclear as a result of the triple stresses of contracting demand, supply shocks, and decreasing expectations.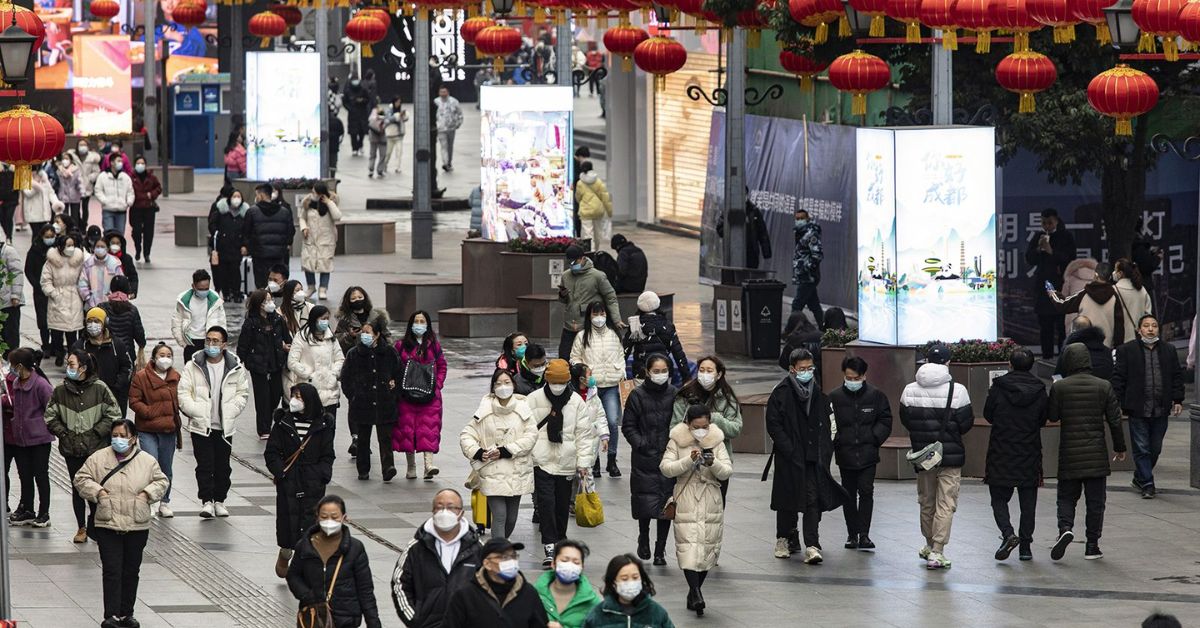 Ever since the outbreak started, China adopted a zero-tolerance policy for the coronavirus. However, three years of limitations have ruined the economy, inflamed the populace, and put tremendous financial strain on local governments.
Early in December, the administration quickly reversed course in response to mounting pressure, essentially terminating its divisive zero-Covid programme. Although the loosening of regulations was welcomed by many, the general population was taken off guard by its suddenness, leaving most individuals to fend for themselves.
Do check: 
Numerous people were forced indoors by the infection's quick spread, and stores and eateries were deserted. Because more employees became ill, factories and businesses were also compelled to stop operating or reduce their output.
China's #economy has shown signs of resilience and vitality, and is set to rebound strongly in 2023 with a gradual pickup in domestic demand, including consumption and investment, according to economists. pic.twitter.com/QGKUV4BbVh

— Zhang Meifang张美芳 (@CGMeifangZhang) January 17, 2023
"Q4 numbers exceeded forecasts, surprising to the upside. Nevertheless, the data continue to show that the Chinese economy had a difficult year, according to Aidan Yao, senior emerging Asia economist at AXA Investment Managers.
Worst is Over?
The data released on Tuesday provided a looatof the economic disruption caused by the Covid increase during the previous month. For the third consecutive month, December saw a 1.8% decline in retail sales.
According to Chaoping Zhu, global market strategist at JP Morgan Asset Management, the infection of Covid was the key factor contributing to the contraction since "most individuals became ill and stayed at home."
#BREAKING: China's GDP tops 121 trillion yuan ($17.93 trillion) in 2022, up 3% YoY.

— Zhang Meifang张美芳 (@CGMeifangZhang) January 17, 2023
Retail sales decreased by 0.2% for the entire year after growing by 12.5% in 2021. In the meantime, December saw the smallest increase in industrial production growth in seven months, at 1.3%. It increasedby  3.6% in 2022 as opposed to 9.6% in 2021. There are some promising signs, nevertheless.
From January to December, investments in fixed assets rose 5.1%. Investment in basic infrastructure, which includes ports, railroads, and telecommunications systems, increaseby d 9.4% overall in 2017.
Manufacturing investments in electrical machinery and equipment increased by 42.6% over the same time frame. According to commentators, the government's push for infrastructure investment and its efforts at monetary easing were responsible for the growth.
According to Louise Loo, senior economist for Capital Economics, "the good news is that there are now signs stabilizationion, as policy support doled out towards the end of 2022 is showing up in the relative durability of infrastructure investment and loan growth."
Although consumer spending is still lacking, total economic growth could accelerate starting in March, according to her. According to Yao, Q4 was perhaps the darkest period befohe dawn. It's possible that some of the data's unexpected results for December were due to cities' economies bottoming out after the peak of infections by the middle of the month.
Policy Support
Recently, policymakers committed to doing everything in their power to salvage the economy in 2023, relying on the private sector to support growth. They have reduced pressure on the struggling IT and real estate sectors, which have been suffering since 2020 as a result of a broad regulatory crackdown on private enterprise.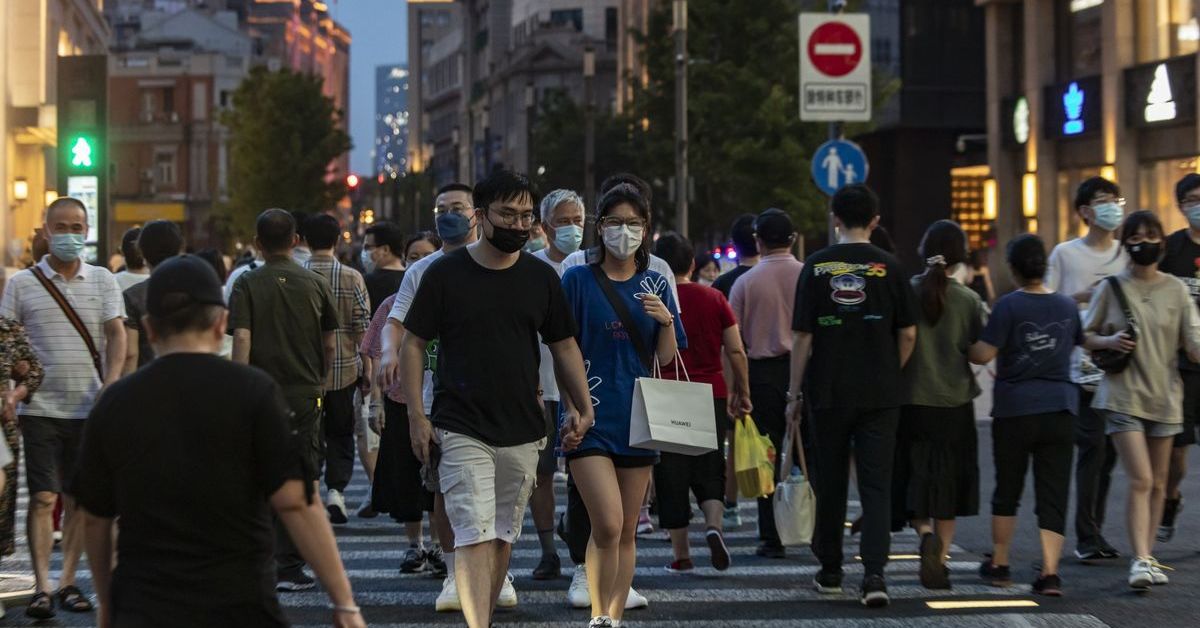 The actions have increased analyst and investor optimism of a major recovery in China's economy. The current range for the growth of China, according to a committee of government economists and international analysts, is 4.3% to 5.4% for 2023. Some believe Beijing will set a growth goal higher than 5%.
Continuing Risks
But the nation still faces a lot of difficulties. Risks still exist in the real estate market and with local government debt, according to Zhu. He anticipates that the central bank will reduce interest rates once more in the first quarter, followed by other monetary easing measures.
According to Harry Murphy Cruise, economist at Moody's Analytics, "China's 2023 will be rough; not only will it have to navigate the threat of additional Covid waves, but the country's deteriorating residential real estate market and sluggish global demand for its exports will be substantial brakes."
China reports 3% GDP growth for 2022 as December retail sales, industrial production beat estimateshttps://t.co/NttBr3A5p7
Take economic data from Communist China with a pinch of salt especially given that it was a very political year with zero-Covid policies. Still OKish number

— Harsh Gupta Madhusudan (@harshmadhusudan) January 17, 2023
The statistics agency also disclosed a decline in China's population. In 20221.4118 billion people were livingng in the nation, a decrease of about 850,000 people from 2021. The fall, according to analysts, was the first since 1961.
The demographic dividend cannot serve as a structurengineerine for economic growth in China. Demographics will be a challenge moving ahead, according to Pinpoint Asset Management's president and chief economist Zhiwei Zhang. "Productivity growth, which is fueled by governmenprogramses, will have to depend more on economic growth."
Stay connected with us for more information on our site Leedaily.com