A wave of new Funko Pops in the Demon Slayer: Kimetsu no Yaiba lineup is helping the massive Funko Fair 2023 event get off to an exciting start. Since the initial wave debuted during the 2021 Funkoween celebration, this is the popular Anime's first significant Pop drop. It comes as fans eagerly anticipate the Season 3 premiere later this year.
Funko Fair Demon Slayer Seasons 1 and 2 on Netflix
Beginning on January 21, you'll be able to watch Seasons 1 and 2 of Demon Slayer on Netflix while you wait for the new season to premiere. The Pop Keychains and Funko Fair Pop Figures are also available for pre-order.
Below is a list of every Funko Fair Demon Slayer Pop in existence. Check back because exclusives are anticipated to drop today and will be added if/when they go live. Remember that using the Entertainment Earth links will automatically qualify you for 10% off all in-stock items and free US shipping on orders of $39 or more.
Demon Slayer – Rui: Pre-order at Entertainment Earth
Demon Slayer – Kanao Tsuyuri: Pre-order at Entertainment Earth
Demon Slayer Tanjiro with Noodles: Pre-order at Entertainment Earth
Demon Slayer Mitsuri Kanroji: Pre-order at Entertainment Earth
Demon Slayer – Rengoku: Pre-order at Entertainment Earth
Demon Slayer Pop Keychains: Inosuke, Tanjiro, Zenitsu, Nezuko: Pre-order at Entertainment Earth
Demon Slayer – Kanao Tsyuri (Glow) – Barnes & Noble Exclusive (Coming Soon)
Demon Slayer Final Selection Guides 2-Pack – Amazon Exclusive
Demon Slayer – Rengoku (Glow) – Walmart Exclusive
Demon Slayer – Nezuko Kamado in Basket – Hot Topic Exclusive
Demon Slayer – Nezuko (Metallic) – Toystop Collectibles Exclusive
Demon Slayer – Kagaya Ubuyashiki – GameStop Exclusive
It should be noted that this year's Funko Fair 2023 will occur on January 18, January 25, and February 1, with new Funko Pop releases occurring throughout each day. With the help of our master list for the Funko Fair 2023, you can keep track of all the latest releases right here.
Do check out some related posts. The links are given below:
In related Demon Slayer Funko Pop news, earlier this month, Funko opened pre-orders for a Tanjuro Kamado Funko Pop that just so happens to be a highly sought-after AAA Anime exclusive. Tanjiro performs his Sun Breathing Hinokami Kagura dance in it (Dance of the Fire God). The details include a wooden blade, a blindfold, and an elaborate dress.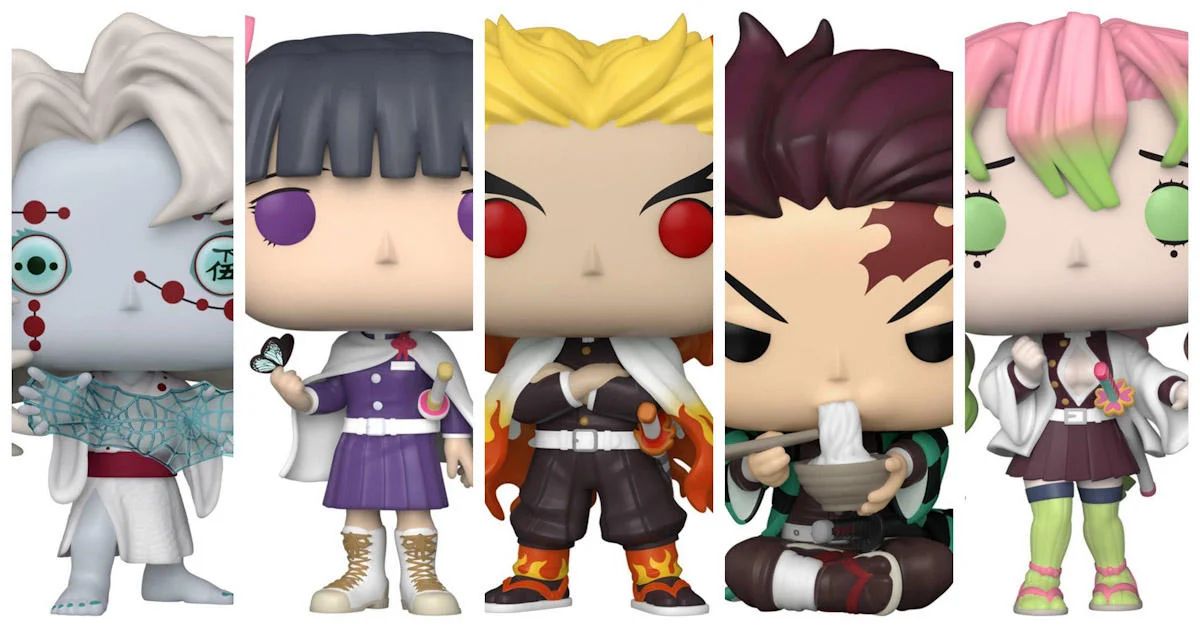 In Hinokami Kagura, the effects of sunshine are imitated. The move's significant damage and unpredictable nature make it robust against demons. The design and AAA Anime exclusivity make this Tanjuro Funko Pop very likely to be in high demand. Remember that purchasing one through the ComicBook.com exclusive links in this article will automatically add free US shipping on purchases $39+ and a 10% discount on all in-stock items. You can get one here at Entertainment Earth, which is priced at $19.99. The Demon Slayer Giyu Tomioka AAA Anime Exclusive is also available at Entertainment Earth for $19.99.
"From the Demon Slayer: Kimetsu no Yaiba manga and anime series comes this Demon Slayer: Kimetsu no Yaiba Tanjuro Kamado Pop! Vinyl Figure – AAA Anime Exclusive. Tanjuro is shown in his Hinokami Kagura dance (Dance of the Fire God) from the Sun Breathing technique. This enigmatic technique was passed down to his son, Tanjiro Kamado, and utilized in his fight against Upper Six demons Daki and Gyutaro. Tanjuro features dark brown garb adorned with golden and crimson flames. A large blindfold obscures his face, and he's holding his wooden blade."
How to Watch Demon Slayer Season 3
The third season of Demon Slayer: Kimetsu no Yaiba will focus on the Swordsmith Village arc from the original manga series by Koyoharu Gotouge. Things will only get more difficult after the first Upper Ranks member strikes Tanjiro and the others. They will be up against far more formidable demons than anything they have encountered, so they must maintain their composure to survive.
Also, read more related articles here:
It won't be long before we see how all of the battles in the Swordsmith Village arc play out thanks to the recurring Love Hashira, Mitsuri Kanroji, and Mist Hashira, Muichiro Tokito, who will be joining the fight for the first time in the Anime. However, Anime doesn't yet have a firm release date for this Spring.
Final Words
Funko Fair 2023 is changing things, with Toy Fair New York going to October this year. Instead of a marathon, it will be a three-day event over several weeks. However, on January 18, January 25, and February 1, hundreds of new Pop figures, Soda figures, Pop Plush, and more will launch at a steady pace. We're creating an event guide here for convenience.
Please stay connected with us on Leedaily.com for more entertaining News.