A Chihuahua mix in Ohio holds the Guinness World Record for the oldest living dog at age 23. Spike, born on December 7, 2022, is around 9 inches tall and 12.9 pounds as of December 7, 2022. Rita Kimball, his owner of more than 13 years, first spotted him in the parking lot of a supermarket in Camden, Ohio. At the time, his age was speculated to be 10.
"He had been shaved up his back, had blood stains around his neck from a chain or rope, and looked pretty rough," Kimball told GWR. "The clerk in the grocery told us he had been there for three days, and they were feeding him scraps."
Kimball claims that when she and her family left the store and went into the parking lot, Spike followed them. Because she had no idea who he belonged to, she took him in and gave him a place to stay on her little farm.
The Chihuahua got its name from a cartoon canine with the same characteristics—a big, hostile dog. Kimball claims that, despite Spike's diminutive stature and affable nature, he possesses the temperament of a much larger dog.
Check out our similar articles which are related to dogs-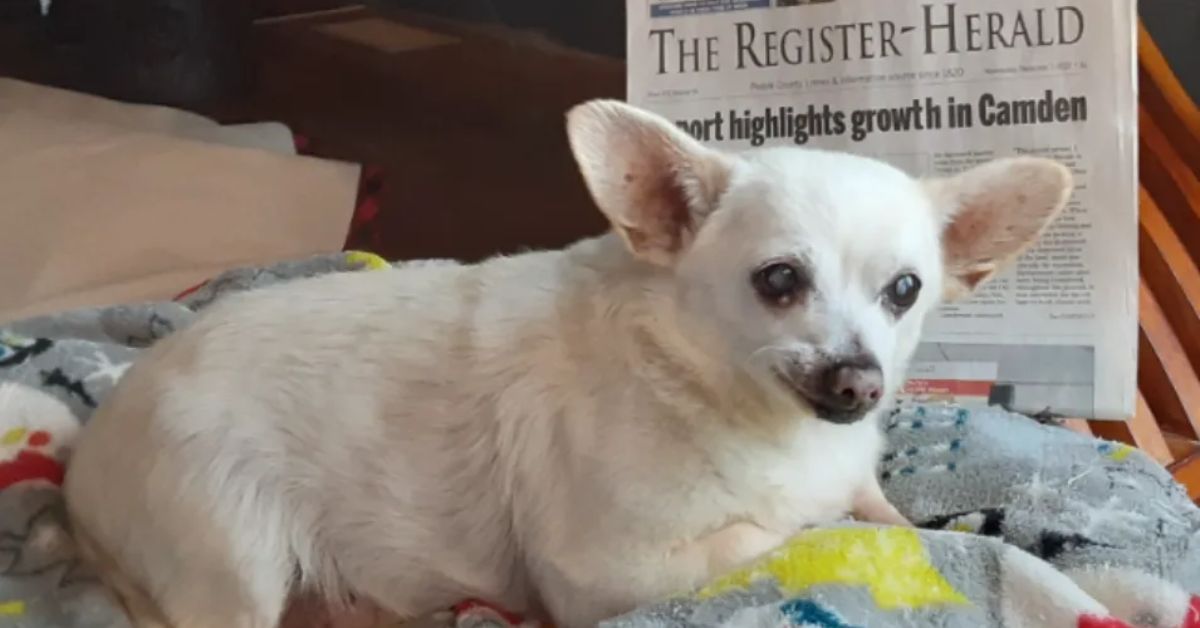 A stranger petting him is the only time he exhibits Chihuahua-like behavior, according to her. He's nice, but he may be irritable since he's hard of hearing and nearly blind, she explained. Kimball believes that the long life of her dog may be attributed to his or her solid schedule, balanced food, plenty of space to run about in, regular exercise, and lots of affection.
She mentioned that Spike usually gets up between 7 and 7:30 in the morning and that his morning routine may or may not include breakfast, depending on his mood. He begins his day with a visit to the family's barn, where he spends time with the cows, horses, and barn cats before returning home for a snooze on the porch.
During the warm summer months, Rita enjoys taking him on long walks in their rural community on the weekends. She explained that after a busy week, they give Spike a bath on Saturday night and then cut wood, clean up fence rows, bale hay, and harvest crops.
Kimball mentioned that on rare occasions, Spike would have braunschweiger with cheese for supper and that on other occasions, he would snack on his favorite chips, Doritos. The house cat and sleeping are two of his favorite pastimes. He also likes to play hide-and-seek with his stuffed fox.
Kimball reached out to Guinness World Records after finding her dog was older than the previous record holder, Pebbles, after viewing her on an episode of Jimmy Fallon. Pebbles passed away in October 2022, at the age of 22.
"Most of our family knew that Spike was old but didn't know he had a shot at being the oldest in the world," Kimball said. "Now that he is a record holder, they see him as a celebrity."
The world's most wealthy animal is listed below-
Last Lines
The oldest living dog is a Chihuahua mix named Lucy from Ohio, who is 23 years old and has the Guinness World Record. On his seventh birthday, Spike weighs around 12.9 pounds and measures about 9 inches in height. His owner of more than a dozen years, Rita Kimball, first saw him in the Camden, Ohio, grocery parking lot. Some estimated his age to be 10 at the time.
Please forward this post and encourage your friends and family to visit leedaily.com for the newest news.