The Dallas Police Department is looking into the death of a rare vulture that was found dead in its home at the Dallas Zoo on Saturday morning.
The Dallas Zoo says that Pin, an endangered lappet-faced vulture, was found dead in his enclosure in the Wilds of Africa habitat with a wound that looked like it was caused by a gunshot.
Those in charge at the zoo have expressed suspicion over Pin's death due to the injuries. Officials at the zoo wouldn't say more about Pin's injury, but they said again that the bird's death didn't seem to be natural.
The Dallas Zoo made the sad and formal announcement on their Twitter account on January 22 that one of the endangered vultures that lived in their Wilds of Africa habitats had passed away:
This weekend, our staff found that one of the endangered vultures in our Wilds of Africa habitats had died. The animal care team is heartbroken over this tremendous loss. Please keep them in your thoughts as they process what has happened. pic.twitter.com/0fqJc8Uk2Y

— Dallas Zoo (@DallasZoo) January 22, 2023
Officials at the zoo said that they don't know when Pin died yet, but that a necropsy will be done to find out more about how he died.
"It's totally unprecedented and very, very disturbing," said Greg Hudson, president and CEO of the Dallas Zoo.
Hudson said that they know there is a chance that a zoo worker hurt Pin and caused the recent damage to his habitat.
"Everything is under suspect at this point. Internal, external. We're looking at every single option," Hudson said.
Pin came to the Dallas Zoo 33 years ago. He was at least 35 years old, and no one knows when he was born. At the Dallas Zoo, Pin was one of four lappet-faced vultures.
To discover more about the tragic deaths that have befallen other species of wildlife that are at risk of extinction, check out our previous coverages:
The birds are called lappets because of the folds of skin on either side of their neck. Two male and one female bird are still in their natural habitat.
The Dallas Zoo said that Pin had 11 children over the last 30 years, and they now live at Albuquerque BioPark, Zoo Atlanta, Jacksonville Zoo and Gardens, Cincinnati Zoo, and the Dallas Zoo.
Early in 2020, Pin's first "grandchild" hatched, and she now lives at the Maryland Zoo in Baltimore. Officials said that the Dallas Police Department was told about the vulture's death because of recent problems at the Zoo, such as reports of broken enclosures and a clouded leopard that got away.
Dallas police haven't said if the incident with Pin has anything to do with the broken enclosures, but they are looking into it. Officials say that after the recent incidents, the zoo staff has added more cameras throughout the building and increased security patrols during the night.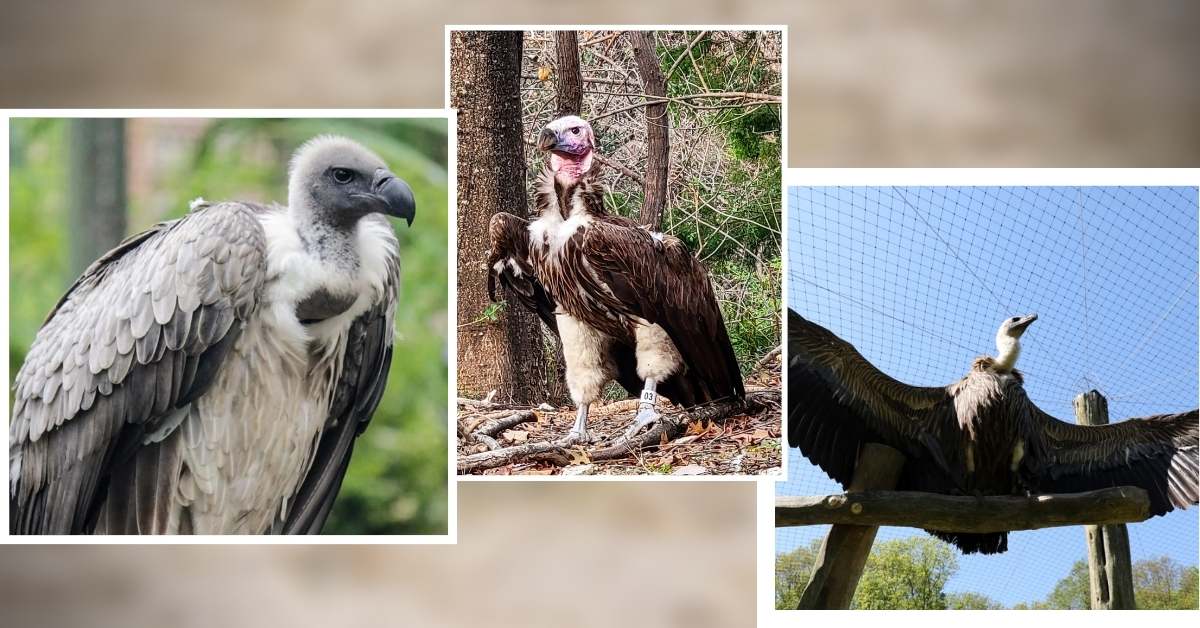 There is a reward of up to $10,000 for information that leads to an arrest and charge in the case. The Dallas Zoo told us some very important facts about lappet-faced vultures. The birds live in Africa and parts of the Middle East. With a wing span of up to nine feet, they are the biggest vultures in Africa.
The Dallas Zoo said that vultures are often called "nature's clean-up crew" because they eat dead animals and stop potentially deadly diseases from spreading through the environment.
The International Union for the Conservation of Nature (IUCN) says that birds are at risk of becoming critically endangered. There are probably only about 6,500 of these birds left on Earth, and their numbers are dropping quickly.
These birds live for a long time and have few babies each year, usually only one or two. There are currently 27 lappet-faced vultures in zoos around the United States, with another 41 located in Europe and the Middle East.
How do you feel about the vulnerability of animals like the lappet-faced vulture? Is there anything we can do to ensure the species' continued existence? Share your thoughts with us in the space provided below.