On Friday, the Justice Department said that three men had been accused in connection with an alleged plot to assassinate an Iranian-American novelist and activist who has spoken out against human rights abuses in Iran.
An indictment against the men was unsealed in federal court in New York, charging Rafat Amirov, 43, of Iran, Polad Omarov, 38, of the Czech Republic and Slovenia, and Khalid Mehdiyev, 24, of Yonkers, New York, with money laundering and murder for hire. One of the three individuals who were arrested was being held for extradition to the United States.
Exiled journalist, activist, and writer for the Iranian opposition Masih Alinejad acknowledged to The Associated Press that she was the intended target.
"I'm not scared," Alinejad told the AP after U.S. authorities announced the charges. "I want to tell you that the Iranian regime thinks by trying to kill me, they will silence me, or silence other women. But they only strengthen me, make me more powerful to fight for democracy and give voice to brave women who are facing guns and bullets in the streets to get rid of the Islamic Republic."
She said that the FBI had given her the plotters' internal communications, including a last message that read: "It's going to be done today." The Iranian Mission to the UN did not immediately respond to a request for comment on the allegations. The claimed plot wasn't immediately acknowledged by Iranian state media on Friday night.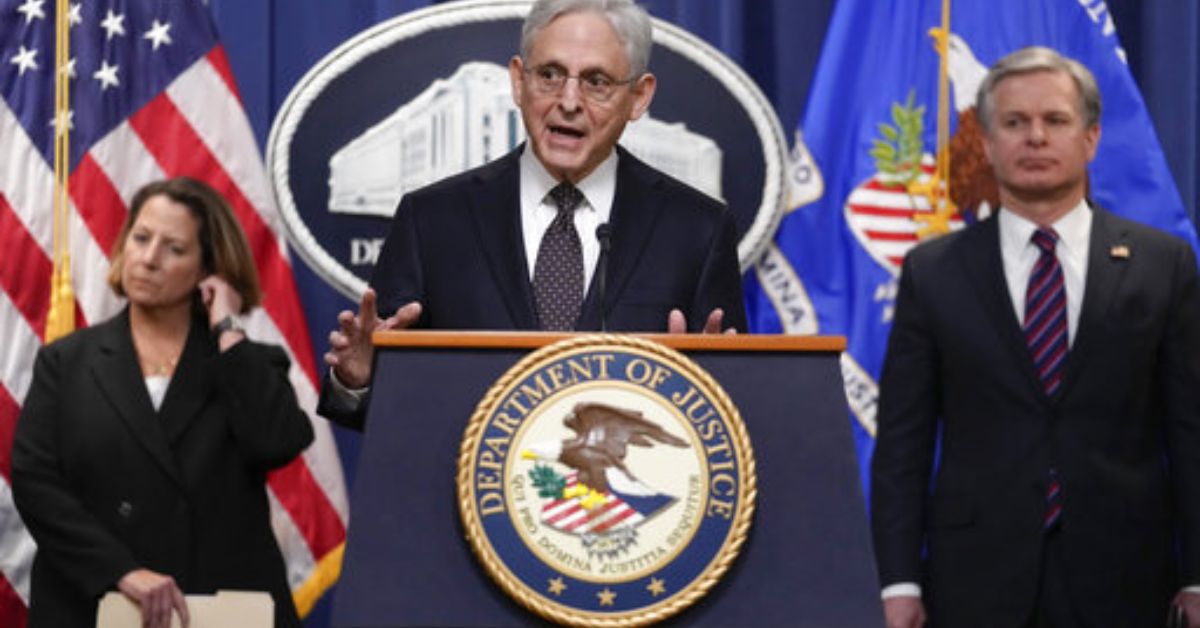 However, the indictment does not expressly accuse the theocratic government of Iran of being behind the alleged murder-for-hire, even though the accused plot's mastermind resides there.
White House national security director Jake Sullivan said the case "follows a disturbing pattern of Iranian government-sponsored efforts to kill, torture, and intimidate into silence activists for speaking out for the fundamental rights and freedoms of Iranians around the world," 
Mehdiyev Was Caught Driving by Authorities in Masih
Last year, police in Masih's Brooklyn neighborhood spotted Mehdiyev driving around with a loaded "AK-47-style" rifle and lots of rounds of ammo in his car. Authorities had informed Alinejad, she told The Associated Press at the time, that the man was seeking her, and a home security camera had caught him lurking outside her front door.
"The government of Iran has previously targeted dissidents around the world, including the victim, who oppose the regime's violations of human rights," Attorney General Merrick Garland said in announcing the charges. According to him, "individuals in Iran" had hired the accused killers to carry out the plot.
"The victim publicized the Iranian government's human rights abuses, discriminatory treatment of women, suppression of democratic participation and expression and use of arbitrary imprisonment, torture, and execution," Garland said. In 2019, "this activity posed such a threat to the government of Iran that the chief judge of Iran's Revolutionary courts warned that anyone who sent videos to the victim criticizing the regime would be sentenced to prison."
According to him, a senior official in the Iranian intelligence service and three others were arrested in 2021 and charged with arranging the kidnapping of the victim. Three of the accused are from Azerbaijan, a country that has close ties to Iran both geographically and culturally.
During Amirov's first court appearance in New York, his lawyer Michael Martin pleaded not guilty on his behalf. In the brief court hearing, the defense did not immediately request bail. Amirov employed the services of a Russian interpreter despite the fact that Russian is not his first tongue.
On Friday, Mehdiyev's lawyer chose not to elaborate. Earlier this month, Omarov was apprehended in the Czech Republic. It was unclear whether or not he was represented by counsel.
The links to our other article on driving rules can be found down below-
What Is Driving Us Inflation to a 31-year High? These Reasons Are Complicated.
The Czech Police Tracked Out and Arrested Omarov
In addition, "This case also highlights the evolving threat and the increasingly brazen conduct emanating from Iran," as stated by Deputy Attorney General Lisa Monaco. She also mentioned that Iranian hackers have been suspected of attacking power firms and that members of Iran's Islamic Revolutionary Guard Corps have been charged in connection with an alleged conspiracy to kill a former U.S. national security adviser.
FBI Director Christopher Wray has stated that in recent years Iranian intelligence and security services have increased their use of "transnational repression tactics" against political opponents and dissidents. He added that kidnapping and assassination attempts were used in Iran, but that monitoring, cyber operations, and the intimidation of loved ones were also employed.
"The Iranian government's efforts to silence its critics aren't confined to the borders of Iran," Wray said. The United States has denounced Iran's targeting of protestors in Iran, and Iran has responded by using force against peaceful demonstrators, raising already elevated tensions between the two countries. Russia's strikes on civilian targets in Ukraine have been widely attributed to drones supplied by Iran.
Alinejad told the Associated Press that she hoped the brutality of Iranians planning to kill an American on American soil would prompt President Joe Biden to take the steps that have been called for by some in Congress and elsewhere, including the designation of Iran's Islamic Revolutionary Guard Corps as a foreign terrorist organization.
"They are actually challenging the U.S. authorities to see what the consequence is going to be if there is no punishment, and there is no reason for them to stop killing innocent Americans or innocent Iranians," she said.
Some locals have recently been arrested for their involvement in a range of illicit activities; if you want to learn more, visit the links below-
Iran's Theocracy Has Hunted Alinejad Since He Fled After the 2009 Presidential 
Alinejad has been a target of Iran's theocracy ever since he fled the nation during the country's contentious presidential election and subsequent crackdown in 2009.
She has been working as a contractor for the U.S.-funded Voice of America's Farsi-language network since 2015. She is a well-known character on foreign Farsi-language satellite networks that have a negative stance toward Iran. In October of this year (2019), she was naturalized as a U.S. citizen.
Women in Iran have been filming themselves for her "White Wednesday" and "My Stealthy Freedom" initiatives, in which they go without hijabs in public and risk prosecution and monetary penalties. Since Mahsa Amini's murder in September after being imprisoned by the morality police, she has also been a powerful voice for the Iranian protesters. Meanwhile, court documents state that the three accused are embedded in an Eastern European criminal network with ties to Iran.
The indictment alleges that Amirov, a group commander in Iran was charged with going after her. Garland remained silent when asked for clarification on the source of the orders. Amirov contacted Omarov, who is stationed in Eastern Europe; together, they flew Mehdiyev in from New York and paid him $30,000. U.S. investigators claim that in July, Mehdiyev obtained a gun and began monitoring the woman's home.
Over the course of more than a week, he allegedly tried to photograph and videotape her in an effort to entice her outside. Mehdiyev said at one time that he was at the crime scene.
However, on July 28 Alinejad fled her house after seeing a strange event. Shortly thereafter, a New York City police officer pulled over Mehdiyev as he attempted to leave the scene via vehicle. The rifle, together with magazines, cash, and a black ski mask, were all recovered by the police. The federal authorities nabbed him for a firearms violation.
If you follow us on Pinterest, you will receive daily updates about our blogs.
(Source Link).