Ted Lasso is a comedy-drama TV show about a sports agent created by Jason Sudeikis, Bill Lawrence, Brendan Hunt, and Joe Kelly for FX. Sudeikis made the figure for a series of advertisements promoting NBC Sports' broadcasts of the English Premier League.
The show follows American college football coach Ted Lasso as he is appointed to manage an English soccer team with the expectation that his inexperience will lead to the squad's demise.
7 Fun Facts About Ted Lasso
Ted Lasso has had a meteoric rise to prominence, eventually becoming Apple TV+'s crown gem against all odds. In the show, Saturday Night Live alum Jason Sudeikis plays American football coach Ted Lasso, who is thrust into the unfamiliar world of English football after being hired to lead the (fictitious) AFC Richmond.
Ted Lasso is the television equivalent of a warm embrace because of its appealing mix of heart and humor. More biscuits and hope came with the second season's July premiere. Come with me as I explore the making of the most talked about, upbeat television show.
1. Ted Lasso started as a commercial
As far back as 2012, when he was first featured in an NBC Sports commercial, Ted Lasso was designed to promote NBC's coverage of the English Premier League. Like in the show, Sudeikis's character was an instant hit with viewers in the commercial. NBC made another commercial starring Ted Lasso a year later because the first one was so successful.
Sudeikis's then-girlfriend Olivia Wilde encouraged him to start drafting ideas for a Ted Lasso TV series with his creative partners, which included Brendan Hunt (who plays Coach Beard) and Joe Kelly. Sudeikis had the idea years earlier, but it wasn't until he met Bill Lawrence, Scrubs and Cougar Town's creator, that the show got made.
Must check:
2. Ted Lasso Star Brett Goldstein Was Initially Hired as a Writer
Although his portrayal of AFC's cantankerous captain Roy Kent has become iconic, actor Brett Goldstein was initially hired for the show as a writer. While creating Kent's persona, Goldstein admitted that he developed feelings for the part and "simply started to think I could play Roy."
Goldstein emailed Bill Lawrence an audition tape on his last day in the writing room with the message, "If this is humiliating, you may pretend you never got this email." Fortunately, Goldstein, prominent in Ricky Gervais's Derek series on Netflix, acquired the part shortly after the risk was taken.
3. Nick Mohammed and Phil Dunster auditioned for the role of Higgins
It's hard to picture anyone other than Leslie Higgins in Richmond, although several performers auditioned for the part besides Jeremy Swift. Nick Mohammed, who portrays the endearing Coach Nathan in Ted Lasso, is one among these actors. Indeed, Phil Dunster tried out for the part before landing the role of selfish star player Jamie Tartt.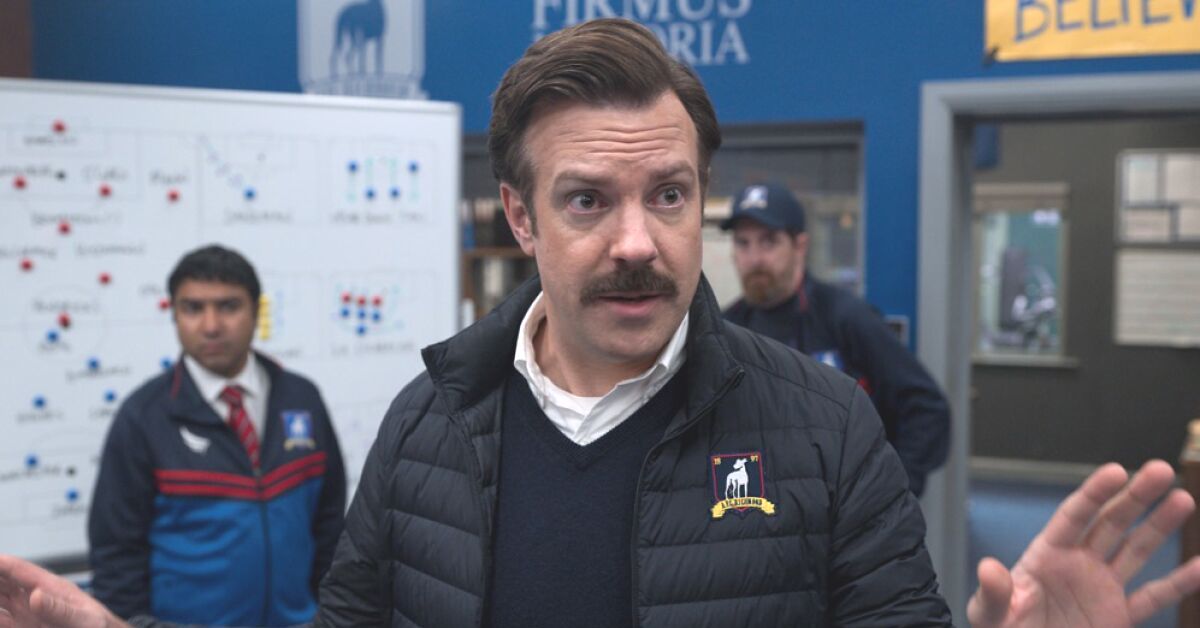 4. Ted's viral dance first found fame on Saturday Night Live
A video of Ted Lasso and his teammates doing an exuberant rendition of the running man has gone viral, and this is the first time most people have seen Ted Lasso. The heartwarming scene was a staple of Jason Sudeikis's long and successful career.
Sudeikis, a former Saturday Night Live cast member, dances several episodes of the sketch show What Up With That. To the contrary, Sudeikis told Entertainment Weekly, "It's the same dance I did when I was 15 and one of the few white kids on a basketball team in Kansas City to make my buddies laugh."
5. Ted Lasso broke an Emmy record
Since its debut, the show has been a critical darling. At this year's 73rd Emmy nominations, Ted Lasso's profile has reached new heights, and the first season of Ted Lasso received a stunning 20 Emmy nominations, besting Glee's 2011 record of 19.
There were a total of eight nominations for the show, including Best Comedy Series, Best Leading Actor (Jason Sudeikis), Best Supporting Actress (both Hannah Waddingham and Juno Temple), and Best Supporting Actor (four different cast members) (Brett Goldstein, Nick Mohammed, Brendan Hunt, and Jeremy Swift). The Emmy voters have spoken, and football is life's meaning.
6. Ted Lasso also set an Apple TV+ record
The show's popularity has increased alongside its growing list of accolades. According to Apple, the debut of season two had the most viewership of any Apple original to date. The firm said that with the release of season 2, ratings for all of its original programming went up. Despite the lack of complex data, it's clear that Ted Lasso is Apple TV+'s most popular original series.
7. Marcus Mumford of Mumford & Sons composes music for Ted Lasso
In 2012, when Mumford & Sons appeared on Saturday Night Live, Sudeikis had the opportunity to meet the band's lead singer, Marcus Mumford. They stayed friends, so Sudeikis left Mumford a voicemail asking if he wanted to do the show's score. Mumford and guitarist Tom Howe composed the show's score, including the rousing theme song.