Mahmoud Abdul-Rauf (Chris Jackson) is a former American professional basketball player. He spent nine years as a player in the NBA, spending time with the Sacramento Kings, Vancouver Grizzlies, and Denver Nuggets.
From 1988 to 1990, Abdul-Rauf competed in collegiate basketball with the LSU Tigers, earning first-team All-American honors each year. He was selected by the Denver Nuggets as the third overall pick in the 1990 NBA Draft.
In addition to competing in the Slam Dunk Contest at the 1993 NBA All-Star Weekend and being one of the league's best free throw shooters, Abdul-Rauf was chosen for the NBA Most Improved Player Award in 1993. He participated in numerous leagues all around the world after his NBA career.
When Abdul-Rauf refused to stand for the national anthem during his NBA career as a show of protest and referred to the American flag as a sign of tyranny, he caused controversy.
This page discusses the early life, career, and net worth of Mahmoud Abdul Rauf. So do read it till the end.
Mahmoud Abdul Rauf Net Worth: How Much Money Does He Make?
As of 2023, Mahmoud Abdul Rauf's net worth is anticipated to be approximately $5 million. His career earnings as a professional basketball player are $19,849,500. Rauf earned a reported $1,660,000 while competing for the Denver Nuggets in the 1990–1991 season.
| | |
| --- | --- |
| Name | Chris Wayne Jackson |
| Nickname | Mahmoud Abdul Rauf |
| Net Worth | $5 million |
| Career Earnings | $19,849,500 |
| Date of Birth | March 9, 1969 |
| Age | 53 years old |
| Place of Birth | Gulfport, Mississippi |
| Gender  | Male |
| Nationality | American |
| Profession | NBA Basketball Player |
Mahmood Abdul Rauf's Salary
$1,660,000 in 1990-91
$2,008,000 in 1991-92
$2,358,000 in 1992-93
$1,825,000 in 1993-94
$2,200,000 in 1994-95
$2,600,000 in 1995-96
$3,100,000 in 1996-97
$3,300,000 in 1997-98
$798,500 in 2000-01
$19,849,500 in total earnings
The Early Years of Mahmoud Abdul Rauf
In Gulfport, Mississippi, in March 1969, Abdul Rauf was born. Along with his two brothers, he was reared by his mother, Jacqueline Jackson. Mohamaud experienced difficult times as a child as a result of his family's poor financial situation.
Rauf missed the fourth grade and enrolled in special education programs. Up to the age of 17, he experienced a mild type of Tourette syndrome. Later, Rauf went to Gulfport High School.
He averaged 29.9 points per game during his senior year of high school. In 1987 and 1988, Rauf also crowned Mississippi's Mr. Basketball for two years.
Mahmoud Abdul Rauf's Career Journey to the NBA
A middle school girls' coach who coaches the team made Mahmoud Abdul Rauf aware of himself during lunch. He was unaware of the basketball laws. Despite that, he had 24 points in his debut. During his first year at Louisiana State University, he was in excellent shape.
In his third game for the team against Louisiana Tech, Rauf scored 48 points. His 53 points versus Florida also broke the freshman scoring record. After a fantastic two years at LSU, Rauf announced his intention to enter the NBA draught. In 2020, the Tigers finally retired his #35 jersey.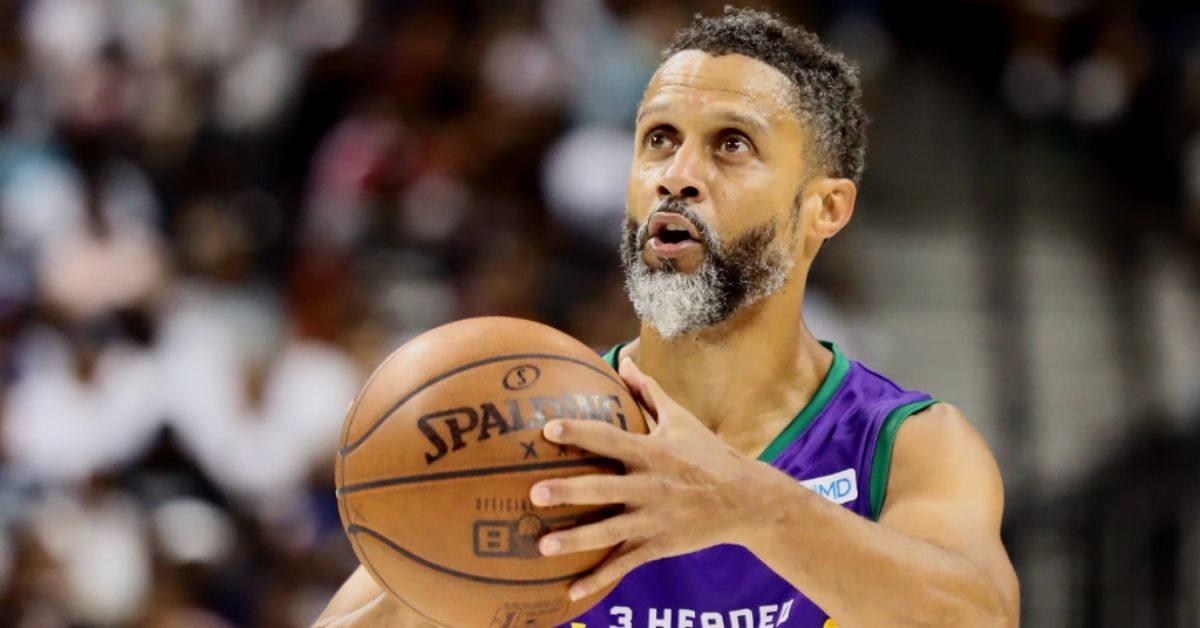 After being selected by the Denver Nuggets in the 1990 NBA draught, Mahmoud's professional career officially got underway. In his debut season in the NBA, he was named to the NBA All-Rookie Second Team.
He later participated in the 1993 NBA Slam Dunk Contest when a recording of his dunks was given to NBA league authorities. Rauf was an important member of the Denver squad and stayed with them until 1996. In November 1995, he recorded a career-high 20 assists in a game against the Phoenix Suns.
He committed to Fenerbahce of the Turkish Basketball League for two years in 1998. Later, in December 2003, he signed a contract with Ural Great of the Russian Basketball Super League. Rauf signed a contract with Sedima Roset, an Italian Serie A team, in 2004.
He averaged 18.4 points and 2.2 assists per game during the 2004–05 season. In July 2005, Udine signed him after that. But his injured Achilles tendon prevented him from playing the entire season. Rauf later made his third career comeback to play for Aris Thessaloniki in the 2006–07 campaign.
Then, in November 2007, Al-Ittihad of the Saudi Basketball League signed him. After almost two years, he signed with the Kyoto Hannaryz of the Japan Basketball League. He played 38 games during his debut season in Japan, scoring 17.9 points on average.
Check out other basketball players' net worth here:
Later, in July 2010, Mahmoud signed a new contract with Kyoto Hannayryz for the 2010–11 campaign. He is now a basketball player with the Three-Headed Monsters in the BIG3 competition.
After his Stand documentary debuted on Showtime on February 3, Rauf gained notoriety. Rauf's journey out of poverty, Tourette's Syndrome, bigotry, and a single-parent home is examined in the Showtime documentary Stand.
Mahmoud Abdul Rauf Love Story: From Dating to LSU to a Life-Long Commitment
Kim Jackson was married to Mahmoud Abdul Rauf. When they first met at LSU, the ex-couple began dating. Rauf changed his name in 1993 after converting to Islam in 1991. He wanted Kim to cover up in public after converting to Islam and changing his religion.
Kim, however, disregarded his request.  In 1994, he then filed for divorce from Kim, claiming their irreconcilable differences in religion. April, a Muslim convert who is Rauf's second wife, and they are now married.
The two had been friends since high school and attended the same high school. They have been wed for nearly twenty years at this point. From his first marriage, Rauf has five children.
Frequently Asked Questions
What is Mahmoud Abdul-Rauf known for?
The controversy that erupted when Abdul-Rauf refused to stand for "The Star-Spangled Banner" before to games because he believed that the flag represented oppression and that the United States had a long history of tyranny is likely what made him most famous.
Why did Mahmoud Abdul-Rauf leave the NBA?
In 1996, Abdul-Rauf was suspended by the NBA for his refusal to stand. He consequently stood during the anthem while focusing downward and invoking prayer. After the 1996 campaign, the Nuggets traded him to the Sacramento Kings. By 2001, he was no longer in the league due to what was thought to be some sort of reaction to his protest.
Why did Mahmoud Abdul-Rauf kneel?
Abdul-Rauf claimed that, like Kaepernick, he saw the American flag as a representation of racism and oppression. Abdul-Rauf added that it would be against his Muslim faith for him to stand during the anthem.
Does Mahmoud Abdul-Rauf have Tourette's?
He had moderate Tourette syndrome, which wasn't discovered until he was 17 years old. Abdul-Rauf overcame obstacles to become Gulfport High School's basketball phenom.
How tall is Mahmoud Abdul-Rauf?
Mahmoud Abdul Rauf's height is 6 feet 1 inch.
Who is the oldest player in the BIG3?
The final selection in the first BIG3 Draft was Mahmoud Abdul-Rauf. He is the league's senior player.
What is Mahmoud Abdul-Rauf legacy?
Mahmoud Abdul-Rauf had a nine-year NBA career after being selected in the first round of the draught, but his legacy as a player is murky. He was Colin Kaepernick before Kaepernick, forgoing a sizeable portion of his successful professional career to uphold his religious convictions.