Cardi B and Offset have launched their own McDonald's meal with an ad that will be shown during tonight's (February 12) Super Bowl.
The game will take place in Glendale, Arizona, between the Philadelphia Eagles and the Kansas City Chiefs. As usual, there will be a lot of high-profile ads during the game.
One of these examples has already been shown tonight. In it, Cardi B and Offset talk about what they ate at McDonald's. The commercial played at the start of the Super Bowl and showed the couple along with other couples.
When asked what her husband always orders at McDonald's, Cardi says, "A quarter pounder and a Hi-C drink." Part of the meal for Cardi B and Offset is based on that answer. The meal also has a cheeseburger, barbecue sauce, large fries, an apple pie, and a large Coke.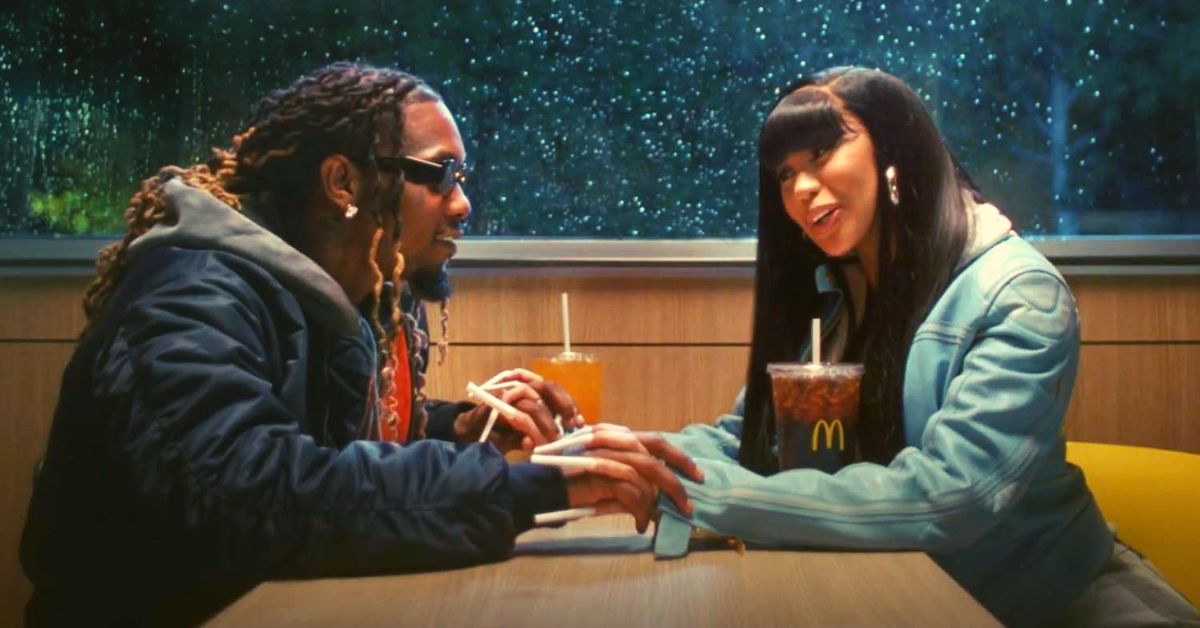 Walk Through these articles:
"Y'all saw our commercial? PARAPAPAPA IM FUCKIN HIM!"  Cardi sent out a tweet after the ad aired. The fast food chain in the US will start selling Cardi B and Offset meals on Valentine's Day. The couple is working with the brand on food like BTS, Travis Scott, Saweetie, J Balvin, and others.
This year, Rihanna will sing at the Super Bowl Halftime Show. In the days before the big event, she said at an Apple Music press conference,
"The Super Bowl is one of the biggest stages in the world, it's an entertainer's dream to be on a stage like that. But it's nerve-racking. You want to get it right. You know, everybody's watching. And they're rooting for you. And I want to get it right."
She also said that she had changed the show's set list 39 times already.
"Some songs we have to lose because of that, and that's going to be OK," she explained. "We did a pretty good job at narrowing it down. There have probably been about 39 versions of the setlist right now. We're on our 39th. Every little change counts."
Yall saw our commercial? PARAPAPAPA IM FUCKIN HIM!!!!!! ❤️💛…The CARDI & Offset meal coming 2.14 at your closest McDonald's!!!💛❤️💛❤️💛❤️

— Cardi B (@iamcardib) February 12, 2023
Chris Stapleton began the big night by singing the national anthem of the United States. Nick Sirianni broke down in tears when he heard the country star sing "The Star-Spangled Banner."
U2 is also expected to announce a new Las Vegas residency during the game, according to reports. The Irish band gave a hint about the news earlier tonight by posting a clip with the hashtag #U2SPHERE on social media.
Thanks for reading, stay connected with leedaily.com for more updates.