As we all know, life is better with happiness, laughter, and some solitude. Seasons are the best way to find it all. Do you like farming? Adventure? If yes then we have got some good news for Clarkson Farm fans. Is Clarkson's Farm Season 3 Officially Renewed? Read the article till the end we have some exclusive details for you.
Clarkson's Farm is back for a second season on Amazon Prime Video today, February 10th. The documentary has been a hit, but there have been some problems with it. The show was reportedly canceled last month.
The series was canceled after Jeremy Clarkson was criticized for saying in his column in The Sun that he "hates" Meghan Markle. However, it has since been said that the show's cancellation by Prime Video has nothing to do with Clarkson's comments.
Considering all of this, fans of the documentary may be wondering what will happen to the show. Will Clarkson's Farm be back for a third season? What will happen to the show now that the second season has started? Here's all the information you need about Clarkson's Farm 3…
Clarkson's Farm Season 3 Release Date
Clarkson's Farm season 3 is expected to come out in early 2024. The hit farming show began filming in October 2022, and the third season is likely to be the last one.
"Prime Video already has a number of shows in the works with Clarkson, which are going to go ahead, but the decision means that "Clarkson's Farm" will end with Season 3 (expected in 2024)," says the journal.
S2 will be 'cropping up' in a few months 🌾 but in the meantime we thought you should know… S3 of #ClarksonsFarm is currently filming 🐑 🎬 pic.twitter.com/cHsKCH1qdh

— Prime Video UK (@primevideouk) October 28, 2022
We've covered a few seasons that might interest you:
What is Clarkson's Farm All About?
Deadline said that Clarkson wants to branch out and learn more about agriculture at the same time. A few things about the new season have already been given away by the actors.
Clarkson showed pictures of the two cows, which showed that he had added more animals to the farm. Cooper also posted a picture of a broken fence with the comment that everything was going well until someone decided they didn't like the gate anymore.
Dan Grabiner, the head of Amazon Studios' U.K. originals, said that fans can expect more of the crazy things that made Clarkson's Farm Jeremy's uncensored love letter to farming.
Fans can look forward to more of what they like, like the beautiful views of the English countryside and Kaleb's funny warnings about how hard sheep can be and how Clarkson messed up this time.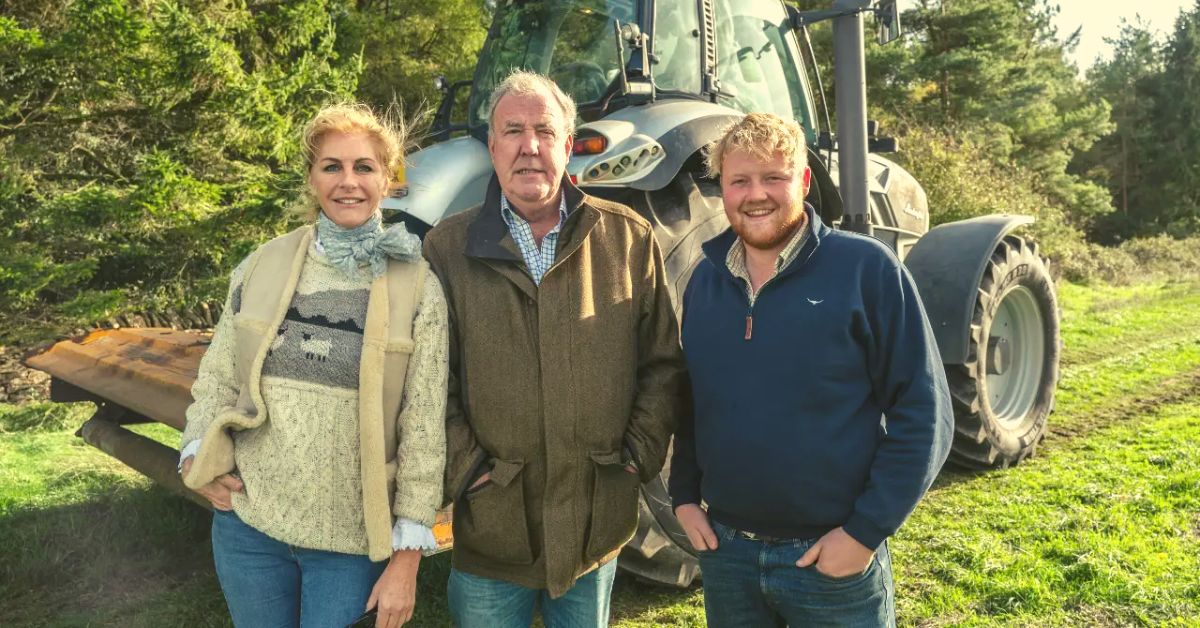 Clarkson's Farm Season 3 Cast
See who is expected to be in Clarkson's Farm Season 3 below.
Jeremy Clarkson is a journalist and TV host who writes about cars. Gerald Cooper is an expert in the field.
Kaleb Cooper as a young farmer
Kevin Harrison was the chairman.
Ellen Helliwell plays the shepherdess
Lisa Hogan played an actress and Clarkson's girlfriend
Charlie Ireland played Cheerful Charlie, a professional agronomist and land agent.
Let's talk about when the second season of the TV show Clarkson's Farm will come out.
Where can I watch Clarkson's Farm Season 3?
Clarkson's Farm is only available on Amazon Prime. Here, you can watch the first season of the farming show and watch Clarkson's Farm season 2 when it comes out in February.
A membership to Amazon Prime, which comes with Prime Video, can be bought for £7.99 per month. This includes all the benefits of Prime, like getting your package the next day and streaming music. A subscription to Prime Video alone can also be bought for £5.99 per month.
Thank you for reading our article. For more updates, you must visit our Twitter page.