On a recent edition of The Unplanned Podcast, where they confessed the second pregnancy was an "accident," the 24-year-old couple broke the happy news. Abby said that Griffin, her and Matt's first kid, was born in July 2022 and that she found out she was expecting baby number two just four months later. The high school sweethearts wed in the middle of their second year of college, and they rose to fame on TikTok for providing updates on their recent lives as newlyweds and parents.
Matt and Abby are Pregnant Again
The sonogram of Matt and Abby's second child, whose sonogram is hanging in the backdrop, was revealed to be their second child together on the most recent episode of The Unplanned Podcast. Fans had begun spotting hints, according to Abby, long before they announced the good news. They also discussed how the second pregnancy wasn't planned in the most recent video.
They discuss getting ready for a second baby while their first is still under a year old as the program goes on. The pair is very upfront in saying that they are fully aware of how reproduction functions and that the techniques they used to have Griffin weren't completely safe.
Gabby, who gave birth to her first kid a year ago, is accepting herself for the process once more while her body is going through significant hormonal changes. In a recent episode of The Unpanned Podcast, Matt discusses his feelings about being a second-time father and the changes he began to see in his wife even before they found out they were expecting.
To know more about celebrities, click on the link given below:
Who Are Matt and Abby?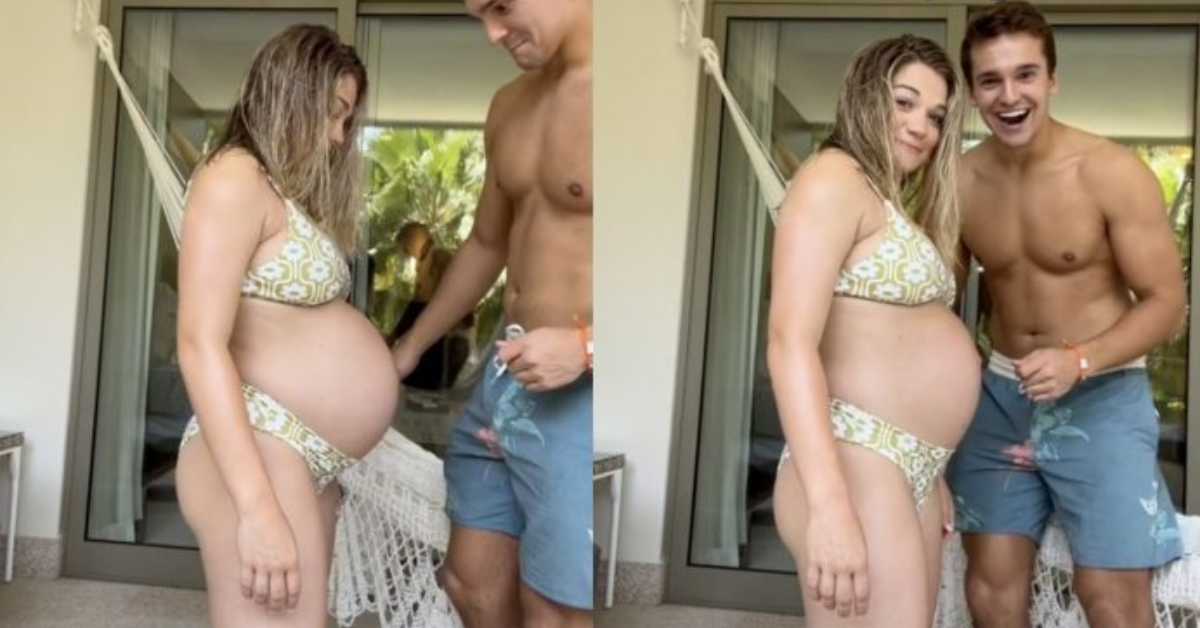 The 24-year-old American duo currently has 3.15 million YouTube subscribers and 4.9 million TikTok followers. Their admirers adore their laid-back vlog-style videos on their family life and recent growth. Soon after being married, in July 2019, they uploaded their very first YouTube video.
It is uncomplicated, virtually unedited, and just shows the couple eating and walking about the city. It went off from there, and Abby and Matt joined the trend to showcase their contented home as TikTok surged onto our screens during the lockdown.
What Videos Do Matt and Abby Make?
Although their fan base had been expanding steadily, the news that Abby was expecting sent it into overdrive. The couple has lived in Hawaii and is currently residing in Arizona. They enjoy blogging about their new married life as well as the ups and downs of their relationship and their experiences as parents.
Their YouTube and TikTok videos typically include lifestyle-related content, Q&As, challenges, comedy skits, and lip-syncs, all of which are delivered with their trademark charm. More in-depth discussions about their life, notably regarding becoming parents earlier than they anticipated, are included on their new podcast channel.
Do Matt and Abby Have Any Children?
The two TikTok celebrities gave birth to their first baby in July 2022, and since then, they've shared nearly daily updates on "parenting," including pictures of breast pumps, stretch marks, and nights when they didn't get any rest. It was a surprise to both of them, and they made a big "shock" announcement about it on February 15 on their podcast, appropriately titled "Unplanned."
When Did Matt and Abby Start Dating?
When Abby was in the eighth grade, she went on a theatre trip where she met Mat from Ballwin, Missouri. Abby is from Quincy, Illinois. The young lovers remained together while attending various schools before moving in together to a university.
The loved-up pair got married in their second year at Missouri State University in July 2019 and kicked out their YouTube channel soon after beginning their life as digital content artists.
Follow us on Leedaily's Facebook handle to receive the most recent updates and news as it happens.