After a flirtatious photo posted to comedian Eric André's Instagram account revealed the two are dating, Emily Ratajkowski has officially left the single girl phase and entered the hot GF phase.
There are a variety of ways to "hard launch" a relationship, but posting an NSFW image of Ratajkowski and André in a room with their clothes all over the floor and an open bottle of red is undoubtedly making a statement.
The model, who had participated in the Tory Burch fashion show the day before, stood with her side profile exposed in the mirror's reflection as André sprawled out on the sofa with nothing but a Cupid's heart emoji covering the royal jewels.
He humorously posted the picture to his 2.5 million followers with the message "Happy Valentine's Day" while holding one finger to his lips as if to keep it a secret.
View this post on Instagram
The comments went wild as everyone scrambled to see who the brunette in the mirror's reflection was.
Producer Benny Blanco commented, "wait is that @emrata in the back?", followed by, "remove the [heart and] arrow or delete this". Rapper Killer Mike added, "That Boy Ball'N!!!!"
Check out some of the most recent trending articles:
Who is Eric André?
American stand-up comedian Eric André is 39 years old. In the entertainment business, André is a "jack of all crafts," having done acting, hosting, writing, and producing throughout his career.
His own eponymous show on Cartoon Network's Adult Swim, a parody of popular talk shows in the United States, is what made him most famous.
Moreover, he provided the voice of "Azizi" in the 2019 animated film The Lion King, and he has a Netflix stand-up special called Legalize Everything.
View this post on Instagram
Between 2016 and 2017, Andre dated Rosario Dawson (Net Worth), an actress. Moreover, he was connected to Tatyana Ali from 2012 to 2013 and Amber Rose in 2015.
When Did Emily Ratajkowski and Eric André Start Dating?
Although we've never seen nearly this much of Ratajkowski and André together, we've seen them together before. Over the past few months, they have been photographed a few times, including when they were at a Madison Square Garden New York Knicks game.
It's interesting to note that Ratajkowski debuted alongside ex-boyfriend Pete Davidson (Net Worth) at a Madison Square Garden New York Knicks game. It indicates that the action was "EmRata-approved."
Before dating Pete Davidson, Ratajkowski was wed to producer Sebastian Bear-McClard, with whom she had an almost 2-year-old son named Sylvester Apollo Bear. All we can do at this point is hope that Ratajkowski will reveal more about her new relationship to her listeners on her podcast, The High Low.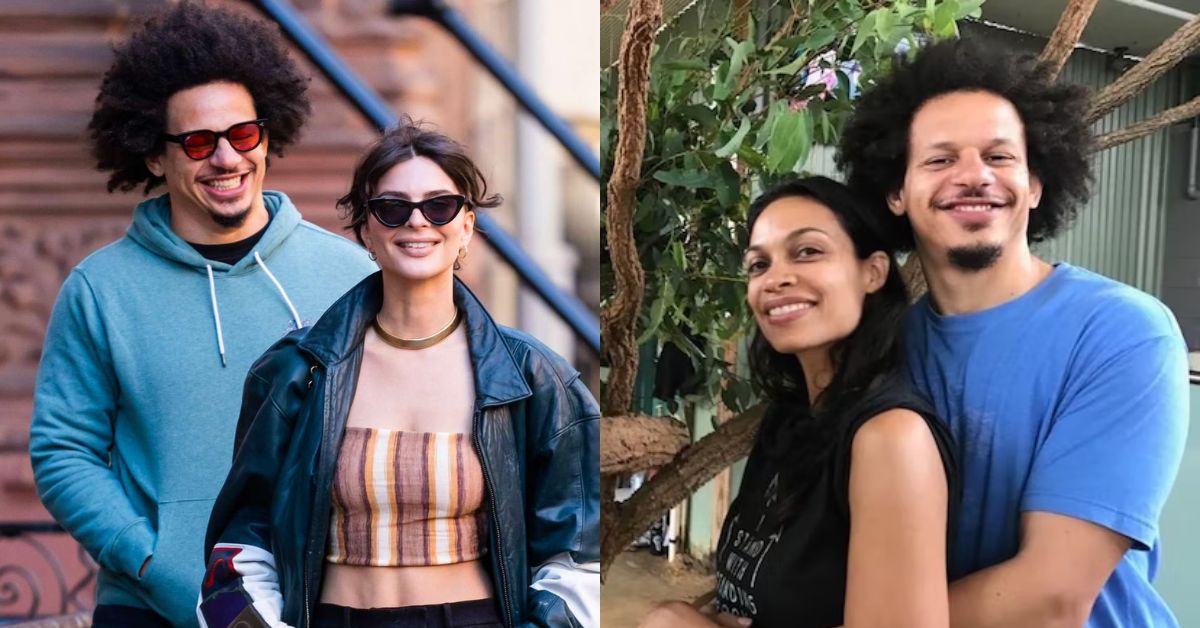 Eric Andre and Rosario Dawson Dated for More Than a Year Before Their Split
Late in 2016, Eric and Rosario Dawson began dating. The two made their romance public in February 2017 after Andre wrote a since-deleted love letter to the actress on Twitter.
Eric's admission was difficult to accept because of his reputation as a practical joker. On The Late Show, Rosario later revealed that the relationship rumors were accurate.
She recalled about her ex-boyfriend that "he started uploading more images of like our tongues touching and whatnot, like personal pictures." You're still a millennial man, I said. You don't post photographs of your tongue!
Late in 2017, Rosario used Instagram to express her love for her partner after he helped her get through a difficult time.
The actress suffered from a ruptured cyst soon after they started dating, necessitating an emergency medical visit. She also said that Andre walked alongside her the entire time.
What a year does to a person. Rosario said in a now-deleted Instagram post, "This weekend marks a year since I had to have emergency surgery to stem internal bleeding from a ruptured cyst on my ovary (per People).
It was the first time I confessed my love to Eric (and very much not the last). Grateful for his care, as well as that of the entire medical team at the Desert Regional Medical Center, she continued in her post.
A few months later, to everyone's surprise, Eric and Rosario called it quits. Although we now know that their romance didn't endure, Eric claimed to have met his most recent girlfriend at a farmers' market when speaking to Howard Stern in March 2021.
Leedaily.com published an informative article about the couple, which created a lot of curiosity in the internet community.
Have a look at some of the latest trending articles: