Welcome, ladies and gentlemen, to the 95th Academy Awards, the most glamorous night of the year! It's time to put out the red carpet and honor the best in the movie business. As they walk into the Dolby Theatre tonight, the stars are dressed to impress.
Who will dress the best? Who will everyone be talking about tomorrow? We'll find out soon enough when the best actors, directors, and producers in the world get together to honor the best movies of the last year. So, sit back, relax, and get ready to be amazed by the Oscar carpet 2023's excitement, energy, and undeniable elegance!
Oscar Carpet 2023
The Oscars for 2023 are here! Hollywood's greatest stars will enter the Dolby Theatre in Los Angeles, California after walking down the champagne-colored carpet this year. Jimmy Kimmel, a late-night television host, will serve as the event's host this year. The most prominent celebrities in the world typically make their most memorable red carpet-appearances at the Academy Awards.
Here are some of the 95th Academy Awards' most amazing looks
Textured Black Tuxes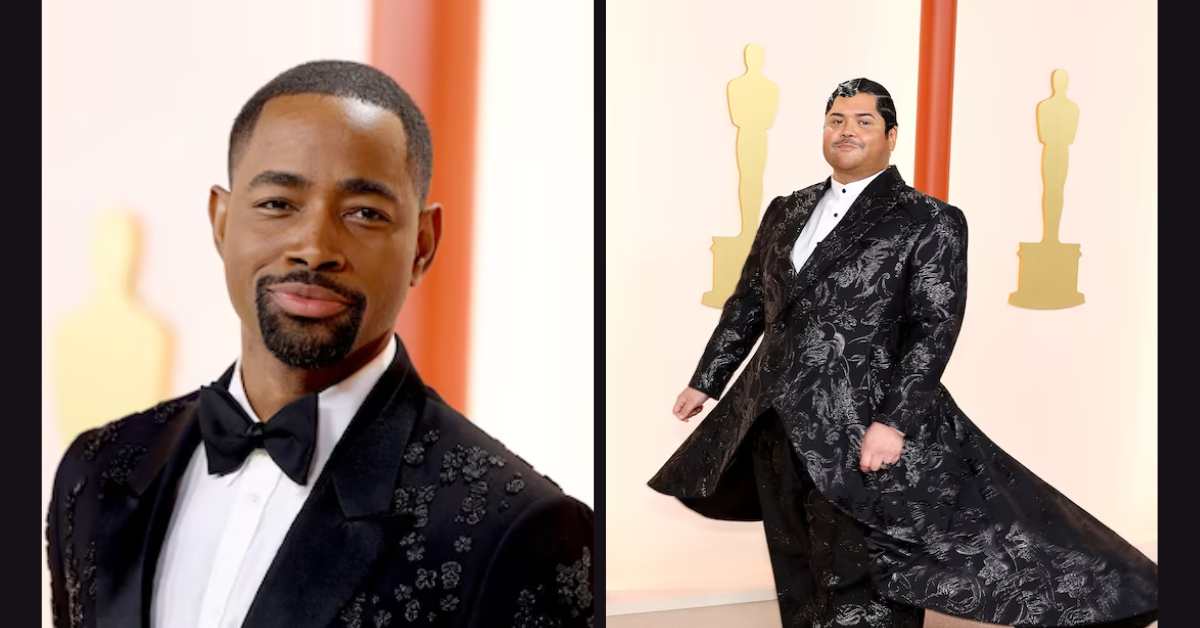 Harvey Guillen ("Puss in Boots: The Last Wish") swung dramatically into view wearing an elegant black jacquard suit with wide slacks and a jacket with a long, sweeping train. Jay Ellis ("Top Gun: Maverick") arrived at the Dolby Theatre in a custom Fendi tuxedo with dazzling beading on the jacket.
Designer Christian Siriano explained to the E! red-carpet program hosts that he wanted to give Guillen's appearance the movement of glitzy Old Hollywood-style gowns: With my art, I love to play with that masculine-feminine dynamic, Siriano stated. Guillen added finger waves to his hair to complete the vintage look of his outfit.
Here you may find the most recent information on the Oscars 2023:
Plain and Pretty Pastels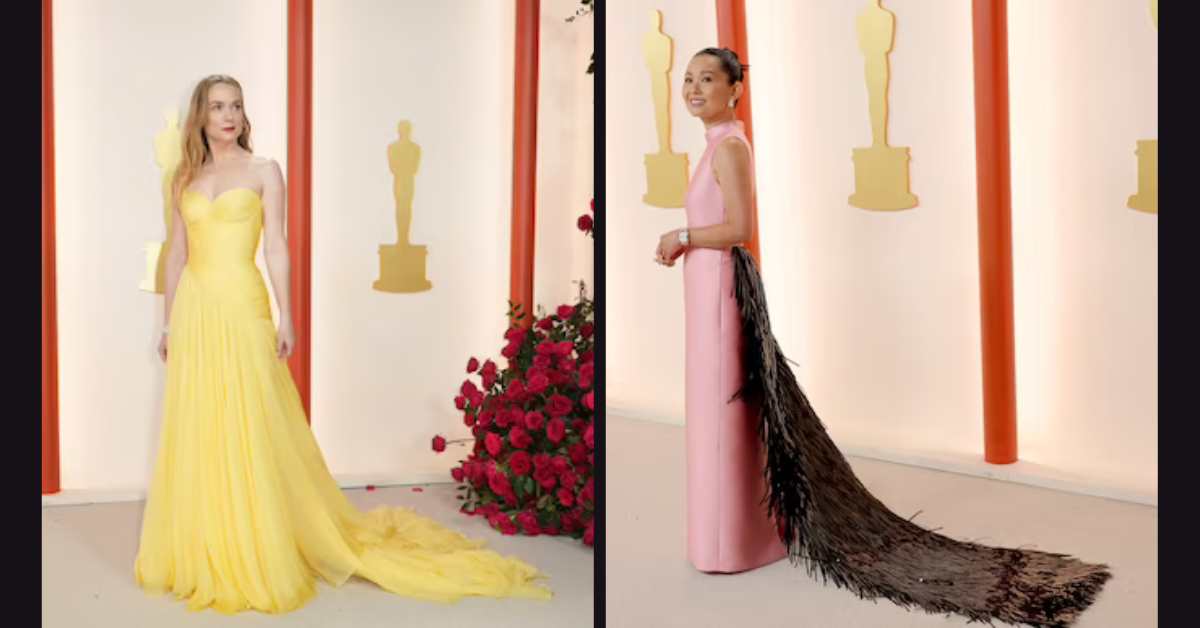 Hong Chau ("The Whale"), a contender for best supporting actress, showed up in a custom petal-pink Prada column gown with a black, feathery train and a little Mandarin collar as "a little shout-out to my roots," according to Chau.
Halle Bailey (star of the upcoming "Little Mermaid") donned aquamarine Dolce & Gabbana, while fellow best-supporting actress nominees Stephanie Hsu ("Everything Everywhere All at Once") and Kerry Condon ("The Banshees of Inisherin") chose pastel-pink Valentino and pale-yellow Versace, respectively.
The Return of the Bow Tie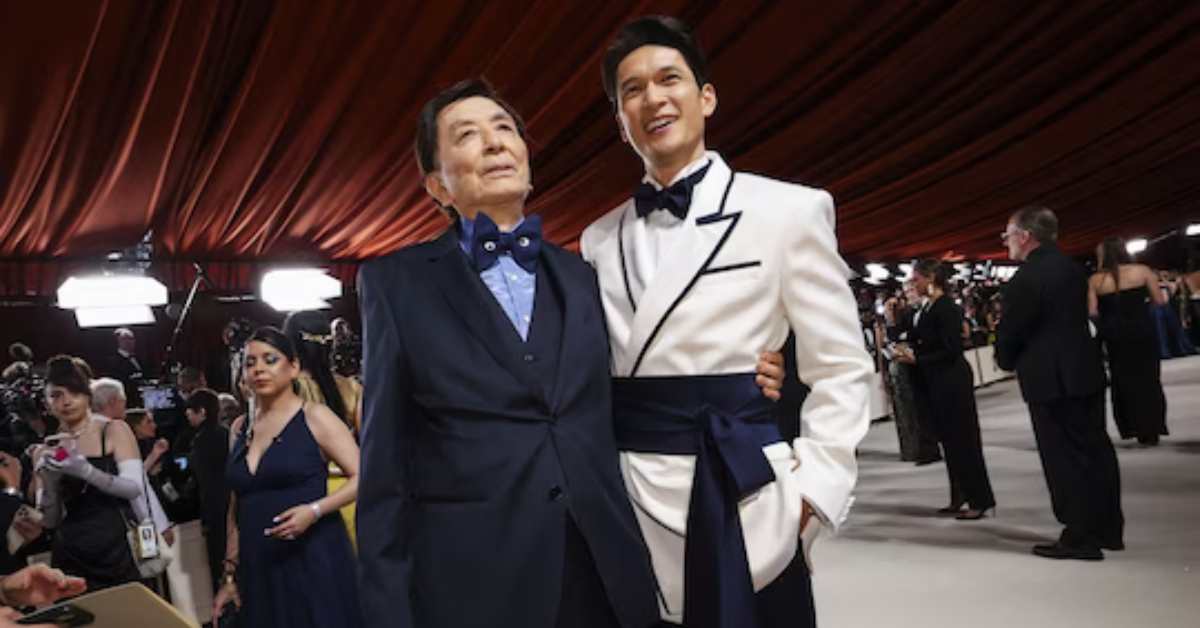 The angular item has kind of a resurgence on the tuxes of attendees in 2023, despite the recent lack of traditional bow ties. Brendan Fraser The Whale, a candidate for best actor, wore one with his black Giorgio Armani suit. Questlove, the 2022 Oscar winner, selected a black bow tie to complement his all-black look, and Ellis followed suit.
In "Everything Everywhere All at Once," Harry Shum Jr. reached for a stunning Adeam tuxedo outfit that included a long white jacket with a navy-blue accent, navy pants, and a navy silk obi belt. It's East and West, he declared. James Hong, Shum's co-star, sported a bow tie with the amusing addition of the movie's recognizable googly eyes.
Disco-ball Dresses
Although Eva Longoria was the one who first referred to her Zuhair Murad gown, which had a choker design above a plunging front, as a disco ball, the shimmering, metallic, geometric style was widely seen outside the Dolby Theatre. "Avatar: The Way of Water" actress Sigourney Weaver accessorized with pointed earrings and a long, gold Givenchy gown with an animal design that shimmered like fish scales.
Ariana DeBose, winner of the Oscar for "West Side Story," donned a white Atelier Versace dress with a plunging neckline, pointed shoulders, and geometric mirror-like beading.
Vogue Philippines shared a tweet:
"
Who ruled the Academy Awards champagne carpet? Below, see more of the best-dressed stars at the 2023 Oscars"
Orange, at Last
Certainly, it's a strange color for an Oscars gown, and perhaps the decision to forego the red carpet gave the wearer the chance to don orange at last. Sandra Oh and Janelle Monáe took the opportunity and shone in the color's matte and shine variations, respectively: Oh arrived in a draped, pumpkin-colored gown by Giambattista Valli, while Monae wore a two-piece custom Vera Wang costume that featured a black strapless bra top and a vibrant, citrus-colored asymmetrical-waist skirt.
Low-maintenance Hair
Kerry Condon, Ana de Armas, Nicole Kidman, and Jessica Chastain all eschewed the updo in favor of wearing their lustrous, free-flowing hair over their shoulders for a gentler appearance. One can only imagine how pleasant it must be to be able to complete one task on the most glam-filled day of the year.
Here you may find the most recent information on the Oscars 2023:
All White Everything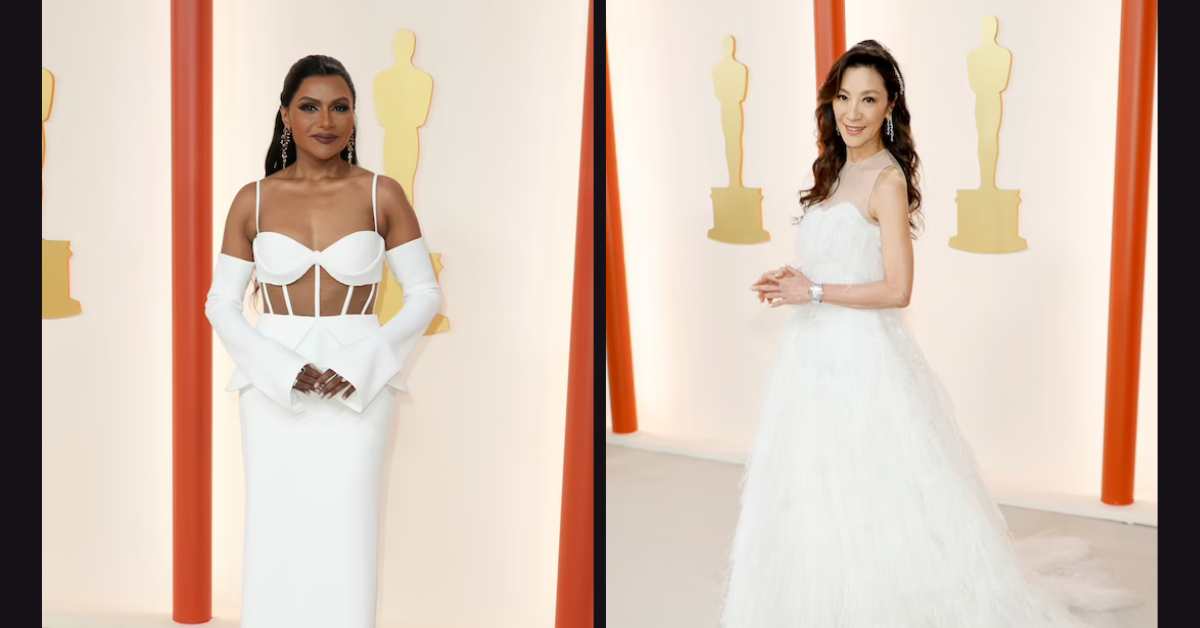 White from head to toe can convey a variety of messages. It might be heavenly. It might be spotless. Perhaps bridal. You might be reminded of Galadriel from Lothlorien or an A+ dental appointment. Everyone was there on Sunday night. Famous wedding gown designer Vera Wang created a structured spaghetti-strap dress for Mindy Kaling with boning over an illusion bodice and sweeping bell sleeves, while Emily Blunt wore a column-shaped, clean-lined Valentino gown.
With Alexander McQueen, Rooney Mara echoed traditional wedding ceremonies. Michelle Yeoh completed her impressive awards season wardrobe with a feathery-frill Dior Couture dress with a sweetheart neckline and sheer netting above it. Yeoh told Cox, "I'm in a cloud. "I'm just floating in a cloud of joy."