Taylor Swift promised "a trip through all of my musical periods" when she opened her Eras Tour at State Farm Stadium in Glendale, Arizona, Friday. 10 hit albums, four of which have been released since the Reputation Tour's conclusion in late 2018, are a lot of territories to cover.
Although revisiting her repertoire one decade at a time in a marathon set that lasted more than three hours and yet left fans wanting more, she managed to make it look effortless while still enjoying the ride as much as the Swifties in attendance did.
Gayle and Paramore Started Taylor Swift's Eras Tour Debut
Swift, who is a strong candidate to be named the most popular musician of her generation, was forced to cancel Lover Fest, the tour she had scheduled to accompany 2019's "Lover," after the COVID-19 epidemic forced everyone off the road in 2020.
That helped make this possibly the most anticipated tour of 2023, and the enthusiasm in the stadium before she even took the stage following opening sets by Gayle and Paramore was evident. There were tracks from her early albums, a reminder that when the world first learned about her extraordinary talents, her path felt a little more rural.
There were tracks from "Red," the transitional album on which she masterfully rebranded herself with "We Are Never Ever Getting Back Together," and the great "1989," which launched the synth-pop renaissance that followed.
There were tracks from "Folklore," one of her biggest albums, and its modest sibling album, "Evermore." She then brought us up to speed by bringing us "Midnights" from last year to finish the program.
Taylor Swift updates on Twitter: "The evermore album, which is an album I ABSOLUTELY LOVE despite what some of y'all say on TikTok."
"The evermore album, which is an album I ABSOLUTELY LOVE despite what some of y'all say on TikTok." – #TSTheErasTour pic.twitter.com/30WcPWUl6R

— Taylor Swift Updates (@SwiftNYC) March 18, 2023
She performed more songs from the more recent albums than from the ones she made in her teens and very early 20s. Even if that could imply that she identifies more with the more recent songs, you never would've thought it from the way she threw herself into the intense singing of "Enchanted" or the tenderness she displayed on the quiet "Tim McGraw," the song that gave her career its start.
She sang "22" with her dancers in a jubilant performance that included high kicks a la the Rockettes before turning the energy up even further with a jubilant rendition of "We Are Never Ever Getting Back Together." She certainly seemed as if she was feeling 22 throughout that performance.
The ten albums are among the best-selling ones from the previous two decades for a reason. Every song in Friday's set, from "You Belong With Me" and "Tim McGraw" to "Anti-Hero" and "Lavender Haze," was a smash in some way.
Swift's sustained success is predicated as much on the bonds she has forged with her followers as it is on her uncanny ability to provide songs that listeners want to hear.
She had developed a relationship over the years, and it was extremely evident all night long. She remained there taking in the acclaim as the crowd erupted in ovation in reaction to her first song before telling the supporters, "I don't know how to comprehend all of this and how it's making me feel right now."
In our previous posts, we covered the latest information about Taylor Swift and you can read about them through the links we have given below:
'I Can't Tell You How Much I've Missed You'
With a breathtaking combination of artistic set design—that "Folklore" cabin was cottagecore gold—and a movie projected on the enormous screen behind the stage, the stage presentation was created to reach the stadium's back seats. Several costume changes were made to fit each era, and Swift was surrounded by dancers almost constantly. They also performed a spectacular rendition of "Blank Space" while riding bicycles straight out of "Tron."
Yet, Swift was just as skilled at playing to the stadium's back rows thanks to the relationship she's been cultivating for so long. Swift questioned the crowd, "Is it just me or do we have a lot of things to catch up on? " not quite an hour into her performance.
She introduced them by name as "Lover," "Folklore," "Evermore," and "Midnights," noting that "it's been a pretty long time since I've been on tour" and that they've "added four new members to the family" since that previous trip.
Because there's no way to put it into words, she said, "I can't even begin to tell you how much I've missed you."
No Swiftie is likely to have departed State Farm Stadium with the impression that the singer hadn't expressed her desire to reconnect with everyone there. When she halted herself to remark, "I'm trying to tell you I love you and I'm babbling," it was evident that she was attempting to convey how highly she values that relationship.
Taylor Swift's Opening Acts: Gayle and Paramore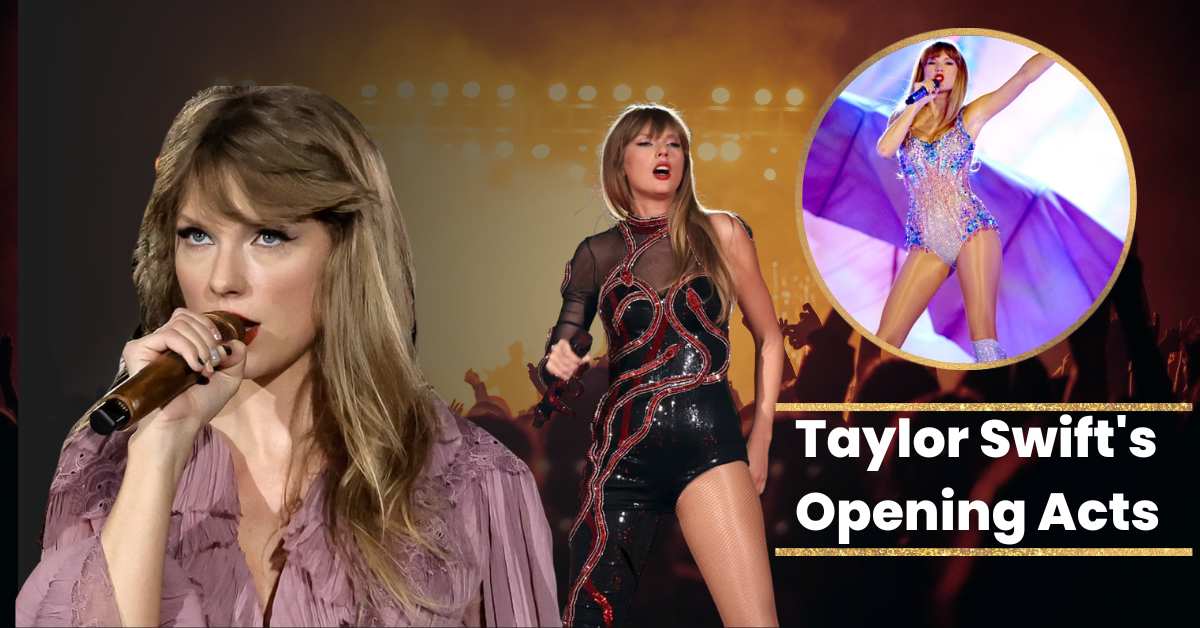 Gayle provided an energetic opening set that flared with punkish exuberance to welcome early guests. Before concluding her act with her TikTok-driven breakthrough song "Abcdefu," she sang Alanis Morissette's classic "You Oughta Know" cover for the audience.
I can't believe this is happening to me, she sobbed as she heard the stadium audience sing along to her songs. Hayley Williams of Paramore was equally excited to be there and shared a touching incident about being asked to watch over her baby at a Grammy celebration in 2007 by a woman who claimed her daughter was also from Nashville and was just starting out.
She was the mother of Taylor Swift. Williams led her bandmates in a hit-filled performance that kicked out with "This Is Why" and only slowed down on the adrenaline just long enough to hit us square in the emotions with "The Only Exception," while wearing a black pleather miniskirt, matching jacket, and bright red boots.
Even though they might not be the most natural tour partners, it seemed perfect to have the Swifties go wild for songs like "Misery Business," "That's What You Get," and "Ain't It Fun."