As everyone familiar with the sapphic subculture (women who love women) knows, the Norwegian singer Girl in Red has become a sort of l*sbian symbol. The phrase "Do you listen to Girl in Red? " became a famous meme last year, emerging as a kind of shorthand when you want to ask a girl if she is attracted to other girls.
When actress and talk show host Drew Barrymore was listening to Girl in Red in a TikTok in late 2021, it simply revived long-standing concerns about her s*xuality.
Let's investigate the rumors and find out the truth about Drew Barrymore's s*xual orientation.
Is Drew Barrymore Gay?
Despite all the above "evidence," those who continue to speculate on Drew Barrymore's s*xuality are wrong. This actress came out publicly as bis*xual in 2003.
In an interview with Contact Magazine, Barrymore confirmed that she is bis*xual. "Do I like women s*xually? Yeah, I do. Totally. I have always considered myself bis*xual," the actress said.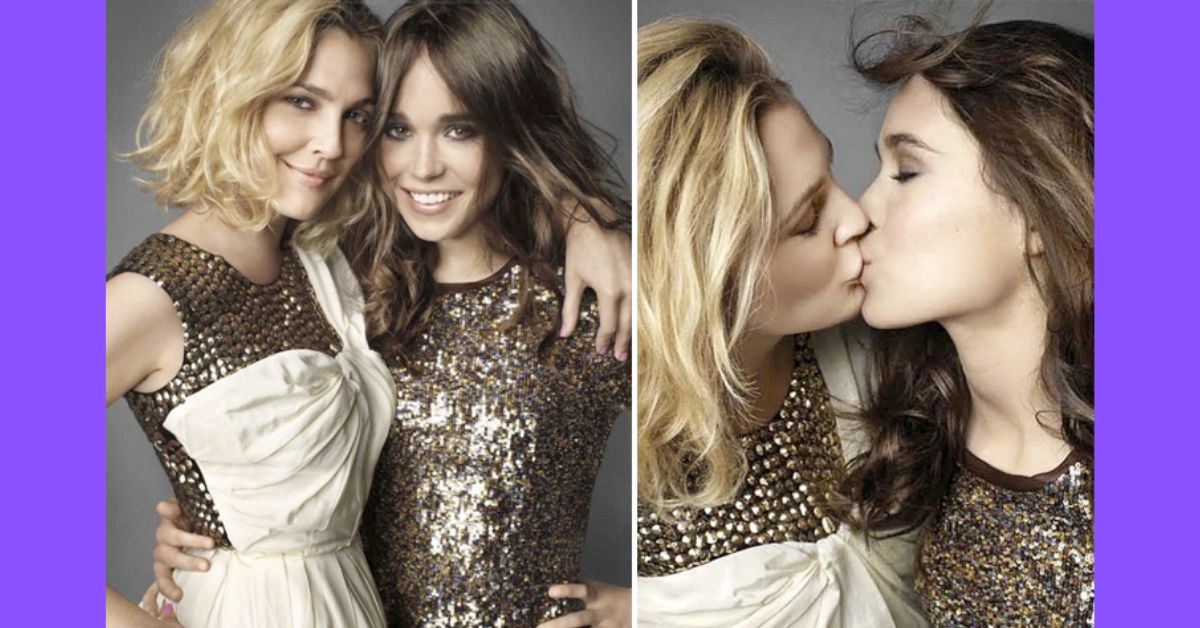 "I love a woman's body. I think a woman and a woman together are beautiful, just as a man and a woman together are beautiful. Being with a woman is like exploring your own body, but through someone else," she continued. "When I was younger I used to go with lots of women. Totally – I love it."
We recently explored top articles about celebrities' s*xuality and common misconceptions. See the links below:
Why People Think About Drew Barrymore's S*xuality
For many years, speculation has persisted that actress Drew Barrymore is bis*xual. It's tough to place the origin of these accusations, but they may have something to do with the actress's outspoken advocacy for the LGBTQ community.
In 2009, after the California Supreme Court upheld the anti-gay Prop. 8, Barrymore attended a marriage equality demonstration in Los Angeles. Barrymore told reporters, "I am who I am because of the people who influenced me growing up, and many of them were gay. No one has any right to tell anyone what makes a family. You choose your battles in this world. If you fight for everything, you're just someone on a soapbox. This is something that means everything to me."
View this post on Instagram
The following year, Barrymore received the Vanguard Award from LGBTQ media watchdog GLAAD for her work as an outspoken supporter of homos*xual rights. She also hosted the 24th GLAAD Media Awards that year, where she gave an emotional speech on how not having a "traditional family" and how that experience taught her that "' family' is a social definition, and you live it; you find it; you create it."
Is the star of Never Been Kissed only a fierce ally, though? Does she not identify as a member of the LGBTQ+ community?
The actress' s*xuality has been called into question on multiple occasions over the past few years, most notably her "curiously intimate" interview and photoshoot with co-star Elliot Page for Marie Claire magazine. A shot of the couple kissing was taken during the shoot to promote Whiplash, Barrymore's directorial debut. Barrymore continued to compliment Page's "beautiful body" throughout the conversation.
When it comes to her celebrity obsessions, the actress has never been coy. Barrymore revealed that she had a crush on MSNBC host and l*sbian icon Rachel Maddow, at the 50th-anniversary gala for CoverGirl Cosmetics in 2011.
View this post on Instagram
News headlines on celebrities' s*xuality and different theories have been published recently. The links are below:
In Conclusiveness
In short, Drew Barrymore is a cultural icon. The former child actress has been in some of the best rom-com of the late 90s and early 2000s, portrayed a kick-ass detective in the Charlie's Angels film franchise, and even hosts her talk show, The Drew Barrymore Show, which Vanity Fair once praised as one of the "most fascinating daytime viewings around".
Aside from her impressive body of work, Barrymore has been a vocal advocate for LGBTQ rights and has always been open about her bis*xuality and appreciation for women.
You can follow us on Twitter for more top headlines and recent breaking news.