Bruce Willis is a well-known American actor, producer, and singer who has been active in the entertainment industry for several decades. He has had a successful career in Hollywood, starring in numerous films and television shows.
Willis is known not only for his work but also for how he treats his family. He has been married twice and has five children. In this answer, we'll talk about Bruce Willis's children, including their names, ages, and any important things they've done.
Bruce Willis Children: How Many Kids Does He Have?
On his 68th birthday, Bruce Willis celebrated with his family for the first time since receiving a diagnosis of frontotemporal dementia (FTD). Emma Heming Willis, the Die Hard actor's wife of over 14 years, organized a celebration with their two young kids, Mabel and Evelyn, acknowledging it was a difficult day for her due to the action star's health issues.
Also, there were Rumer, Scout, and Tallulah, the couple's three adult children, as well as Bruce's ex-wife Demi Moore, from whom he separated in 1998. On social media, they shared adorable images and movies in honor of "BW" day and the "gentle female dad" they like so much.
Check out more celebrities' personal life details we have covered on-site:
After Bruce stated in March 2022 that he would be retiring from acting due to aphasia, a disorder in which a person loses the ability to communicate, the family rallied around him. They acknowledged in February that his condition had gotten worse over the previous year, but they valued having a precise diagnosis—FTD, the most prevalent type of dementia.
They have promised to publicly bring attention to FTD and have released a few joint family comments from Emma, Demi, and their combined group of girls.
"I'd have 5 more girls right now," when asked whether he'd like to have a son, Emma revealed in 2021.
As a result, we focus on the girls who helped him become a father and who have been there for him throughout his health journey.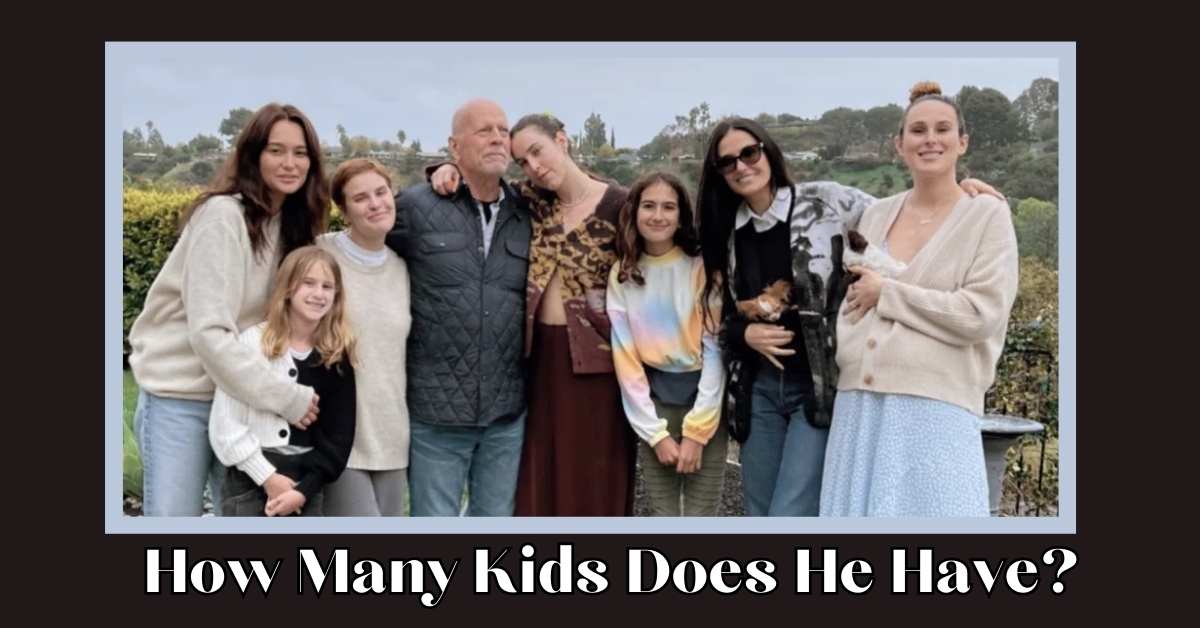 Rumer Glenn Willis, 34
Rumer Glenn Willis was born to Willis and Moore on August 16, 1988, in Paducah, Kentucky, while Willis was in the middle of shooting his movie In Country. Rumer spent most of her youth in Hailey, Idaho, where the family bought a $2.5 million estate, as the couple decided to raise Rumer away from the fame and fortune of Hollywood.
Rumer experienced life in the spotlight at a young age while growing up in a quiet village. She made her on-screen debut in her mother's coming-of-age movie Now and Then when she was just five years old, but she was given the name Willa Glen in the credits. A few years later, she made another appearance on the big screen in Striptease, as Moore's on-screen daughter.
Rumer kept making cameos in movies as she got older, including Hostage and The Whole Nine Yards with Willis. She relocated to Los Angeles for high school and enrolled at Wildwood Secondary School. She became friends with other well-known celebrity children including Dakota Johnson and Riley Keough but claims that after relocating to the west coast, she started to come under heavy scrutiny for her beauty, which she had not previously experienced while residing in a small town.
Scout LaRue Willis, 31
Scout LaRue Willis, the second child of the former couple, was born on July 20, 1991, in Sun Valley, Idaho, not far from where the family had made its home with Rumer. Scout grew up in the shadows, much like her sister, despite making appearances in Moore's 1995 film The Scarlet Letter and Willis' 1999 feature Breakfast of Champions.
Scout's family relocated to Los Angeles when she was a teenager, and she eventually enrolled at Brown University. 2013 saw Scout graduate, and she shifted her focus to more creative pursuits. She participated in a self-portrait show in London and afterward posted topless images of herself as a critique of body politics and Instagram's restriction of women.
View this post on Instagram
She pointed out that it was legal to stroll around New York City topless but Instagram's regulations banned nudity as part of her attempt to generate a conversation.
While Scout primarily uses Instagram to promote her singing career and showcase her artwork, she did post a rare family photo in July 2021 in honor of her 30th birthday. "30 years ago today the V* rare 2 of 3 DemiXBruce collab dropped," she captioned a snap of her smiling with Bruce and Moore.
Tallulah Belle Willis, 29
On February 3, 1994, in Los Angeles, Willis and Moore gave birth to their youngest child, Tallulah Belle Willis. She spent her early years on the family's ranch in Idaho, just like her elder sisters. According to Tallulah, who grew up in a tiny town, she didn't fully understand the scope of her family's popularity until they relocated to California when she was in the third grade.
Teen Vogue quoted Tallulah as saying that by the time she turned 13, she had already turned into her own worst critic. Tallulah struggled with living life in the spotlight as a teenager. She developed an eating disorder as a result of reading online comments made about her appearance, which only made her insecurities worse.
View this post on Instagram
She told the source that by the time she was in college, "the despair became overwhelming" and she was constantly doing narcotics. Tallulah joined a rehab facility on her own not long after her sisters urged her to do so. Tallulah reflected on that time and said that being sober was "the most important thing" she had ever done. She expressed her eternal gratitude to the "mighty people" who had "hoisted" her out of her hole.
Tallulah patched up her difficult ties with her family after her rehab treatment. She spoke on a 2019 Red Table Talk episode with Moore and Rumer and shared that she was still getting to know her "intimidating" mother. Tallulah added that Moore had always resisted talking about her background and had always held back, which had caused her to "feel very far away from her." Yet after reading Moore's memoir, she learned more about her mother and discovered they had more in common than she had assumed.
Mabel Ray Willis, 10
The couple had their first child together on April 1, 2012, a baby girl they named Mabel Ray Willis. Despite the fact that Mabel was born in Los Angeles, the family brought her up at their Bedford Hills, New York house, which is located about an hour outside of New York City. Heming clarified that she desired a quiet existence for her family, free of the media and the Hollywood way of life.
"We desired to give our children additional space and a yard to play in. The paparazzi scene is still very common in Los Angeles; it's tolerable in New York; and it's nonexistent where we live. I also wanted to protect the kids as much as I could from it. We have the best of all worlds because of the beauty of our location, which is near to the city "Heming disclosed to Elle Décor.
Heming's Instagram suggests that Mabel has the best of both worlds. Some days are spent playing in the backyard and giving piano recitals, while other days feature visits to New York City to go bowling and see Broadway plays.
Mabel, who is now 10 years old and in first grade, says she aspires to be on Shark Tank someday. While she's not in school, she enjoys spending time with her parents and older sisters. Every so often, she even teaches her dad how to dance!
Evelyn Penn Willis, 8
With the birth of their younger daughter, Evelyn Penn Willis, on May 5, 2014, the couple expanded their family once more. A couple's representative stated shortly after Evelyn's birth that the two were "healthy and doing nicely," adding that Mabel was "delighted to have a new baby sister."
"When the kid was born, we weren't sure what we would have. I believe that women ought to run everything in general. Simply put, women are wiser than males "A week after Mabel arrived, Willis spoke to PEOPLE.
Heming said that their home, which they "built with them in mind," was "full with joy and the laughing and chatter of tiny girls being themselves" with the arrival of another baby.
Heming has posted numerous images of the young child as she has grown, showcasing her enthusiasm for roller coasters, her interest in sewing, and her love of Star Wars. She also acquired bike riding skills while quarantining with her entire family during the epidemic, including Moore and her half-sisters, who encouraged her when she got rid of her training wheels.