There's a chance that several major European football teams will rethink their policy of offering Kim Kardashian free tickets to games.
The "Kardashian Curse" has been widely circulated online in the United States for years, and most people who follow popular culture are aware of it. Some of Kim K's exes have experienced career and relationship failures after breaking up with the Hollywood A-lister, giving rise to a joking conspiracy idea.
After breaking up with Kim K., Scott Disick, Kris Humphries, Lamar Odom, Tristan Thompson, and Kanye West all seem to have experienced some level of post-breakup difficulties. But the outcomes of sporting events are far more black and white, making it easier to follow and establish.
The two European football matches Kim Kardashian attended this past week both ended in humiliating losses, even though the teams Kardashian was rooting for were at home and heavy favorites. Is the curse back in effect?
We've covered the latest top headlines about Kim Kardashian. Check out the links below if you want to read about hot topics.
Kim Kardashian Attends PSG Defeat to Rennes
Kim Kardashian was spotted at the Paris Saint-Germain and Rennes Ligue 1 match on Sunday, March 19. Kardashian was seen cheering on the home team, Paris Saint-Germain (PSG), who were nine points ahead of their opponents in Ligue 1. She was wearing a grey PSG jersey with Neymar's name on the back.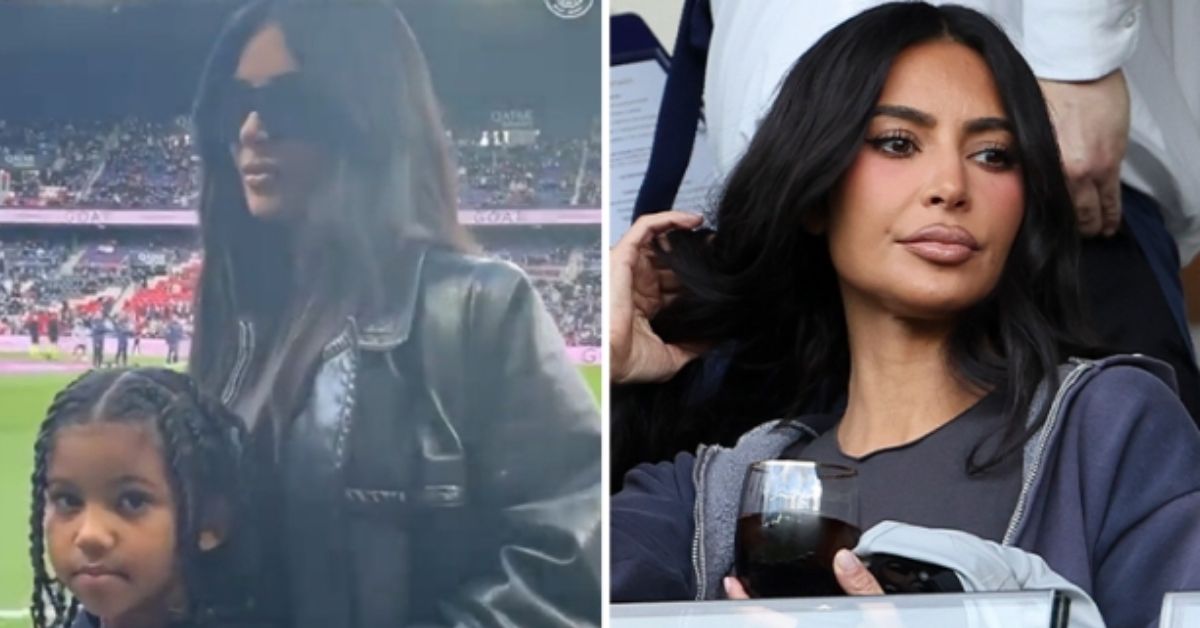 Despite having both Lionel Messi and Kylian Mbappe start and play the whole 90 minutes, the hosts were defeated 2-0 by Rennes, whose goals came from Karl Toko Ekambi and ex-PSG youth Arnaud Kalimuendo-Muinga either side of halftime.
While PSG's attacking players like Mbappe and Messi were contained, they still managed to take 10 shots but only managed to miss the goal.
On March 19, Paris Saint-Germain posted a tweet on its official Twitter page and said, "Great to welcome special guest @KimKardashian to the Parc des Princes today!"
Great to welcome special guest @KimKardashian to the Parc des Princes today! #PSGSRFC pic.twitter.com/xbWtnDTEER

— Paris Saint-Germain (@PSG_English) March 19, 2023
After Neymar's season-ending ankle injury, Paris Saint-Germain was eliminated from the Champions League by Bayern Munich, and even Kim's choice of shirt seemed foreboding. There's no telling if the jersey was worn before or if she took it from home, but either way, it doesn't help the concept of a curse.
Arsenal Was Eliminated From the Europa League Despite Kim Kardashian's Presence
Kardashian was spotted at the Emirates Stadium for Arsenal's Round of 16 matches against Portuguese club Sporting CP, just days before she attended the PSG match with Saint West.
Saint was spotted at the game rooting for Bukayo Saka while donning a jersey of Arsenal forward Katie McCabe.
On March 19, Ben Jacobs posted a tweet on its official Twitter page and said, "The Kim Kardashian curse is real.😬"
Arsenal 1 Sporting 1 (Sporting win on penalties)
PSG 0 Rennes 2

The Kim Kardashian curse is real.😬 pic.twitter.com/8Pb62PeoGz

— Ben Jacobs (@JacobsBen) March 19, 2023
Arsenal, the home team, too seemed to suffer from the curse's effects. With the score tied after the first leg, Arsenal manager Mikel Arteta started several bench players in this match. The final score was 1-1, forcing penalties. Arsenal lost the shootout and the game.
Arsenal thrashed Crystal Palace 4-1 on Sunday, increasing their lead at the top of the Premier League to eight points while Kim K was safely away in Paris.
We've covered the latest big stories about Kim Kardashian. If you want to read about the hottest topics, check out the links below:
As Roma Are Down After Kim Kardashian Was Seen Wearing a Throwback Outfit
Kim Kardashian's mere presence at a European football game may be enough to bring bad luck to the team.
The official AS Roma social media account posted a photo of Kim Kardashian in a vintage Roma uniform on January 28th, 2019, a few months before the January matchups against PSG and Arsenal. Because Kim K was wearing a Roma jersey, Google searches for the Italian club increased significantly.
On March 19, afcstuff posted a tweet on its official Twitter page-
Kim Kardashian on Instagram story, of her son, Saint West, donning a Katie McCabe jersey, cheering for Bukayo Saka as he takes his penalty during the shootout against Sporting CP tonight. #afc pic.twitter.com/9ze5QefoCJ

— afcstuff (@afcstuff) March 16, 2023
Yet, the following day, Roma would play in a Serie A match on the road and lose to Napoli. Giovanni Simeone scored the game-winning goal for the hosts in the 86th minute, and Roma lost a heartbreaker.
Given Napoli's dominance of the Italian league this season and their similar strength in the Champions League, Roma hardly stands a chance against such a formidable opponent.