Kourtney Kardashian is thinking back on her wedding day and the inspiration behind her unique dress.
The reality personality and entrepreneur took her fans and followers on a trip down memory lane by uploading a series of images showing the evolution of her signature style.
At the May 2022 wedding, she wore a Dolce & Gabbana minidress with a corseted bodice and lace trimming. A lengthy, ornate veil with a Virgin Mary pattern was also part of the bespoke attire.
"The first inspiration for my dress was when Travis and I were watching Guns N' Roses November Rain video one night before we were even engaged, and we said to each other 'this has to be our wedding,'" Kardashian captioned the photo, mentioning her now-husband Travis Barker. "She was wearing a short dress and I thought to myself 'I need a short dress!'"
View this post on Instagram
The eldest Kardashian sister went on to share that she was further inspired by "some 1990s campaigns of Monica Bellucci shot by Helmut Newton for Blumarine."
We've been keeping up with the latest Kourtney Kardashian news. To view recent coverage, please visit the link provided below:
Once Kardashian and Barker's wedding plans in Portofino, Italy were finalized, she revealed that the location informed the style of her dress.
"I also just wanted to feel like we ran off to Italy and got married and wanted the dress and wedding to feel that way," she said.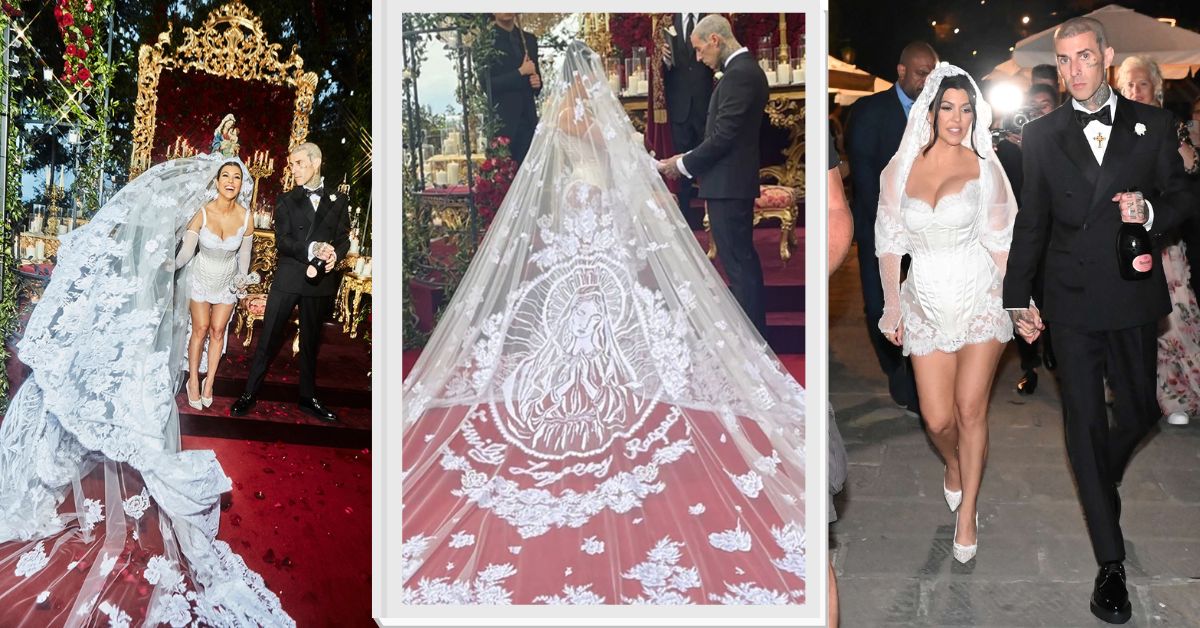 She revealed that Barker's Virgin Mary tattoo had been proposed for inclusion on her veil by the high fashion label.
"When @dolcegabbana suggested putting Travis's head tattoo of the Virgin Mary on the handmade lace veil with the words from his tattoo: family, loyalty, respect underneath, I got chills and knew how special that felt."
Kardashian concluded her caption by expressing her appreciation for the team's efforts: "This was all planned and made into my dream come true all so so quickly and I'm so grateful to everyone who put their all into making it all happen!"
Last April, reports appeared that Kardashian and Barker had married in Las Vegas after attending the 2022 Grammy Awards together.
Soon later, Kardashian posted a series of photographs on Instagram with the message, "Once upon a time in a land far, far away (Las Vegas) at 2 am, after an epic night and a little tequila, a queen and her handsome king ventured out to the only open chapel with an Elvis and got married (with no license). Practice makes perfect."
View this post on Instagram
The couple got married in Italy the following month to make their relationship official.