Fans and the media are always interested in rumors and guesses about the love lives of celebrities. Tyler Lain and Julianne Hough are a couple that has been talked about a lot in Hollywood in the past few weeks. People have heard rumors about their relationship because they have seen the two of them together a lot.
Fans and tabloids want to know more about this possible celebrity power couple, but neither Tyler nor Julianne has come out to confirm or deny the dating rumors.
Tyler Lain Dating Julianne Hough
As Tyler Lain and Julianne Hough shared a kiss at Radio City Music Hall, their connection might develop into dating. Hough and Lain have a friendship. With Dancing with the Stars and his pals, such as director Thomas Dutton, actress Nina Dobrev, and teacher Ash Dragon, the Dallas-raised model discussed his memories of the occasion.
They were welcomed on the amazing trip by Nina and Shaun White. He shared other posts about having fun in Indonesia with his coworker, but the one with Hough stood out. The ninth image of the actor's breakfast post showed the couple looking cozy. They had each other in a close embrace.
They looked adorable together, so some people said they were pleased with them. In addition to the dancer, he also shared a single photo with Chloe Suazo Bridges Devine, who plays Chloe in the television series Righteous Gemstones. The actress even said she missed him and the noodles.
Check out more celebrities' dating details we have covered on-site:
They boarded a small boat to view the sunset while touring the Raja Ampat Islands. Given that Dragon claimed the actor was her roommate and that she enjoyed spending time with him, it is possible that the schoolteacher and the actor shared a bedroom.
He had fun with Mary Miller, Kwesi St. Louis, Kara Masterson, Chase Masterson, Abigail Spencer, Ryan Bodman, and Kari White Bodman in this fifth photo. In addition, he talked of their time spent together when he hugged Samantha Dutton, Adam Devine, and Chole.
Together with their colleague, they took pleasure in their trip to Prana by Atzaró aboard a Luxury Phinisi sailing yacht. Before that, on June 22, 2022, the couple was photographed kissing in Radio City Music Hall in New York City. Even the actress said it was the happiest night of her life.
With a Birthday Post, Julianne Hough and Tyler Lain Spark Dating Rumours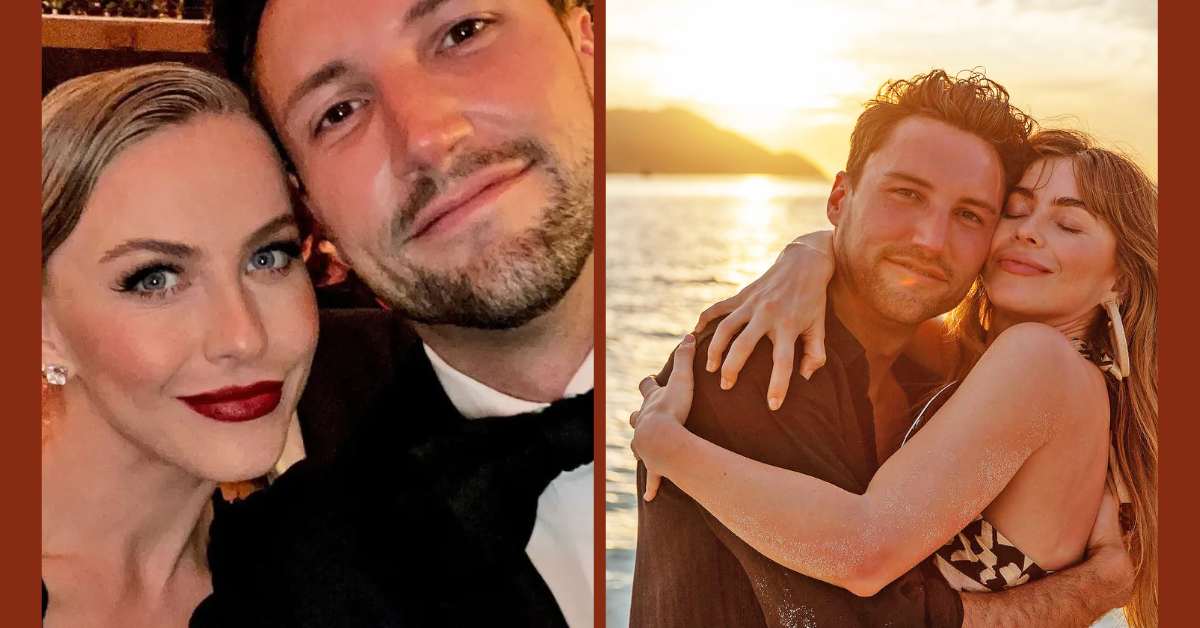 On Thursday, March 30, Julianne sent a heartfelt birthday tribute to Tyler on Instagram, sparking a significant online uproar. The dancer and actress shared a carousel of cuddly photos on social media along with the ironic phrase "fake engagement shots."
Happy birthday to the world's most lovely spirit, she wrote. Tyler, you are the person with the brightest light I've ever known. You are not basic; you are distinctive and stylish.
"You've been such a key reason why NYC feels like home to me and so many of our friends," she said in the message. I'm fortunate to be in your life because you are beyond wonderful. You are being honored now and every day! Love you always.
"Glad for you Jules! " and other sentiments of surprise flooded the comment area. One person jokingly said, "You deserve all the happiness," and another said, "I [will] need more info on this evolving narrative."
JulesHough shared a post on Instagram with the caption: "Happy Birthday to the most beautiful soul on the planet!"
View this post on Instagram