"Ghosts" is a British television sitcom that has captured viewers' hearts with its hilarious blend of comedy, romance, and supernatural elements. The show, which follows a young couple who inherit a haunted mansion, has been a fan favorite since its debut in 2019.
With four successful seasons under its belt, fans eagerly anticipate the release of "Ghosts" season 5. In this article, we'll take a closer look at the upcoming season and explore what viewers can expect from the latest installment of this beloved sitcom.
A young couple named Alison (Charlotte Ritchie) and Mike Cooper (Kiell Smith-Bynoe) buy an abandoned farmhouse to turn it into a five-star hotel in the movie Ghosts. They are unfortunate to discover that the home is already occupied by several restless ghosts, each of whom has its issues to attend to.
In the next fifth season, Alison and Mike will consider a new phase in their life that could also affect the ghosts' fates. Produced by Pat Tookey-Dickson and directed by Simon Hynd, Tom Kingsley, and Nick Collett, the series had its 2019 debut and featured Lolly Adefope (Everyone Else Burns, The Other One) and Katy Wix (The Windsors, Ted Lasso). Season 5 of Ghosts won't be released until an undetermined time. HBO Max presently has seasons 1-4 available for streaming.
Check out the series' official trailer below:
Here you can check more fascinating series like this:
Ghosts Season 5: Ghosts Will Return For A Fifth Season On Bbc One
The fifth season of Ghosts is coming, British Comedy Guide can exclusively confirm. According to BCG, the writers are already polishing the scripts for additional episodes, with a wish to make more if the BBC requests them. A third Christmas special will air next month.
A year ago, there were rumors that the fifth series had been ordered; today, BCG has confirmed the recommission. An official from the BBC declined to comment on the Monumental Pictures-produced successful sitcom's return. The creators Laurence Rickard, Ben Willbond, Martha Howe-Douglas, Jim Howick, Simon Farnaby, and Mathew Baynton will also make a comeback to star with Charlotte Ritchie, Kiell Smith-Bynoe, and Lolly Adefope in the new episodes, which Simon Hynd will once again direct.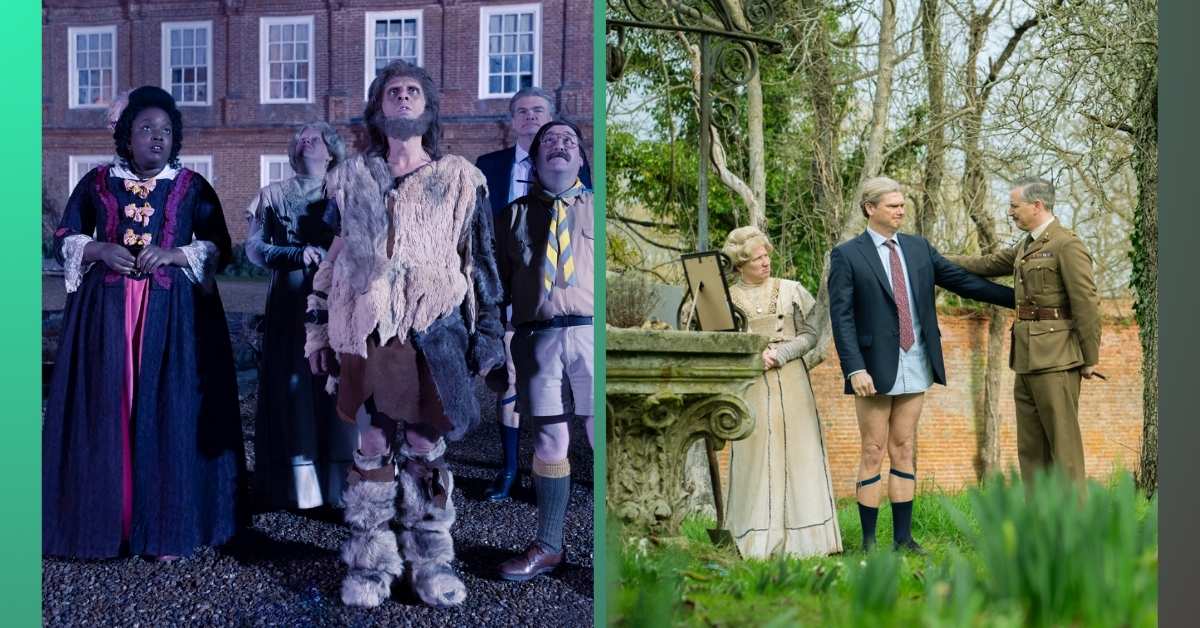 But, Katy Wix will not be joining them because she asked for her character, Mary, to be killed off or "sucked off" before the fourth series' filming earlier this year. Willbond admitted to Hannah Dunleavy during their conversation on Sarah Millican's Standard Issue podcast on Sunday that "Season four was a pretty stressful season going into."
"We talked with Katy and she decided that this is it for me," says one of the producers. "So then we had the challenge of how do we do it? It was a really sad thing to do but we had to come up with a way of it fitting into the show, making sure that Katy was comfortable with it. A whole balance of things, but it was unfortunate."
👻 Ghosts gets a fifth series!

A hit on both sides of the Atlantic, Ghosts UK returns to @BBCOne with Charlotte Ritchie, @KFRedhot, @RealMatBaynton, @SimonFarnaby, @MarthaHD, @JimHowick, @Lazbotron, @BenWillbond & @LollyAdefope. Distributor: @BBCStudios.https://t.co/AFERNeEpVt

— BBC Studios Press Office (@BBCStudiosPress) December 16, 2022
Despite this, he claimed that "there was something pretty fulfilling about them all being ghosts and yet still alive, suddenly coming face-to-face with grief and having to overcome that in half an hour." It was among the most challenging things I have ever had to write.
According to Howick, the idea that we gave birth to Mary as we know her, two episodes before the show we take her away, was a nice little circle to the series. "I think with Mary; we always knew we wouldn't be able to do her death [in which she was burned as a witch]. It would be too violent, too dreadful. We had to serve her with a flashback.
"The idea that she is born in Episode 2 and then we take her away in Episode 4 makes it doubly rewarding because we know, in death, she has had a relatively good existence, and she's got what she wanted – being'sucked off'," says the author. It's entirely open for the prospect of someone else being taken advantage of, Howick added. Or they're all leaving.
"Or perhaps all of them going at once! I'm just going to leave that hanging in the air," Willbond continued. The upcoming holiday episode, scheduled to air during Christmas week, centers on a holiday trip down memory lane for Howick's character Pat that causes him to doubt his very identity. It also shows the Ghosts coming up with a surprise gift for Alison (Ritchie) after her family lunch does not go as planned.
The first season of the Ghosts adaptation from the US is now available on BBC Three and Player. The full-length sci-fi comedy pilot, titled And We Are Not Alone, written by Willbond and Rickard for Dave, premieres on Monday and stars Declan Baxter, Joe Thomas, Vicki Pepperdine, Amanda Abbington, Georgia May Foote, and Mike Wozniak.