Meech and Terry's crime story will continue in BMF season 3, which is well on its way to being made. BMF, or Black Mafia Family, is a show about two brothers, Demetrius "Meech" Flenory and Terry "Southwest T" Flenory, who rises from the streets of Detroit to become one of America's most powerful crime syndicates. The show is based on the history and career of the organization with the same name.
The first two seasons have been praised for their introspective look at crime and thug capitalism, their constant plot twists, and, of course, their attention to detail when showing real-life characters. Meech is even played by Demetrius Flenory Jr., the son of the gangster who is in jail. With the last season of BMF ending on a cliffhanger, there is a lot more to learn about Meech and Terry's exciting and scary rise to power, which can be done in BMF season 3.
BMF Season 3 Release Date
BMF made its Starz debut in September 2021, and season 2 debuted in January 2023, a 16-month gap. Viewers can anticipate the release of BMF season 3 at any time in early 2024 if Starz follows a similar production schedule. But regarding a potential release date for BMF season 3, neither Starz executives nor the show's creator Randy Huggins has made any official statements.
In a similar vein, 50 Cent has been mum about the release of the new season; perhaps this is due to his own busy schedule as a producer of the Power Book V: Influence spin-off and its follow-up, Den of Thieves.
Here you can check more fascinating series like this:
BMF Season 3 Story Details
In the previous Starz series starring 50 Cent, titled Power, the rapper portrayed the ruthless gangster Kanan. However, the tale of how Kanan first became involved in a life of crime was told in the prequel titled "Power Book III: Kanan," which was published first.
Cent now has a real-life story to present with BMF, which is not the case with the Power franchise. Due to the fact that season 2 only skimmed the surface of the gang members' adult exploits, there are many more angles to investigate before the series is likely to come to an end with Meech and Terry pleading guilty in 2007. The 1980s have been covered by BMF thus far; however, there is still a larger time period to be covered.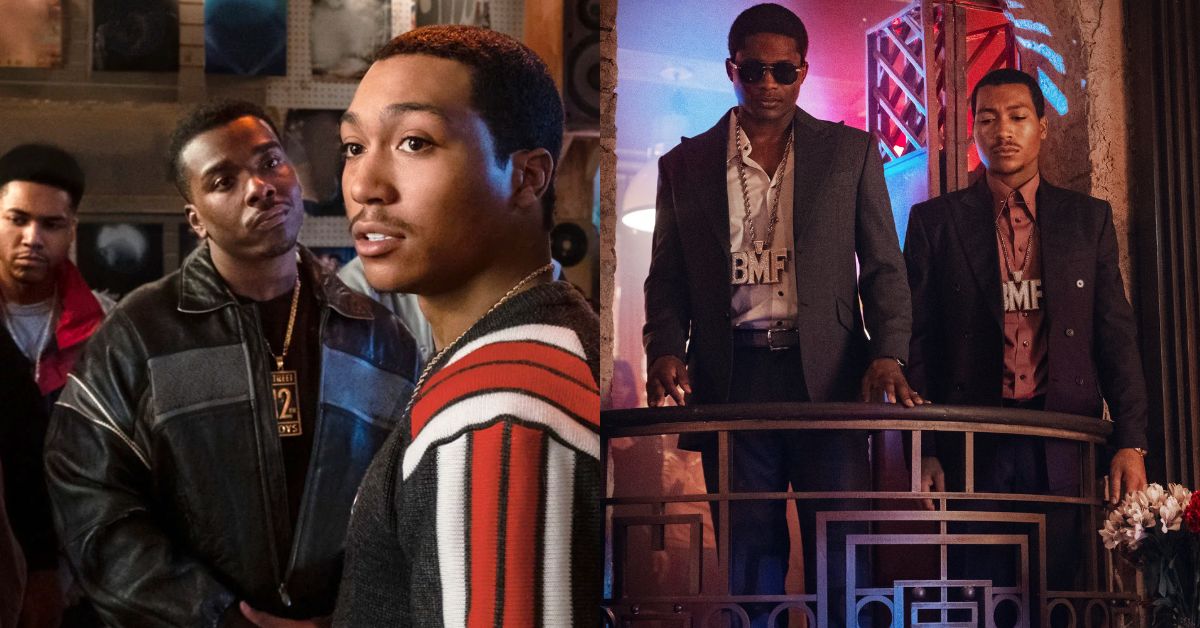 It is possible for BMF season 3 to pick up right where the successful conclusion of the previous season left off with Meech and Terry's exploits. It is hoped that the brothers will be able to spend some time away from the criminal justice system now that Detective Bryant has been removed from the force.
The two characters spent the entirety of season 2 working to establish BMF as a reputable criminal organization, and it would appear that their efforts are paying off at least for the time being. As a result of B-Mickie's expulsion from the group, it is highly likely that the Black Mafia Family will expand with the addition of new members during season 3.
BMF Season 3 Cast
Leading actors Flenory Jr. and Terry actor Da'Vinchi will undoubtedly return since the Flenory brothers serve as the story's central characters in BMF. Kash Doll won't be able to return for season 3 because Monique tragically perished in season 2. Regarding the rest of the group. Given that Lamar, the character played by Eric Kofi-Abrefa, appeared to pass out after abusing crack cocaine, it is uncertain whether or not he will return.
Regulars on the BMF who play the police detectives Bryant and Jin, respectively, are Steve Harris (Diary of a Mad Black Woman, The Practice) and Kelly Hu (The Scorpion King, Arrow). Harris might make a comeback, even if the reasons for his character's actions are different now that Bryant has been found guilty of his son's violent behavior and lost his badge.
Hu's relationship with Bryant also needs a lot of repair work, as does Jin's. The brothers' adulterous father Charles, who is portrayed by Russell Hornsby (In Treatment, Fences), and their obstinate mother Lucille, who is portrayed by Michole Briana White (Atlanta, Malignant), are also part of the returning cast.
Starz has already cast 2 Chainz and Ne-Yo for guest roles in BMF season 3, which also features significant casting updates for celebrity cameos. The two musicians will join the ranks of a large number of other performers who have appeared in BMF, such as rapper Snoop Dogg who portrayed Pastor Swift.
Even Eminem, a close friend of 50 Cent's who has kept a low profile in acting ever since he performed the iconic freestyle raps in 8 Mile, made an appearance in a season 1 episode as the infamous drug dealer and FBI informant White Boy Rick. The new season may also feature non-musical individuals, as the previous seasons also included actor/comedian Mo'Nique and sports analyst Jalen Rose.