MrBeast, aka Jimmy Donaldson, has the most subscribers on YouTube despite his "suspiciously" clean reputation. Recently, he came under fire for releasing a video in which he helped one thousand previously blind persons regain their sight.
As a result, the content creator's admirers are curious about his romantic relationships. Here's the lowdown on his current partner and his previous relationships.
Who is MrBeast Dating in 2023?
MrBeast is seeing Thea Booysen at the moment. Since Booysen lives in Cape Town, South Africa, the couple is engaged in a long-distance romance. She revealed that she and controversial YouTuber Logan Paul and travel vlogger Casey Niestat were the first to meet Donaldson on his visit to her country. She did so while appearing on Joshua Robin's show, Wide Awake.
"I knew of MrBeast. I knew the great things he was doing, but I was also curious from a psychological perspective, like, are these people playing it up? Do they have an alter ego?" she said. Booysen and Donaldson went on a coffee date after they met through mutual friends.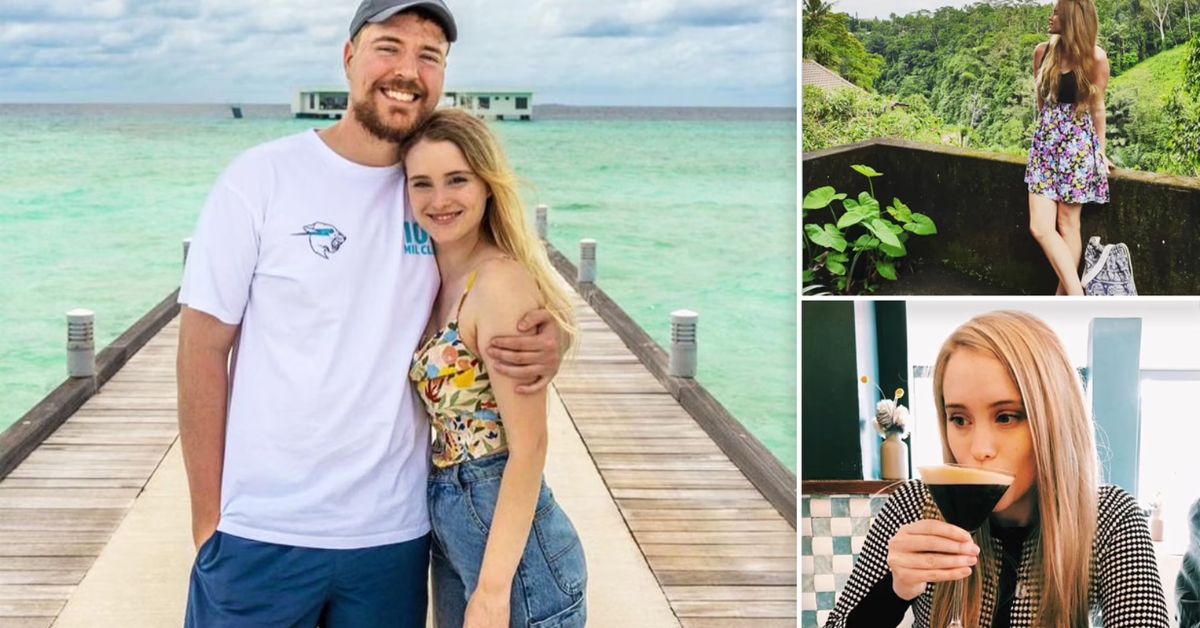 She recalled of the moment: "Little did I know he was actually like going off a list, because he was looking for a new girlfriend potentially, and he had this whole list, he's like: she has to have a hobby, she has to have some interests, she has to do this and that." They started dating in February 2022, but it wasn't until September that Donaldson confirmed the relationship in the Flagrant podcast.
There, he revealed that he put Booysen through "tests" to see if she's girlfriend material.
"But I have to go through the tests because I don't really get along with women if, like, they don't love learning, they're not obsessive, they don't have a hobby," he explained. "[There are] just certain things where if you have these traits we get along really well and if you don't, it's impossible for us to hang out."
Click on the links below to learn more about who your favorite stars are dating:
What Does MrBeast's Girlfriend Do?
Twitch streamer Booysen. She plays games like Stray and Gwent: The Witcher Card Game in front of over 22,000 followers to entertain them. She's only starting, but she's already amassed 23,100 subscribers to her YouTube channel, where she goes by TheaBeasty. A graduate of Psychology and Law wrote the 2022 young adult science fiction novel The Marked Children.
Booysen has been in a previous MrBeast video, 100 Boys Vs. 100 Girls for $500,000, in a cameo role. Her justification for accepting the position was, "I guess I could do this 100 hours challenge."
View this post on Instagram
Booysen discussed her relationship difficulties with MrBeast in a Wide Awake interview. "Going out as MrBeast's [girlfriend] was super anxiety-provoking," she admitted. "You get common sayings like, 'Oh, she's gonna break his heart,' or, 'She's gonna be a gold digger.'" But she's strong enough now to ignore it.
"I don't take it seriously at all like, I know this is the process that's going to take place as people are going to assume the worst, of course," she continued. "They don't even know [me]." They certainly don't, as Booysen is more than an online star.
"You can tell she likes learning; she's about to get a neuroscience degree just for fun, not even to get a job," Donaldson said of her on Flagrant: "And so she was like, checking all the boxes, and I have like, these ten things," he added. "If I meet a beautiful girl, and they have these ten traits, we're going to be best friends. She checked every single one of them."
Who Has MrBeast Dated in The Past?
MrBeast revealed the news to the world not too long ago that he had broken up with Maddy Spidell. She, like Booysen, has spoken out about being called a "gold digger" because she dated Donaldson.
Spidell had to defend herself from the trolls even though they had managed to keep their relationship secret. "If it wasn't clear – I don't want MrBeast for his money, just want a bf with good taste in anime who can make me laugh, leave me alone and let me have an unattainable internet crush LMFAO," she tweeted before deleting it.
Click on the following links to find more about who your favorite celebrities are dating:
In June 2019, Spidell began dating MrBeast. In 2022, they ended their relationship, but they never said why. In April that year, Donaldson confirmed the news during an interview with Rolling Stone.
"He recently split from lifestyle influencer Maddy Spidell, who has appeared in a handful of his videos. Those in his circle told me that Spidell had been a positive influence, forcing Donaldson to prioritize work-life balance more," the magazine reported. "Donaldson did not want to comment on the record about the breakup, citing Spidell's privacy, yet Tyson says Donaldson's singular focus on work was a major contributing factor."
This is a welcome change in light of the numerous YouTubers' recent explosive dramas.