James Marsden (James Paul Marsden) is an American actor, singer, voice actor, and former model. He is well-known for his work in movies and television, and he has more than 70 acting credits. James received the part that would make him famous, Scott Summers/Cyclops in the "X-Men" series, in 2000.
Additionally, he has had prominent appearances in movies like "The Notebook" (2004), "Superman Returns" (2006), "Hairspray" (2007), "Enchanted" (2007), and "Anchorman 2: The Legend Continues" (2013).
In addition to his roles as Teddy Flood on HBO's "Westworld" from 2016 to 2018, Marsden played Criss Chros, Liz Lemon's future husband, on NBC's "30 Rock" from 2012 to 2013.
The Netflix series "Dead to Me" cast James as Steve and Ben Wood in 2019, and in the CBS All Access miniseries "The Stand" in 2020, he played Stu Redman.
| | |
| --- | --- |
| Full Name | James Paul Marsden |
| Nickname | James Marsden |
| Net Worth | $10 million  |
| Gender | Male |
| Date of Birth | September 18, 1973 |
| Place of Birth | Stillwater, Oklahoma |
| Age | 49 years old  |
| Height | 5 feet 10 inches |
| Nationality | American |
| Profession | Actor |
James Marsden Net Worth: How Much Does He Make Annually?
James Marsden's net worth is to be around $10 million. He makes an annual salary of $1 million. His lengthy and fruitful career in the entertainment business is what led to this figure. According to sources, he reportedly made several million dollars for every film and profited significantly from his TV roles.
How Does James Marsden Spend His Money?
James purchased a Hollywood Hills residence designed by "Architect to the Stars" Edward H. Fickett in 2014 for $1.8 million. The 1959-built house has four bedrooms, three bathrooms, glass walls, a fire pit, and a swimming pool.
The yard also has a spa and a fire pit. Additionally, Marsden possessed a 3,974-square-foot residence in Nashville, Tennessee, which he listed for $1.25 million in 2010.
James Marsden Early Life
James Paul Marsden was born in Stillwater, Oklahoma, on September 18, 1973. James' parents, food safety advisor James and dietician Kathleen, separated when he was nine.
Marsden has four siblings—sisters Elizabeth and Jennifer and brothers Robert and Jeff—who went to Hefner Middle School in Oklahoma City, then Putnam City North High School.
After receiving his diploma in 1991, he enrolled at Oklahoma State University, studying broadcast journalism and becoming a fraternity Delta Tau Delta member. After a year and a half, James dropped out of school to concentrate on his acting career.
James Marsden Acting Career
In 1993, Marsden made his acting debut on television. He starred in the made-for-TV film "In the Line of Duty: Ambush in Waco" and appeared as a guest actor in "The Nanny," "Saved by the Bell: The New Class," and "Joe's Life."
He made his film debut the following year in "No Dessert, Dad, Till You Mow the Lawn," and soon after that, he starred in "Campfire Tales" (1997), "Disturbing Behavior" (1998), and "Gossip" (2000).
James appeared in television movies such as "Search and Rescue" (1994), "Bella Mafia" (1997), and "On the Edge of Innocence" (1997) during the 1990s as well as guest-starred on "Blossom" (1995), "Party of Five" (1995), and "Touched by an Angel" (1995).
He also played Ricky Becket on 21 episodes of ABC's "Second Noah" (1996–1997). Glenn Foy was a character that Marsden began playing on "Ally McBeal" in 2000, and he would go on to appear in 13 episodes.
He made his film debut in the "X-Men" series that same year, and he later returned to play Cyclops in "X2" (2003), "X-Men: The Last Stand" (2006), and "X-Men: Days of Future Past" (2014). The "X-Men" film series has been a significant hit, with its 13 installments grossing $6.083 billion worldwide.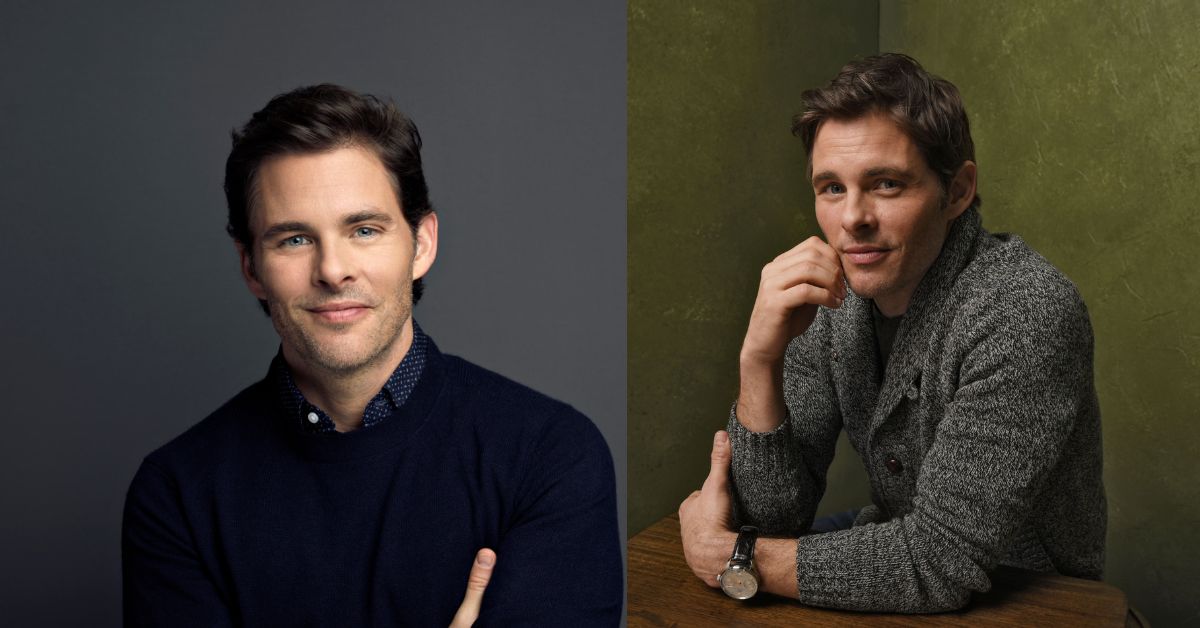 Following "X-Men," James portrayed John Wilkes Booth in "Zoolander" (2001) and Lon Hammond, Jr. in "The Notebook" (2004). He acted in "Superman Returns" in 2006, a movie that made $391.1 million worldwide, and "Enchanted" and "Hairspray," two films that both made over $200 million.
"The Nicest Kids in Town" and "(It's) Hairspray" were performed by Marsden for the "Hairspray" soundtrack, which was awarded Platinum status in the United States. Then he had appearances in the films "27 Dresses" (2008), "The Box" (2009), and "Death at a Funeral" (2010).
He also provided the voice for the animated films "Cats & Dogs: The Revenge of Kitty Galore" (2010) and "Hop" (2011). In 2011, Marsden appeared as a guest on "Modern Family," and in 2013, he played John F. Kennedy in "The Butler" and Jack Lime in "Anchorman 2: The Legend Continues."
He also had 13 appearances on "30 Rock" during this time, and he provided the voice of "Sir Brad Starlight" for the Disney Channel's "Wander Over Yonder" (2014; 2016).
James played Burt Reynolds in the more extended version of Quentin Tarantino's 2019 film "Once Upon a Time in Hollywood" in addition to appearing in the comedy "Walk of Shame" (2014) and "The D Train" (2015).
Between 2016 and 2018, he made 17 appearances on "Westworld," In 2017, he starred in the HBO parody "Tour de Pharmacy." James portrayed Phil Crane in the FX miniseries "Mrs. America" and Tom Wachowski in the live-action "Sonic the Hedgehog" movie released in 2020.
He also played the lead character, Stu Redman, in the 1994 miniseries adaptation of the Stephen King novel "The Stand," first published in 1978.
Here you can check out some other famous American Actor's net worth:
James Marsden Personal Life
On July 22, 2000, James wed Mary Elizabeth Linde. Jack was born on February 1, 2001, and Mary was born on August 10, 2005. September 2011 saw the divorce of Marsden and Linde. William (born December 14, 2012), whose mother is Marsden's former girlfriend, Rose Costa, is also James' child.