In 2020, Fox News claimed that Dominion Voting Systems had committed election fraud and manipulated vote counts, leading to Donald Trump's loss of the presidential election. This brought the firm into the spotlight.
Shortly after, Dominion filed a $1.6 billion defamation lawsuit against Fox Corporation, claiming that "lies and misinformation have severely damaged our company and diminished the credibility of U.S. elections." Employees of the company have also been targeted.
CEO John Poulos denied on 60 Minutes that Dominion was formed in Venezuela to rig elections for the country's late former president Hugo Chávez, among other allegations of election fraud.
"I can cut all of this short, we were founded in Toronto, and there is nothing to do with Venezuela," Poulos said. In that case, is there anything else you need to know about the Poulos and Dominion Voting Systems? Take a look at the company and John Poulos' wealth below.
In 2002, John Poulos and James Hoover formed Dominion Voting Systems
In 2002, John Poulos and James Hoover started a company called Dominion Voting Systems. The company, which markets and develops electronic voting gear and software, has offices in Canada, the United States, and Serbia.
Private equity fund Staple Street Capital acquired Dominion in 2018.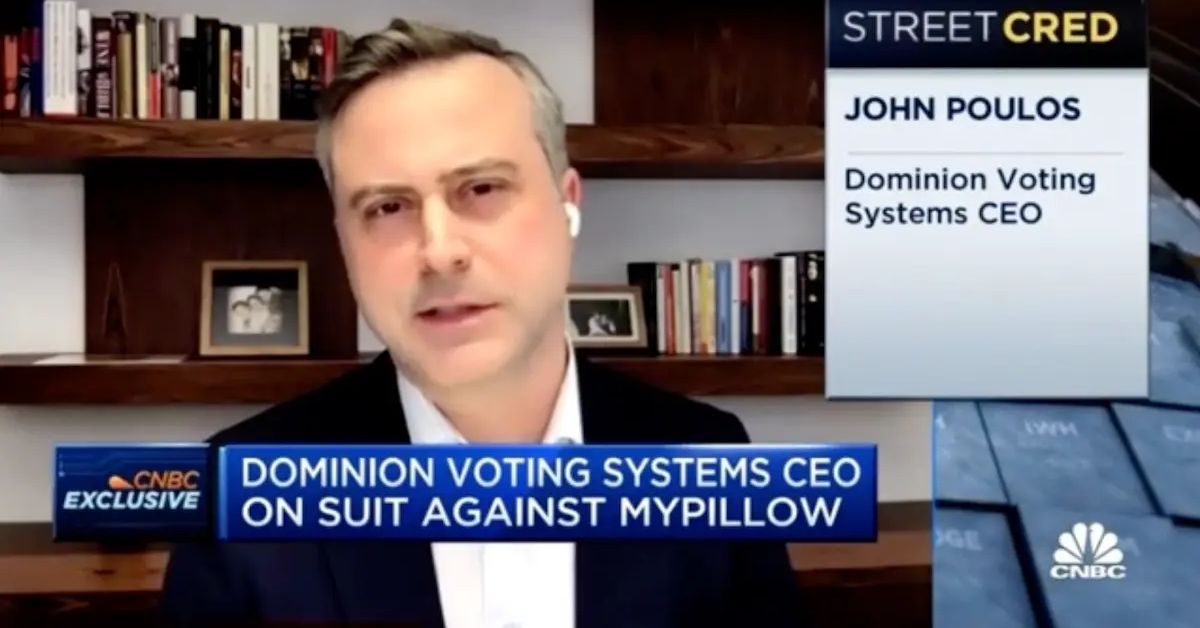 "Our senior management team is extremely pleased to partner with Staple Street Capital, which has a proven track record of successfully investing in growing mid-size businesses," Poulos said in a press release at the time. "Given the opportunities on our horizon, this is the ideal time for us to add financial resources and an experienced strategic partner to help us meet market demand, better serve customers and invest in evolving security initiatives."
You may also look at other celebrities' net worths we've lately covered:
The second-Largest US Election System Vendor is Dominion Voting Systems
Since the acquisition, Dominion has become one of the three companies that together dominate 88% of the voting systems market. According to Forbes, Dominion was paid $118.3 million to offer election services in 19 states from 2017 to 2019.
"Can you flip votes in the computer system? Can you add votes that did not exist?" @andersoncooper asks Dominion Voting Systems CEO John Poulos.

"Absolutely not," Poulos says. See the interview, Sunday on 60 Minutes. https://t.co/xdJRiwlts0 pic.twitter.com/Ixl22xmRhW

— 60 Minutes (@60Minutes) October 21, 2022
Dominion has several lucrative contracts in place, including a 10-year agreement worth $107 million with Georgia, $52 million with the state of Arizona, and a $16.2 million arrangement with the state of California.
Fox's allegations about voting fraud, however, "recklessly disregarded the truth" and "deeply damaged [its] once-thriving business," as stated in the lawsuit.
Dominion CEO John Poulos's Net Worth
Poulos's pay and benefits are confidential because Dominion Voting Systems is not a publicly traded corporation. Despite this, Poulos is reportedly worth $120 million because of his $1.5 million income and $15 million in total remuneration, as reported by several media sites.
He was recognized as one of Canada's top 40 under 40 in 2010 and received the Queen's Diamond Jubilee Award in recognition of his charitable efforts in 2013.
'Fox has admitted to telling lies about Dominion': Fox and Fox News settled a defamation lawsuit by Dominion Voting Systems for $787.5 million https://t.co/PMZtx4FTp1 pic.twitter.com/o3O5beEzFo

— Reuters (@Reuters) April 19, 2023
Poulos is a minor hockey coach and a member of a group of successful Greek-Canadian businesspeople in addition to his work at Dominion.
Dominion's defamation lawsuits against Fox, Newsmax Media Inc., MyPillow CEO Mike Lindell, and Rudy Giuliani have kept Poulos quite busy, and they likely will continue to do so for some time.
You can also check out other celebrities' net worth we have covered recently:
John Poulos Successfully Represented Dominion in Its Case Against Fox
Fox, controlled by billionaire Rupert Murdoch, and Dominion were scheduled to go to trial to resolve their dispute on April 18, 2023, but Fox decided to settle the matter for $787 million the day before the trial was to begin.
According to PBS's reporting on the disclosed documents,  "Fox hosts and executives did not believe the claims by Trump's allies but aired them anyway, in part to win back viewers who were fleeing the network."
Fox accepted the reduced payment because it believed "the amount greatly overstated the value" of the company (compared to the $1.6 billion Dominion was seeking).
Follow us on Twitter and read all of our latest posts to read more about the investments, profits, riches and more that have contributed to the net worth of other celebrities.