It's official: Simone Biles is now a Mrs. The seven-time Olympic medalist is now married to Jonathan Owens, a safety for the Houston Texans.
On Saturday, Biles posted numerous beautiful photos to Instagram from a wedding held at a Houston courthouse. The 26-year-old gymnast wore a gown with ruched straps and a plunging neckline.
The first photo is of Biles and Owens walking out of some wooden doors, with Owens pumping his fist and Biles looking lovingly at her husband. On one hand, she had a bunch of white flowers from Bramble and Bee.
In another photo, Owens dipped his wife for a k!ss, while in another, the two ascended and descended stairs and enjoyed a beautiful sm00ch.
Simone Biles has gotten married! The Olympic gymnast, 26, married Jonathan Owens on Saturday, she disclosed on social media. "I do 🤍 officially owens 🤍," Biles captioned a sweet Instagram photo of herself and the Houston Texans player, 27.
View this post on Instagram
Lots of Biles's 6.7 million followers chimed in on the comments part to wish the happy couple well.
"Congrats you two!! ❤️," Olympic skier Lindsey Vonn applauded.
"OH MY GOSH," gymnast Sunisa Lee exclaimed. "CONGRATULATIONS 😭🤍🤍🤍."
"Wifey got a great ring to it ❤️💍," Owens added. "First day of forever 🤞🏽."
If you want to know more about Simone Biles, you should check the pieces below:
Simone Biles Net Worth: What Is the Olympic Gymnast Estimated Net Worth?
Biles also showed off a second batch of black-and-white photos, which featured gorgeous photographs of the newlyweds on a rooftop and close-ups of their wedding bands.
View this post on Instagram
"I never knew a love so deep🤍 @jowens," Biles gushed.
She revealed in an Instagram story that in a matter of weeks, Biles will be wearing not one, but four dresses at the couple's destination wedding.
The photographs depict what looks to be a courthouse wedding between the two people. Biles looked stunning in a white gown with tiers, while Owens looked dapper in a brown suit.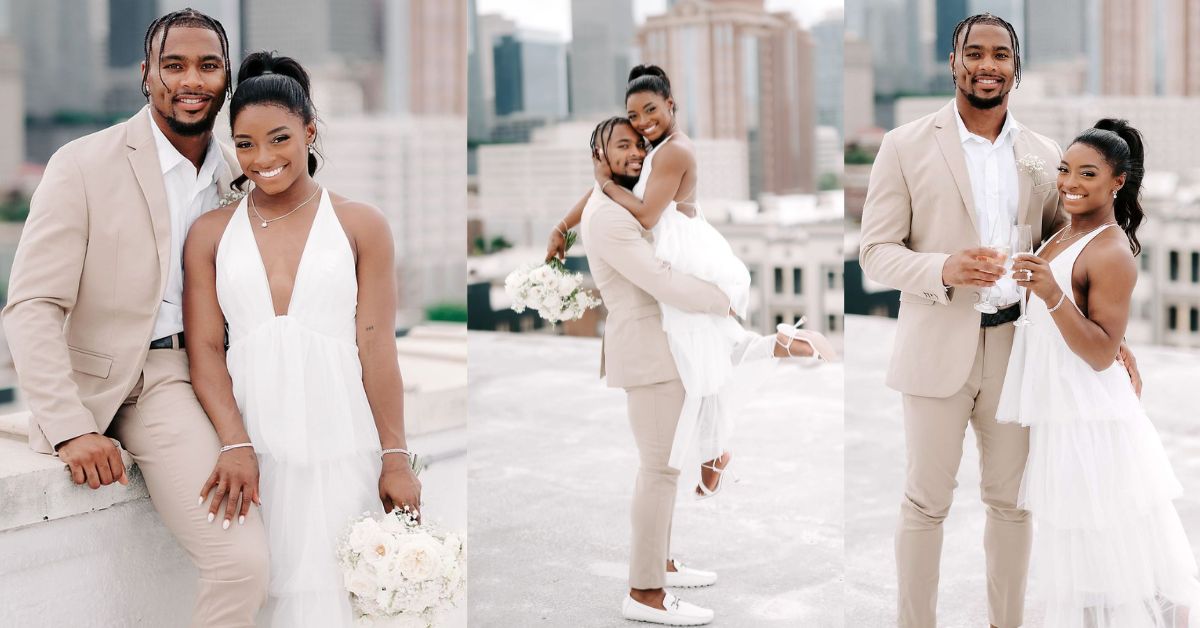 After coming near to each other at a Texans game in 2019, Biles and Owens finally met in March of 2020 through the dating app Raya, with Biles making the first move.
A few months later, the famous athlete made her relationship with Owens' Instagram official by posting two adorable images of the two of them together. Photos of the couple showed him cuddling up to her and planting a passionate k!ss on her cheek. "It's just us," Biles wrote as the caption for the photo.
After two years of dating, Biles and Owens announced their engagement in February through a series of Instagram images.
Under a gazebo in Houston, Texas, the NFL athlete proposed with an oval-cut diamond ring from jeweler ZoFrost, complete with a diamond-encrusted band.
If you want to discover more about the wedding photos of your favorite stars, you should check the pieces below:
Who Is Emily Compagno's Husband? An Unseen Wedding Photo Is Finally Out There
On April 15, Biles and Owens obtained their marriage license, setting the stage for the ceremony.
The couple appeared overjoyed when Biles posted a photo to Instagram displaying the certificate, which was issued in Montgomery County, Texas.