Issues like accidental deletion of files happen to most of us. Many questions may immediately come to your mind when you encounter data loss on your device. Many of you must be wondering How to recover deleted files. If you are looking for answers to such questions, don't worry. All you need to do is follow some data recovery steps to get your deleted files back.
For successful recovery of your deleted files, it is important to get them back before they become overwritten by any new file. When any file is deleted, it will move to the Recycle Bin. However, when files are deleted using the Shift + Del keys, they will be permanently deleted from your system. Don't worry; you can recover these files permanently from your device.
Here, in this article, we will provide you with best practices for data recovery that will be very successful in 2023.
Can You Recover Deleted Data on Windows?
The answer to this question is – YES!
You can recover your deleted files using various data recovery methods covered in this article. Along with the manual methods, we have also discussed professional data recovery software, i.e., Stellar Data Recovery Professional.
It is important to understand that when any file is deleted from the storage, media will be available for restoration until it is overwritten. The space that was occupied by deleted files earlier will be available for new files. So, there is some advice for you to stop using your system when you encounter data loss on your device.
This article has the best data recovery methods of 2023 and more, so keep reading.
What Causes Data Loss on Your System?
Before you the best data recovery methods of 2023, it is important to find the exact reason behind such data loss.
Here are the following common reasons for the data loss:
Hardware Failures: Any breakdown in your computer HDDs or SSDs results in data loss. When you encounter any HDD/SSD failure, avoid saving important files over it.
Human Errors: Computer users sometimes make mistakes due to a lack of experience or inattentiveness, which leads to the deletion of files.
Software Crashes: Software malfunctions, like any problems with the file editors, backup software, or installed Antivirus software, can also cause data loss issues.
Virus or Malware: Computer viruses can damage or delete data stored on your computer without warning. To avoid such a situation, you must have the updated version of antivirus software installed on your device.
Quick Methods to Recover Lost Data on Windows Devices
Now as you are little bit familiar with the reasons for the loss of data, it is important to apply proper recovery methods to get the deleted files back. While you can follow these best methods of data recovery in any order, we recommend you to start with the first one and then move down the list.
Method 01: Recover Lost Files from Recycle Bin
As mentioned above, when any file delete on Windows devices, it moved to the Recycle Bin. So Recycle Bin is the first place where you should look for your deleted files. However, it is important to note that deleted files stay in Recycle Bin for some specific days unless you manually remove them.
Go through the following steps to recover your deleted data from Recycle bin:
Locate and double-click on the Recycle Bin folder.
Select the files that you need to recover. You can select multiple files using the Ctrl key while individually clicking their names or icons.
Right-click on any selected file and choose the "Restore" option.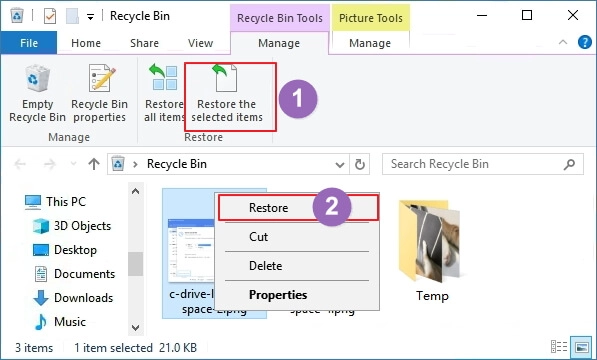 Once you finish the above steps, your selected files will instantly restore to their original location.
Method 02: Use Windows Restore Previous Versions Feature
If the deleted file is not present in the Recycle Bin, you can recover an older version of your deleted file using Windows' in-built backup and restore feature. The latest Windows OS has an amazing recovery feature, i.e., Restore Previous Versions. You can use this feature to restore previous versions of all the files stored on your device. All you have to do is:
Open the Control Panel in your system and navigate to File History. Then select "Restore personal files".
Now, select the file that you need to restore.
Click the Green "Restore" button to get your deleted files back.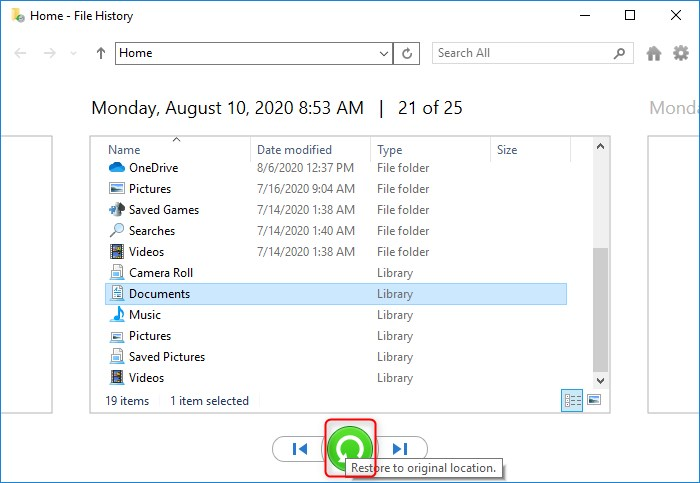 Method 03: Restore Deleted Files via Previous System Restore Point
You can even use Windows 10 System Restore data backup feature to restore your deleted files. This option takes snapshots of your system by which you can revert the changes if done by mistake. To restore files using the Previous System Restore point, you need to go through the following steps:
Firstly, type "create a restore point" in the search box in your desktop's bottom-left corner.
Now, click the "System Restore" button from the System Properties window that appears.
Choose a System Restore point to restore and click the Next button.
After that, confirm your Restore point and then click the Finish button.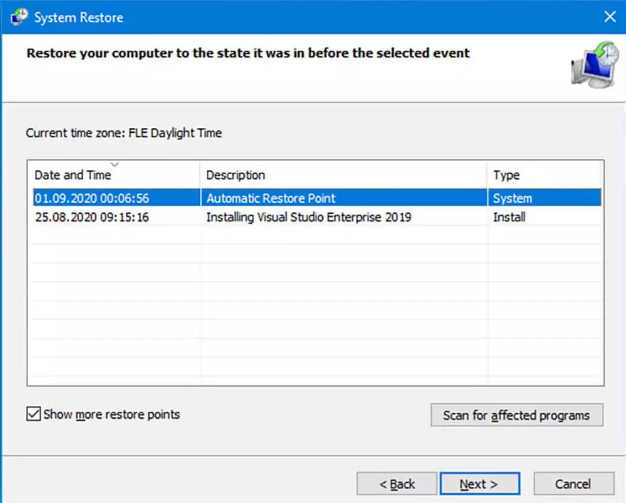 Once done with the above steps, restart your system to save the changes and check if you can access those files.
Method 04: Recover Data Using Professional Data Recovery Software
Sometimes, Windows' inbuilt recovery tools may fail to restore your deleted data. If you want to recover your deleted files even after emptying recycle bin, you can use a professional data recovery software. Luckily there are several such recovery tools available online that you can use to recover your lost data.
We recommend using Stellar Data Recovery Professional as it offers several amazing features that simplify and simplify your data recovery. Let's check these features of Stellar Data Recovery Professional which makes it best for your data recovery:
The software can easily recover your deleted files due to accidents, formatting, partition loss, device corruption, etc.
Restore data deleted from internal and external storage devices, including your device HDDs, SSDs, encrypted devices, etc., with ease.
Supports recovery of files of multiple types, including photos, videos, audio, documents, etc.
The software is compatible with Windows and Mac devices, so you can use it on any device accordingly.
You can quickly go through the following steps to learn how to recover deleted data using the Stellar Data Recovery Professional tool:
First, you need to download and install the software on your device.
Launch the software and select the type of data you need to recover from the main interface, and click the Next button.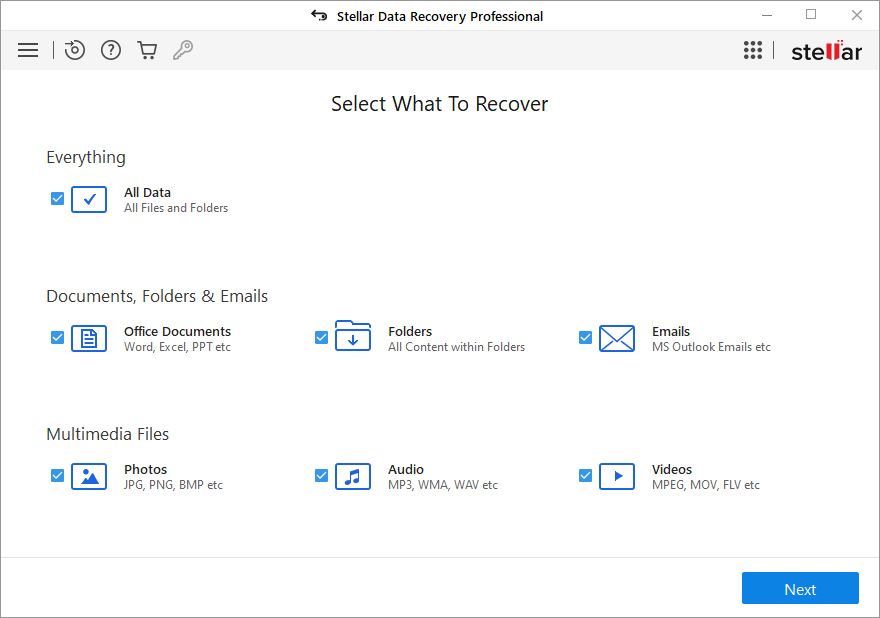 Now, you need to select the storage location from where you need to recover your files.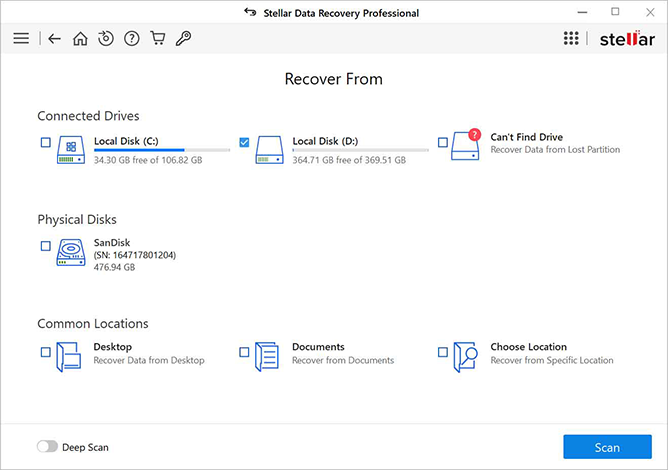 The app will now start the scanning process to detect your recoverable files. After successful scanning, preview the files, select the files you need to recover, and click the "Recover" button to save them.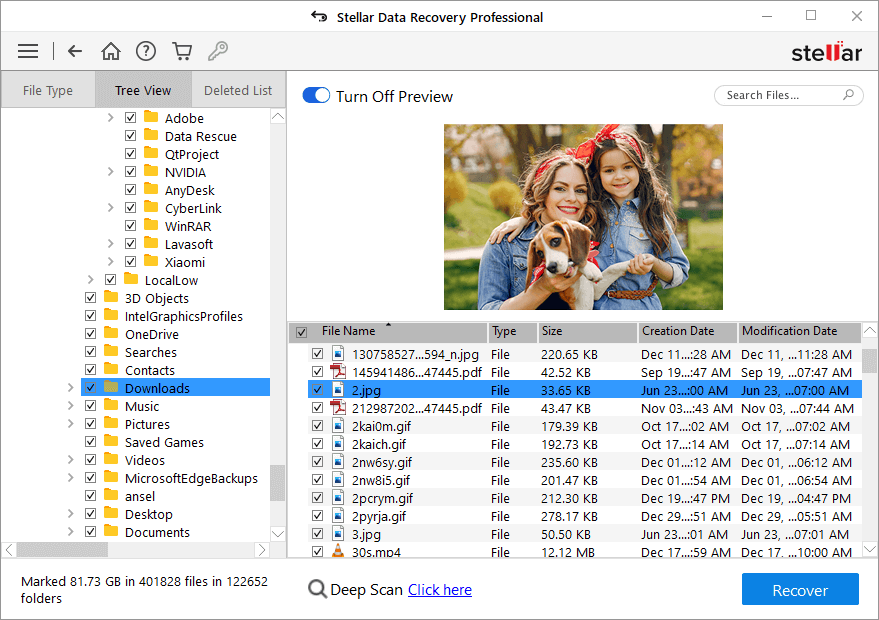 Tips to Prevent Data Loss on Windows Devices
Keep the following points in your mind to prevent data loss issues on your device:
Always make a backup of your important data files. Having multiple backups help a lot when data loss occurs.
Always scan your PC for viruses or malware regularly.
Keep the software and OS installed in your system updated.
Make sure you always download software on your device from trusted websites.
Wrapping Up
Losing important data can be terrible, especially when you lose something important from your device. With the above-mentioned best methods of data recovery in 2023 described in this article, you should be able to get your files back.
The most important thing you must remember is to have backups of your important data.  If manual methods fail to recover your data, you can use the Stellar Data Recovery Professional tool and get your lost and deleted files back in 3 simple steps.