Dhani Harrison is a British musician, composer, and singer-songwriter born on 1 August 1978. He is George and Olivia Harrison's lone child. After his father passed away in November 2001, Dhani made his debut as a professional musician by helping to record his father's final album, Brainwashed, and finishing it with Jeff Lynne's help.
In 2002, Harrison started his own band, thenewno2, which has played at festivals including Coachella and was hailed by Spin magazine as one of the "best debut performances of the festival." The group has appeared three times at Lollapalooza, with Harrison performing "Sweet Jane" by The Velvet Underground with festival creator Perry Farrell in 2010.
Harrison's first solo album, IN///PARALLEL, was published in 2017. His debut solo album's live performance is featured in the 2019 movie IN///PARALIVE, captured in the round at Henson Studios in Los Angeles. Rolling Stone called Harrison's most recent single, "Motorways (Erase It)," "a psychedelic track with a robust beat."
Harrison began working as a composer in 2013. Harrison composed the music for the Warner Bros. film Beautiful Creatures with his writing partner Paul Hicks. Harrison went on to collect the theme for the television programs Good Girls Revolt, The Divide by AMC, Seattle Road, Learning to Drive, and Outsiders, which Paul Giamatti produced.
For their contributions to the Sundance Film Festival Award-winning documentary Matangi/Maya/M.I.A., Harrison and his writing collaborator Hicks were nominated in 2018 for the International Documentary Association Awards 'Best Music Score' category.
Harrison recently composed and recorded the theme song for the Netflix original series Dogs worked with Paul Hicks on the Bill Gates Netflix docuseries Inside Bill's Brain: Decoding Bill Gates and scored the 2020 RZA film Cut Throat City. They also scored the four-part HBO documentary series The Case Against Adnan Syed.
Dhani Harrison Net Worth: How Much Money Does He Have?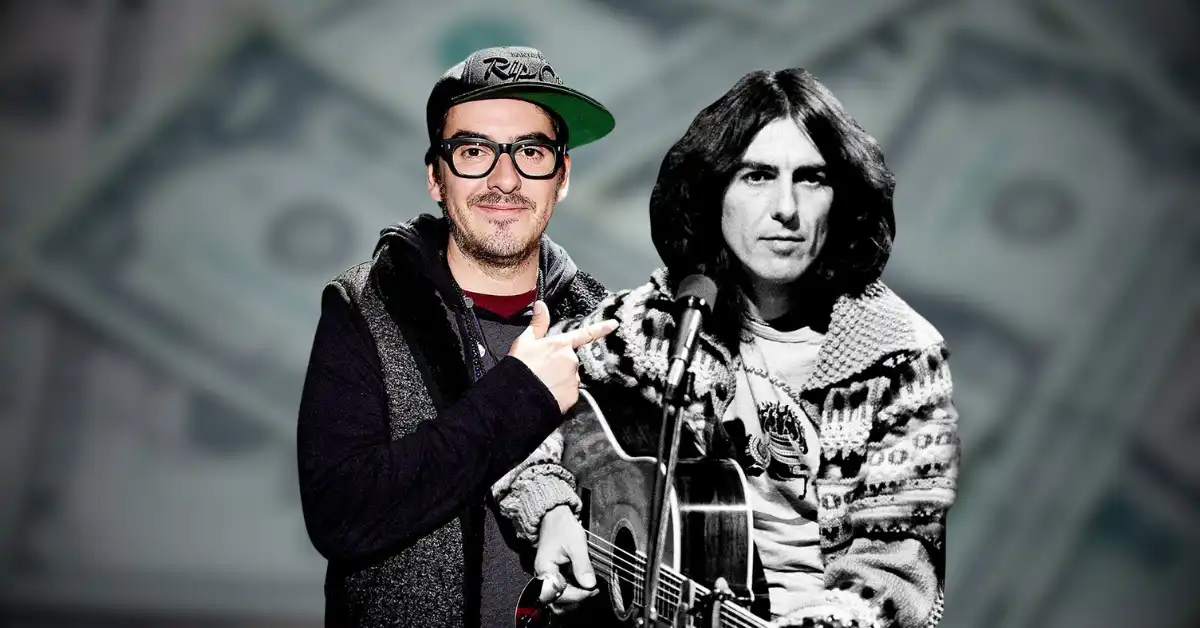 The British musician Dhani Harrison has a $300 million fortune. The late Beatles guitarist George Harrison and American novelist Olivia Harrison's son, Dhani Harrison, was born. 400 million dollars was George Harrison's net worth at the time of his passing in 2001.
He left Olivia and Dhani an equal share of his estate. Born on August 1st, 1978, Dhani was raised at Friar Park, his father's sizable country home. Dhani loved music and Formula One racing when he was younger. He frequently went to Formula One races with his father.
He also began playing the piano at a very young age. Dhani received a physics and industrial design degree from Brown University. He temporarily worked in the aerodynamics sector before abandoning it to focus solely on music. Dhani has performed on several tracks with some of the most well-known musicians.
How Much Property Does Dhani Harrison Own?
Dhani paid $2.625 million in March 2008 for a residence on one of Venice, California's famous canals. He occasionally rented the place for $10 to $15,000 a month. In April 2018, he sold this house for $4.525 million.
You may also view the wealth of other celebrities by looking at the list that we have provided below:
How Did Dhani Harrison Start His Career?
Before following in his father's footsteps and pursuing a career as a musician, Harrison initially worked as a car designer at McLaren Automotive. He started assisting his father during the recording sessions for the songs included in the "Brainwashed" album project.
Throughout this process, he got a ton of useful production and performance experience. Harrison and Jeff Lynne finished "Brainwashed" when Harrison's father died in 2001. The song "Marwa Blues" from the album won the Grammy Award for Best Pop Instrumental Performance in 2004.
Harrison took part in the "Concert for George," a gathering put on by Eric Clapton, on the day marking the first anniversary of his father's passing. Along with Paul McCartney, Ringo Starr, Billy Preston, Ravi Shankar, Tom Petty, Jim Keltner, Joe Brown, and Jeff Lynne, it also included some of his father's friends and collaborators. Harrison provided acoustic guitar support for the majority of the performance.
When his father was inducted into the Rock & Roll Hall of Fame in 2004, Harrison sang "While My Guitar Gently Weeks" on stage alongside Tom Petty, Steve Winwood, Prince, and other musicians.
Harrison appeared on Liam Lynch's "Lynchland" podcast video variety show in March 2006. He sang a duet that was later included on Lynch's record. The 2007 album "Instant Karma: The Amnesty International Campaign to Save Darfur" is a memorial to John Lennon and features him as well.