CBS must like being scared by the funny ghosts on Ghosts because the network is bringing back the comedy for another season. The third season of Ghosts will be on CBS in the fall, along with other comedies like Young Sheldon, The Neighborhood, and Bob Hearts Abishola.
CBS says that Ghosts, which is based on the same-named BBC show, was one of the top four comedies on US TV in the 2022–2023 season. Sam, Jay, Isaac, Alberta, Pete, Trevor, Flower, Hetty, Thorfinn, and Sasappis are just some of the characters that fans have grown to love on the show. Ghosts season 2 ended on a cliffhanger, so many people may be wondering what season 3 has in store.
Here's what we do know about Ghosts season 3 right now.
Ghosts Season 3 Expected Release Date
CBS has said that Ghosts season 3 will continue to air on Thursdays at 8:30 p.m. ET/PT after Young Sheldon season 7 during the 2023-2024 TV season. But we don't have an exact date for when the new season will start.
One reason for this is that writers are still on strike, trying to get a better deal from companies. Depending on how long the strike lasts, the new TV season could start later than planned.
But if everything works out and the fall TV season starts more or less on time, Ghosts season 3 could start in the middle or end of September. The second season of Ghosts began on September 29.
Here is an Official Tweet on Ghosts Season 3
#GhostsCBS is booking another stay for season three! We can't wait to haunt these halls for a third season 👻 pic.twitter.com/e9gEMuOU8i

— Ghosts (@GhostsCBS) January 12, 2023
You Won't Be Able to Stop Watching These Addictive Seasons:
What Do We Know So Far About Ghosts Season 3?
There is no stated plot for Ghosts season 3, but how season 2 ended will have a big effect on what comes next for the comedy.
In the last few minutes of season 2, Sam and Jay see a light coming from the house. This light means that one of the ghosts has been "sucked off," or has moved on to the next life. Jay hopes it's Trevor, but it's not clear who it is.
The next season will be all about finding out which ghost has moved on and what that means for the other characters.
Who Will Join the Ghostly Cast in Season 3?
We don't yet know who got "sucked off," so until CBS tells us, it's hard to say for sure who all from the Ghosts group will be back for season 3. Even though we know for sure that Sam McIver and Utkarsh Ambudkar will come back as Sam and Jay, living people, they are not going on to the next life.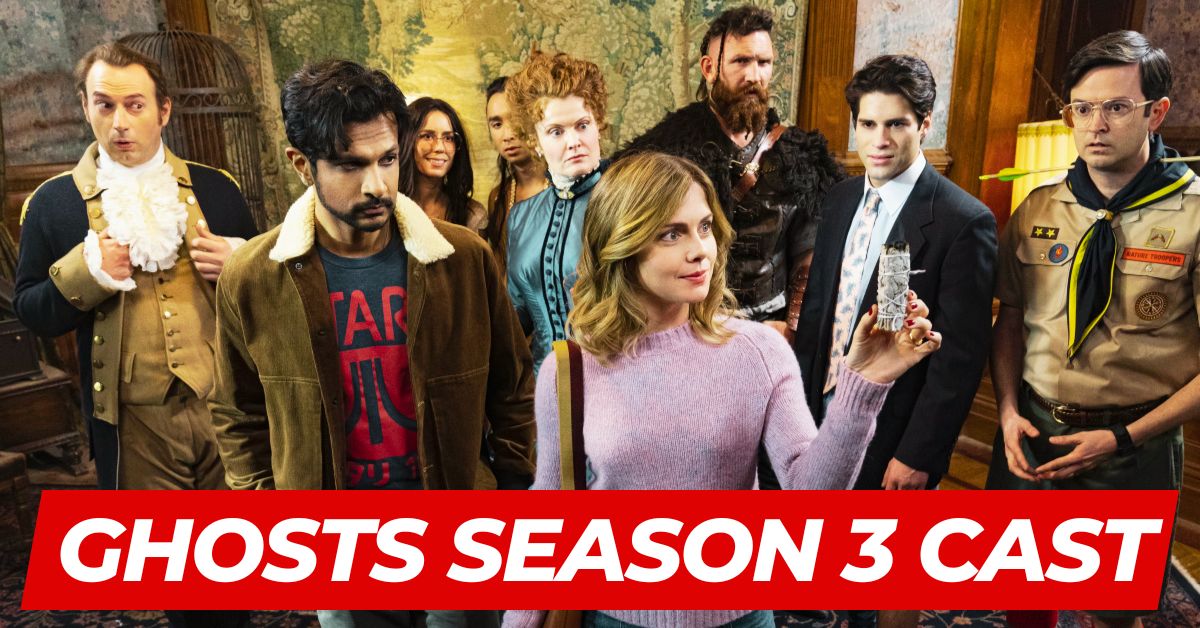 Brandon Scott Jones (who plays Isaac), Richie Moriarty (who plays Pete), Danielle Pinnock (who plays Alberta), Asher Grodman (who plays Trevor), Sheila Carrasco (who plays Flower), Rebecca Wisocky (who plays Hetty), Roman Zaragoza (who plays Sasappis), Devan Chandler Long (who plays Thorfinn), and John Hartman (who plays Nigel) all play ghosts. Hartman is the only one of these stars who doesn't have a regular role on the show. This may mean that he is the most likely to leave the show.
Is There Any Trailer for Ghosts Season 3?
No trailer for season 3 of Ghosts has come out yet. When one is ready, we'll add it to this page.
Where to Watch Ghosts Season?
You can catch up on the comedy series Ghosts until CBS airs new episodes. You can watch it on Paramount Plus.
Frequently Asked Questions
Are Ghosts coming back for season 3?
CBS has said that Ghosts season 3 will continue to air on Thursdays at 8:30 p.m. ET/PT after Young Sheldon season 7 during the 2023-2024 TV season.
When did Ghosts season 3 come out?
The third season of Ghosts came out on August 9, 2021, and it had six episodes.
Where can I watch Ghosts season 3?
At the moment, you can play "Ghosts – Season 3" on HBO Max, HBO Max Amazon Channel, or buy it as a download on Apple TV, Google Play Movies, Vudu, and Amazon Video.