Jacob Degrom Right Elbow Inflammation
DeGrom was put on the 15-day injured list by the Rangers on April 29 due to his right elbow inflammation.
The Rangers have placed RHP Jacob deGrom on the 15-day Injured List with right elbow inflammation.

RHP Yerry Rodríguez (#57) has been recalled from Round Rock (AAA) and will be available for tonight's game vs. NYY.

— Texas Rangers PR (@TXRangersPR) April 29, 2023
DeGrom admitted to reporters on Sunday that participating in the IL was difficult.
The Rangers announced that Jacob deGrom left tonight's game with forearm tightness pic.twitter.com/qJs7pmWQSp

— FOX Sports: MLB (@MLBONFOX) April 29, 2023
"Obviously, the goal (this season) was to not go on the IL. The goal was to make 30-plus starts and put this team in position to win," deGrom said, per The Associated Press. "It's disappointing to not be able to do that right now, but (I have to) stay optimistic about it. Everything structurally looks fine, so get a little bit of that swelling out of there and pick up from there."
Bochy said that deGrom was taken out of the game as a safety measure.
Initially, the team described DeGrom's injury as "right forearm tightness."
Manager Bruce Bochy said that Jacob deGrom has some right forearm tightness and they are being cautious with him.

More info to come as they see how he feels tomorrow.

— Kade Kistner (@KadeKistner) April 29, 2023
These Articles Have Been Making Headlines:
Jacob Degrom Expected Return
DeGrom will be out for at least two weeks after being placed on the injured list. He will be able to go back to work in the middle of May, but Evan Grant said on Tuesday that he will be out for longer than the minimum 15 days.
According to DeGrom's recent injury history, he suffered a side injury in 2021, forearm tightness later that same year, a stress response in his scapula in 2022, and a side issue this year. DeGrom also had Tommy John surgery when he was in the minor leagues, and he missed the 2011 season to heal.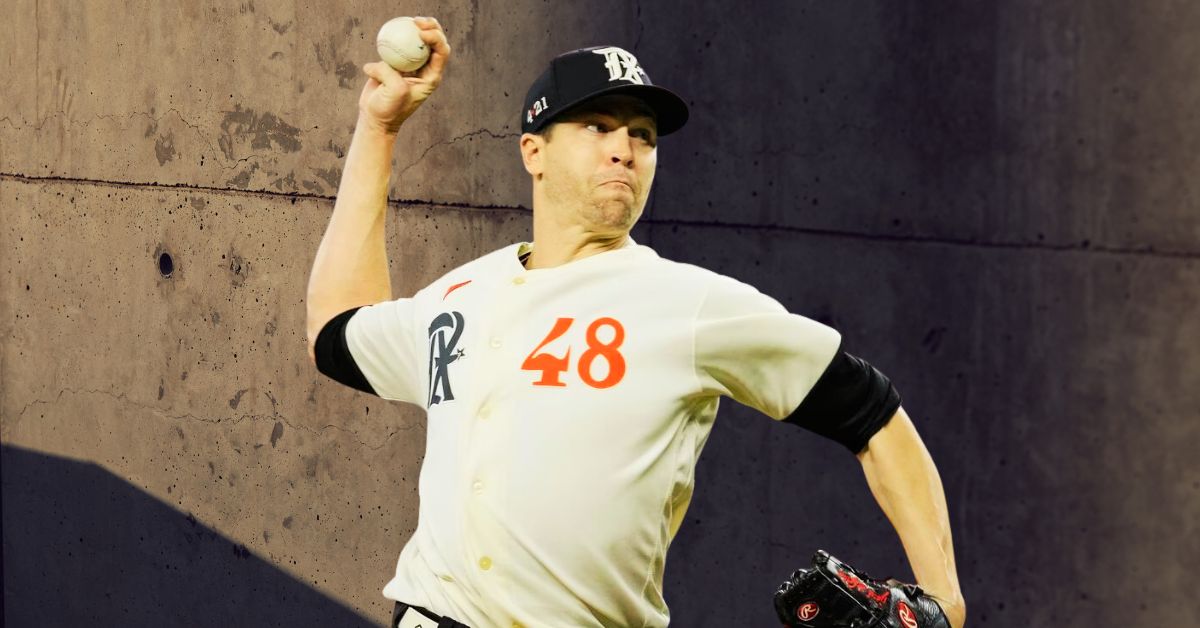 Rangers Signed Jacob deGrom Despite Injury History
The Rangers knew about Jacob deGrom's injury history before they gave him a five-year, $185 million contract last offseason. Both of the previous seasons, the former Mets ace spent a considerable amount of time on the disabled list, but the Rangers gambled on him anyway due to his potential.
After getting hit around in the Rangers' season opener against the Phillies, DeGrom has pitched effectively this year, but he left early in two of his last three appearances before landing on the IL on April 28 against the Yankees.
His right (pitching) arm was hurt against the Yankees, and his wrist was hurt on April 17 while playing against the Royals. DeGrom walked Anthony Rizzo and allowed a hit to Willie Calhoun with two outs in the fourth inning before being taken out of the game. He had previously threw three scoreless innings against the Yankees. Calhoun hit DeGrom's final slider (89 mph) to the left field corner.