Noah Cyrus, the 25-year-old singer and actress, has spoken out against internet trolls who made her feel suicidal when she was just 11 years old. Recently, she announced her engagement to her boyfriend Pinkus.
However, she has faced relentless abuse about her appearance from online commenters who have tried to take away her joy and happiness.
Noah expressed her frustration on her Instagram Story, revealing that: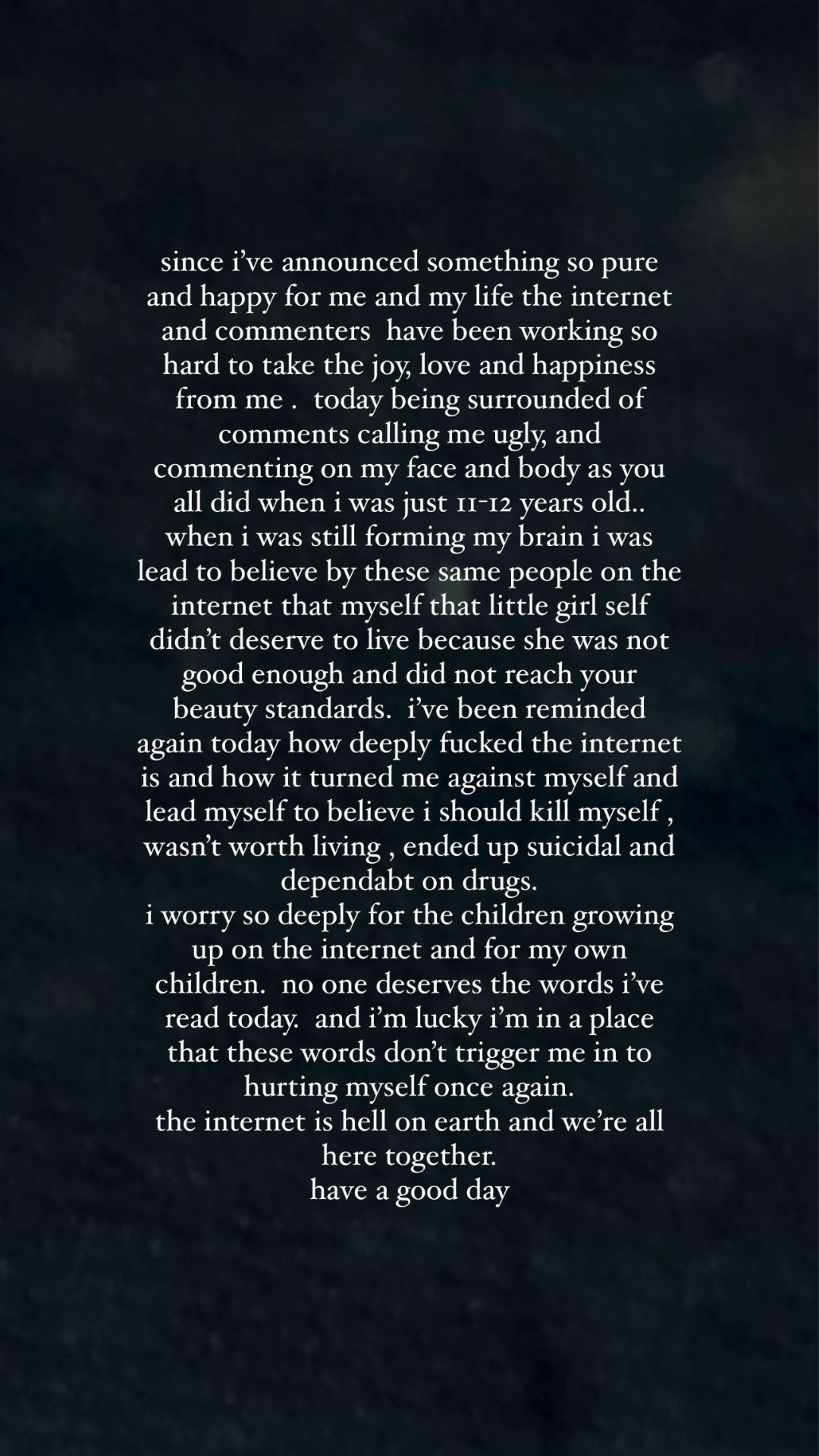 "Since I've announced something so pure and happy for me and my life, the internet and commenters have been working so hard to take the joy, love and happiness from me."

"Today being surrounded of comments calling me ugly, and commenting on my face and body – as you all did when I was just 11-12 years old."

"When I was still forming my brain I was lead to believe by these same people on the internet that myself – that little girl self – didn't deserve to live because she was not good enough and did not reach your beauty standards."

"I've been reminded again today how deeply f***** the internet is and how it turned me against myself and lead myself to believe I should kill myself, wasn't worth living, ending up suicidal and dependent on drugs."
Check out some other new content we've published:
The actress known for her role in 'July' has expressed concern about young people growing up in the digital age. She described the internet as a challenging place, often referring to it as "hell on earth". She emphasized the need for more "accountability" in online spaces to ensure the well-being of individuals, especially the younger generation.
She wrote: "I worry so deeply for the children growing up on the internet and for my own children.

"No one deserves the words I've read today, and I'm lucky I'm in a place that these words don't trigger me into hurting myself once again. The internet is hell on earth, and we're all here together…

"I bring this up because I know there are so many people being affected by these same words being told to them and far worse.

"We live in 2023, we have GOT to stop judging people for who they love, what they look like, where they come from, and how THEY live THEIR lives."

"I'm so sick of it. People are losing their lives to these type of words. Murderous words that you people drop at the press of a button, and there is never any accountability held. I'm so tired of seeing it on the daily. It really makes me sick."
Noah Cyrus says Internet trolls made her 'suicidal' at 11, won't let them ruin her engagement:
Noah Cyrus says Internet trolls made her 'suicidal' at 11, won't let them ruin her engagement https://t.co/zp1onguqhL pic.twitter.com/bl7hZB72Ux

— Page Six (@PageSix) June 30, 2023
Despite her concerns about the digital age and the internet being described as "hell on earth," the 'Ponyo' star concluded her message on a positive and hopeful note
She wrote: "You're all so beautiful, and I love you. I hope you feel my love from afar today, where you may be."
Follow us on Twitter and stay updated and entertained with the latest news and rumors from the world of celebrities.