Philip Rivers, a former American football quarterback, was born on December 8, 1981. He participated in the National Football League (NFL) for 17 seasons, mainly with the Chargers team. The New York Giants picked him fourth overall in the 2004 NFL Draft after he played college football for North Carolina State.
Later, the Giants dealt him to the San Diego Chargers during the draft. Rivers spent 16 seasons with the Chargers before switching to the Indianapolis Colts for his final campaign.
Since their union in 2001, Philip Rivers and his wife, Tiffany Rivers, have been living happily ever after. She and her hubby attended and were graduates of Athens High School, where they first met. Tiffany and Philip shared a common upbringing in Alabama, where they were both born and reared.
But their relationship didn't begin until middle school. The couple, who have been together since childhood, has nine children and will have a second kid in October 2023. Let's learn everything there is to know about Philip Rivers' kids.
How Many Children Does Philip Rivers Have?
Philip and Tiffany have nine children: seven daughters, Halle, Caroline, Grace, Sarah, Rebecca, Clare, and Anna, and two sons, Gunner and Peter. The couple is expecting their tenth child, a boy. Their tenth kid is expected in October 2023, and the couple is overjoyed. They have yet to decide on a name for their son.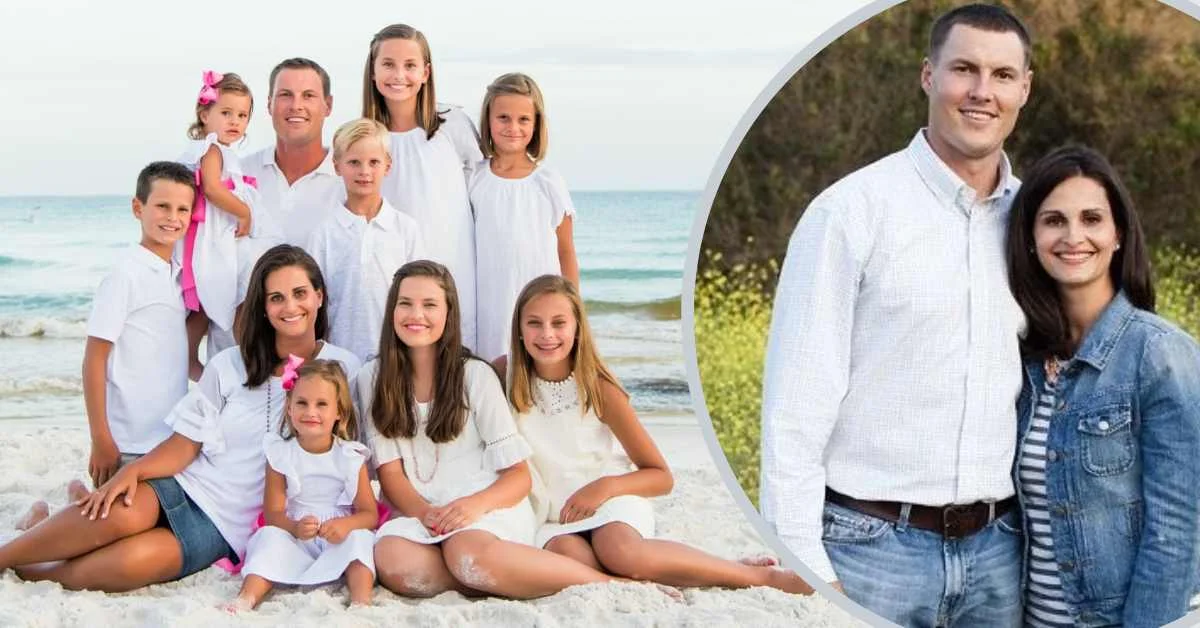 In an interview, Philip Rivers stated that he and Tiffany have had a child every two years, and the time between their ninth child, Anna, and their soon-to-be-born son is the longest they have gone without having a child. Everyone in the family, including the girls, appeared excited and hoping for a boy.
Philip and Tiffany Rivers have not decided how many children they want together. Philip Rivers is from a large family since his mother and grandpa are from households of nine children.
How Old Are Philip Rivers' Kids?
Halle, 20
Caroline, 17
Grace, 16
Gunner, 14
Sarah, 12
Peter, 10
Rebecca, 8
Clare, 6
Anna, 3
How Are Philip and Tiffany's Rivers Raising Their Kids?
Tiffany and Philip were best friends throughout middle school and high school. Tiffany and Rivers married shortly after the quarterback's first year at North Carolina State; Rivers entered the university one year before Tiffany. While still in college, they gave birth to Halle (20), their oldest child.
Rivers claims that the football season and the offseason are two separate times when and how he interacts with his children. He reportedly takes the kids up from school and drives them to Little League practice during the off-season. In the off-season, the emphasis changes.
Even during the season, Rivers tries to find time to spend with his children. He has dinner with his family on Tuesdays, Wednesdays, and Thursdays when he is not playing on Sundays. Additionally, he plays with them in the yard or reads stories to them. Another crucial night in the Rivers household is Monday because it is football night.
To watch "Monday Night Football," they all assemble around the TV with their plates of food. After a challenging day at work, Rivers frequently gets perspective from the kids. Gunner Rivers, whose first name is also Philip, stated in an interview that he sits with his dad before games and reviews the game strategy before talking about the game's big plays.
With seven girls and Tiffany living there, Rivers and his two sons are outnumbered, and even if there are additional children, this disparity won't change. Rivers is fine with the current state of affairs and accepts that each person is great in their special manner.
If you want to learn more about Philip Rivers and the top headlines that we have covered, click here. Must check out the links below:
What Do the Children of Philip Rivers Do?
His daughter Halle, who is 20 years old and in college, is Philip Rivers' oldest child. She enjoys reading and playing tennis. Caroline, 17 years old and a high school student, is his second oldest child. She's a basketball player.
Grace, who is third in line, is 16 years old. She is in the ninth grade and enjoys basketball and tennis like her sisters. The oldest boy in the group, Gunner, is 14 years old. While in seventh grade, he participates in every sport he can find and throws the ball with the same peculiar motion as his father.
Sarah, his middle kid, is twelve and in fifth grade. When the family relocated to Indianapolis, she began swimming and took home a gold. Ten-year-old Peter, his sixth child and a third-grader enjoys baseball, golf, the great outdoors, hunting, fishing, and slingshot competitions.
Rebecca, who is eight and in second grade, is kind and determined. She tends to ensure that issues are resolved quickly. Clare, born two years after Becca on the same day, carries on her sister's legacy. She just started preschool.
Although she has only participated in gymnastics up to this point, Rivers claims she has exceptional athleticism coursing through her veins. Three-year-old Anna is the youngest person in the house. She took 16 months to learn how to walk and enjoys reading.
Have a look at the post that we have provided to you below-
View this post on Instagram
What Profession Does Tiffany Rivers Have?
Along with managing her home and her kids, Tiffany runs a swimsuit company named Hermoza. In 2009, Tiffany and Philip founded a charity called Rivers of Hope to place orphans up to twelve with homes. Every year, they used to host a fun run to raise money for their foundation.
But as of 2012, the foundation has ceased to exist, and the 5K run has likewise been discontinued. Later in the year, Tiffany and her husband announced the beginning of the "Change the Game" initiative, which aims to raise money and awareness for Type 1 Diabetes. Hermoza, the swimsuit company she co-founded with her partner Marissa DeLecce, is a good fit for the ad.
If you want to read more articles like this, you can join us on our Twitter account.