Jeffery Michael Gordon, better known as Jeff Gordon, is a former professional stock car racing driver from 1993 until 2015. He drove the No. 24 Chevrolet for Hendrick Motorsports and became one of the most prominent drivers in NASCAR history. After retirement, he began a broadcasting career and is now the Vice Chairman of Hendrick Motorsports.
Jeff is a proud father of two children and a prominent sports personality. He has two children with his wonderful wife, Ingrid Vandebosch. They must have had a great time growing up together. So, who is Jeff Gordon's daughter, Ella Sofia, and what is her background? Let us explore in this article.
Ella Is The Eldest Child of Jeff Gordon
Ella Gordon is the daughter of Hendrick Motorsports Vice Chairman Jeff Gordon. He became a parent for the first time on June 20, 2007, at 9:09 a.m. in New York. She weighed 7 pounds, 1 ounce when she was born. Ella Sofia Gordon's father announced her birth on his website.
Gordon described the event as fantastic, and the pair was overjoyed. Jeff announced their pregnancy in December 2006. He posted on his website, just as he did when she was born that he and his wife were overjoyed.
He said that Christmas had come early for them that year because they had a very special gift for them. Her arrival made her parents very happy. Ms. Gordon must have had a wonderful childhood.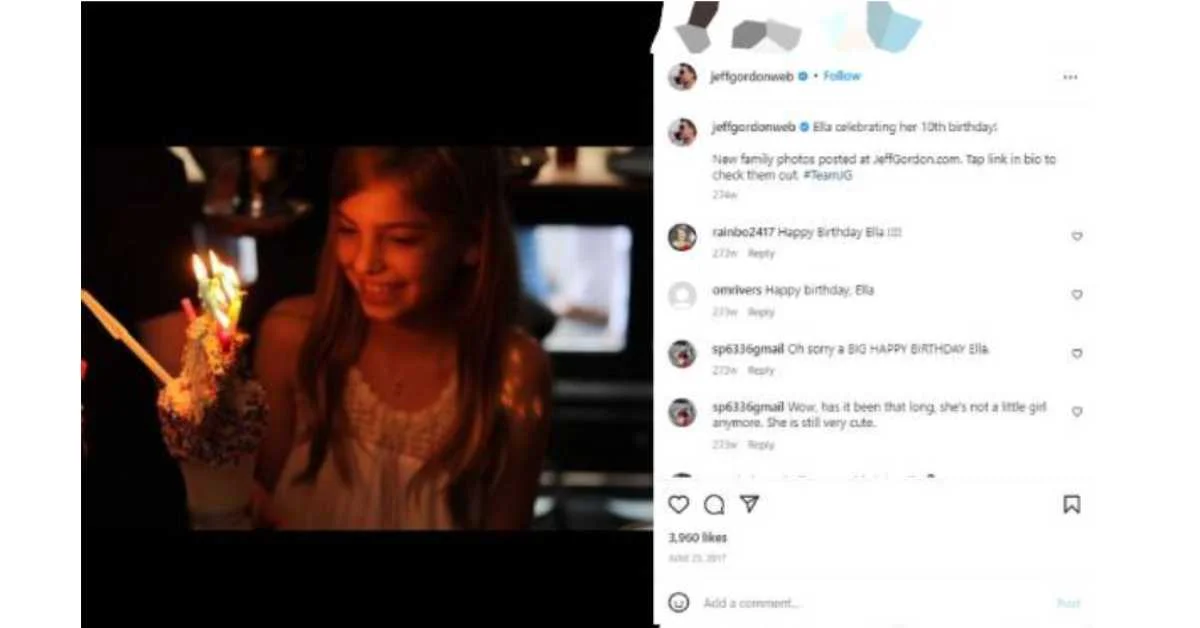 Many fans wonder if Ella, born to a famous racer and grew up in a racing family, has followed in her father's footsteps. Ella, whom Jeff calls his "little princess," has also become NASCAR's little princess. Even without her father, she is treated like a princess. Her grandfather, John Bickford, also taught her to communicate with the spectators by smiling and waving to the crowds.
If you want to check out more recent articles. So you can check the link below:
Jeff Gordon's daughter, fascinated with cameras, has taken after her model mother. Not only that but in September 2011, she met President Barack Obama. In addition, she and her mother were regulars at her father's races.
Ella is not only watching the races, but she has also begun to drive. Her first racing opportunity occurred in April 2014, when her father and mother put her on her first quarter midget.
Have a look at the post that we have provided to you below-
View this post on Instagram
When asked about the experience of witnessing his baby girl driving the midget, Jeff said he was worried because, as a dad, it was difficult to watch her cruise around there without control over what was happening. According to him, she isn't very interested in racing.
She spends much of her time around racing sports; therefore, it's not difficult for her to be influenced by them. On the other hand, Ella's parents do not want to restrict her from racing if she wants to.
Name Meaning: Ella Sofia
Ella is a girl's name with German and English origins. It means "all, completely; fairy maiden." Sofia, likewise, has a Greek name that means "wisdom."
Ella Has A Younger Brother
Ella is not her parents' sole child, as previously stated. Ella Sofia Gordon's parents announced her pregnancy on his website in February 2010. Then, on August 9, 2010, at 8:53 a.m., her younger brother Leo Benjamin Gordon arrived.
At the time of his delivery, her sibling weighed 7 pounds, 2 ounces. Her father also announced the news on his website. The Gordon siblings must have a close relationship.
Take a look at the post we've offered for you below-
View this post on Instagram
Furthermore, Ella Sofia Gordon's father and mother have been married since November 2006. 2004 the couple began their love connection after meeting at a party in 2002. The couple, who fell in love the first time they saw one other, have been enjoying their romance for years. Ella and her sibling had settled into a comfortable life in Charlotte, North Carolina's South Park area.