Dedric Willoughby, former Iowa State basketball player and Hall of Famer, died Wednesday night, July 19, 2023, while doing what he did best. He passed away while playing basketball.
Between 1995 and 1997, he was a Cyclones point guard for coach Tim Floyd and later played for Floyd with the Chicago Bulls. Willoughby died while playing pickup basketball near his Atlanta home.
Iowa State announced his death Thursday afternoon, confirming rumors circulating since that morning.
We lost a Legend.

Rest in Peace, Dedric Willoughby.

📰: https://t.co/UG1za1NW7h pic.twitter.com/8PEnhJQqzN

— Iowa State Men's Basketball (@CycloneMBB) July 20, 2023
Iowa State University announced Willoughby's death in the following statement:
Dedric Willoughby, an Iowa State Hall-of-Famer and one of the greatest shooters in Cyclone men's basketball history, died yesterday at the age of 49.

A native of New Orleans, Willoughby was the linchpin on two of Iowa State's most successful teams in 1995-96 and 1996-97, earning first team all-league honors and leading the team in scoring (20.5 ppg; 18.9 ppg) both seasons.

Willoughby played just two seasons at Iowa State. He began his career at New Orleans for future Cyclone head coach Tim Floyd, but when Floyd took the Iowa State job in 1994, Willoughby transferred to Iowa State prior to the 1995-96 season.

Iowa State was picked to finish last in the final season of the Big Eight Conference, but with Willoughby, and outstanding teammates Kelvin Cato, Kenny Pratt, Shawn Bankhead and Jacy Holloway, the Cyclones shocked the nation by finishing second in the Big Eight (9-5).

Willoughby was the Big Eight Newcomer of the Year and the catalyst in the school's first-ever Big Eight Conference postseason tournament title in 1996.

In the final Big Eight Tournament championship game, Willoughby calmly sank two clutch free-throws in the final seconds to propel the Cyclones to victory over No. 5 Kansas, 56-55. He was named MVP of the tournament.

In Willoughby's senior season (1996-97), the Cyclones rose as high as No. 4 in the AP poll and again placed near the top of the league standings, tying for third in the inaugural season of the Big 12 at 10-6.

Willoughby is remembered for his smooth jumpshot. He had a quick release and was extremely accurate, drilling 190 3-pointers at a near-40-percent clip during his career. Willoughby's nine 3-pointers vs. No. 1 Kansas in Hilton Coliseum in 1997 stood as the school standard for many years.

He made 102 3-pointers in his senior season, a total which still ranks No. 1 on ISU's single-season record chart.

Iowa State advanced to the Sweet Sixteen of the NCAA Tournament in Willoughby's final season. In his last game as a Cyclone, Willoughby made eight 3-pointers and scored 34 points against UCLA, as the Cyclones lost on a last-second shot (74-73) to miss out on the opportunity to advance to the Elite Eight.

His 34 points vs. UCLA equals the most by a Cyclone in a NCAA Tournament game.

Willoughby was named a Second Team All-American by Basketball Times in 1997 and ended his career as the first player in Cyclone history to score over 1,000 points (1,186) in just two seasons.

Willoughby played professionally for a number of years, making his NBA debut in 1999-2000 with the Chicago Bulls, reuniting with Floyd, who left Iowa State after the 1997-98 season to coach the Bulls. He averaged 7.6 points in his lone season in the NBA.

Willoughby was named to Iowa State's All-Century men's basketball team in 2008 and was inducted into the Iowa State Athletics Hall of Fame in 2012.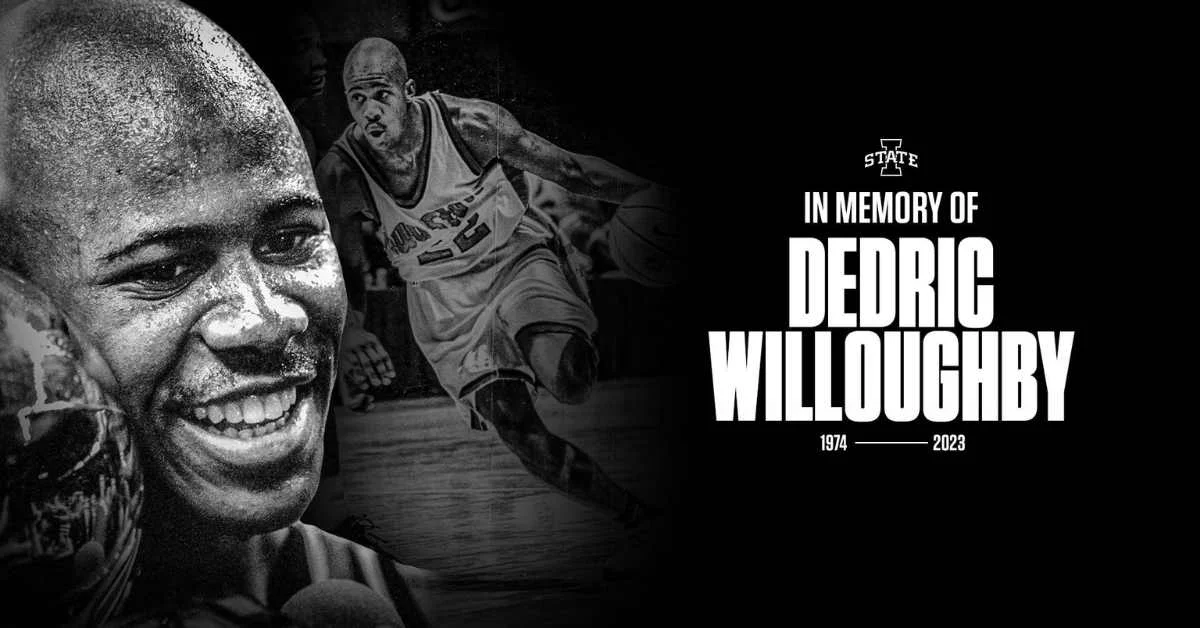 You can also explore additional obituaries of notable individuals here:
"Dedric just meant so much to my coaching career and our team," former Cyclones head coach Tim Floyd said, confirming Willoughby's death from a heart attack.
He had one of the quickest releases of his shot of anyone I coached – in college or in the pros. Incredible intensity. He had an uncanny ability to get his 3-point shot off as quick as anyone I saw.
Willoughby averaged 19.8 points per game and was the first player in Iowa State men's basketball history to score 1,000 points in a two-season career.
In 1997, he was an All-American after being fourth in the country in 3-pointers per game (3.8). Willoughby, a two-time All-Big Eight pick, was the Big Eight Tournament MVP and led the Cyclones to the conference championship in 1996.
Floyd added, "When I left to go to Iowa State after his second season, his mother called me."

She said, "When you recruited him, you said that you're going to take care of him, so I expect you to take him with you to Iowa State."

"I really wasn't sure he was good enough for what we had to do and who we had to play against, but I made a promise."
Throughout his great career, Dedric Willoughby proved many people incorrect.
Note: That's all we know for the time being about Dedric Willoughby. His obituary information is still unknown. We will get back to you as soon as possible with more information about him. During this difficult time, please express condolences and prayers to the deceased's family and friends.
Follow us on Twitter for the most up-to-date information on recent deaths, causes of death, autopsy results, obituaries, and more.