Ethan Slater is a talented actor best known for his remarkable work in the world of theater. He gained widespread recognition and critical acclaim for his portrayal of the iconic character SpongeBob SquarePants in the Broadway musical of the same name.
This outstanding performance earned him a prestigious Tony nomination for Best Actor in a Musical in 2018, along with several other accolades, including Outstanding Actor in a Musical at the 2018 Drama Desk Awards, Outer Critics Circle Awards, and Broadway.com Audience Awards.
Beyond his unforgettable role as SpongeBob, Ethan Slater continues to showcase his versatility and skill as an actor, captivating audiences with his exceptional talent on both stage and screen. Let's delve deeper into the life, career and personal life of Ethan Slater.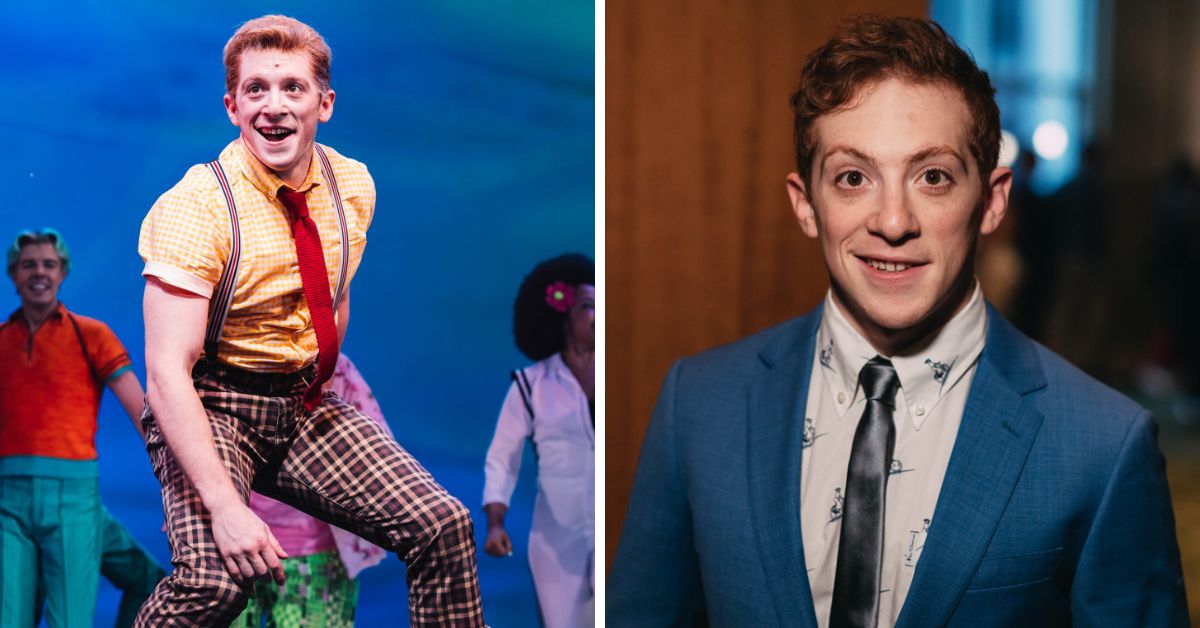 Which Character Does Ethan Slater Portray in the Upcoming 'Wicked' Films?
In the 'Wicked' films, Ethan Slater will be playing the character of Boq, while Ariana Grande will portray Glinda. In the stage musical, Boq falls in love with Glinda at Shiz University, but his love is not reciprocated. As the story progresses, Boq becomes an important character in the original Wizard of Oz story.
"I've got something to confess-a…. 🪓," Slater captioned a December 2022 Instagram post, which included a snap of his and Grande's feet from filming rehearsal. "In 1997 (July, apparently) I made my performing debut in a neighborhood community theatre and now I get to do this with the most unbelievable group of people — from toto to boq. I can't believe it."
'Wicked' Movie Casts Ethan Slater Opposite Ariana Grande and Cynthia Erivo (EXCLUSIVE) https://t.co/h1TOIG0SwX

— Variety (@Variety) December 7, 2022
Is Ariana Grande Dating Ethan Slater Now?
Ariana Grande is now dating her fellow actor, Ethan Slater, from the Wicked movie. This happened after she separated from her estranged husband, Dalton Gomez. The news about their relationship came out on July 20, and it seems like they've only been together for a short while.
"Ariana and Ethan have only recently begun seeing each other but they have a lot of fun together and are enjoying each other's company," the source said.
Shortly after news surfaced about Ariana Grande and Dalton Gomez getting divorced after two years of marriage, there were reports about Grande's new relationship with Ethan Slater. The sources revealed that Grande and Gomez decided to part ways in January.
Another source told Us, "Ariana and Dalton have been having some issues for months now," "They were having issues before she left for Wicked filming [in London] that they couldn't resolve, and the distance did not help. They haven't been speaking and are separated, and a divorce is likely."
ET confirms Ariana and Ethan's new relationship:
ET confirms Ariana and Ethan's new relationship.

They reveal that the couple "have a lot in common and have a lot of fun" and that "they didn't start dating until both were broken up with their significant others." pic.twitter.com/bW8YHsDsTz

— Pop Tingz (@ThePopTingz) July 20, 2023
Who is Ethan Slater Ex-Wife?
Ethan Slater's ex-wife is Lilly Jay, whom he married in November 2018. After news of his relationship with Ariana Grande came out, it was reported that he and Lilly Jay had separated.
In November 2022, Ethan celebrated their 10th anniversary as a couple with a heartfelt Instagram post, expressing his love and admiration for her.
Check out some other new content we've published:
Does Ethan Slater Have Children?
Yes, Ethan Slater has a son. He announced in January 2023 that he and Lilly Jay had welcomed a baby boy. He shared pictures of pregnancy tests and a onesie that said "wicked cute" in a slideshow post.
On Mother's Day in May 2023, he posted a photo of his and his son's hands, sending love and appreciation to Lilly Jay, whom he called the most loving, caring, and wonderful mom in the world.
Ethan Slater announced he had his first child with his wife in January. As of May he was tagging her in Mother's Day posts…that Ariana was liking. Make. the narrative. make. sense.
Ethan Slater announced he had his first child with his wife in January. As of May he was tagging her in Mother's Day posts…that Ariana was liking. Make. the narrative. make. sense. pic.twitter.com/QZZ5MikJPW

— Ej Dickson (@ejdickson) July 20, 2023
Frequently Asked Questions
Who is Ethan Slater in Wicked?
Slater plays Boq, a college friend of Elphaba (Cynthia Erivo) and Glinda (Ariana Grande) and a love interest for Nessarose (Marissa Bode) in "Wicked," which Grande also stars in.
How old is Ethan Slater?
Who is Ethan Slater? The 31-year-old is best known for playing the major character in the Broadway musical SpongeBob SquarePants.
Does Ethan Slater have kids?
In 2012, Slater started dating his high school friend Lilly Jay. In 2018, they tied the knot. In 2022, they had a son, their first child.