Antonio Brown is a famous ex-NFL player. He has had some problems and controversies during his 11-year career in sports, both on and off the field.
While many people know about his issues in the NFL, not much is known about his personal life, especially his romantic relationships.
Fans have always been curious about who Antonio Brown's wife is and who he has dated. If you want to find out more about his wife and dating life, check out the article below for all the details!
Read the latest article about a famous celebrity's wife below:
Who is Antonio's Brown Wife?
Antonio Brown, the ex-NFL player, is not married and doesn't have a wife. Even though he's had several girlfriends, he hasn't found the one he wants to spend his life with.
People have been curious about Chelsie Kyriss's relationship with Antonio Brown. They wondered if she's his wife, girlfriend, or the mother of his children.
Over the years, Brown has been with different women, including Shameika Brailsford, who is the mother of his first child, and Wiltrice Jackson, with whom he had his second child.
Later, he started dating Chelsie Kyriss, who already had two children from a previous relationship. They apparently met in 2012 through a mutual friend and began dating the same year.
Their relationship has had many ups and downs with a lot of drama. Although they got engaged in 2020, they broke it off soon after. So, Chelsie was never Antonio Brown's wife.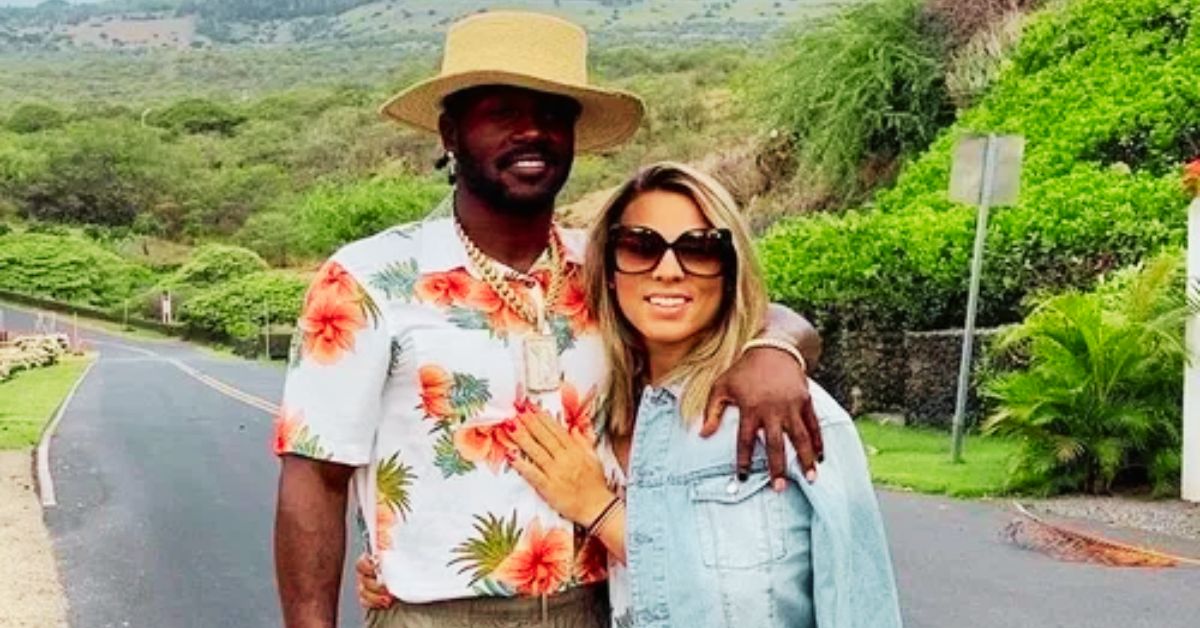 Who is Chelsie Kyriss?
Chelsie Kyriss is a mom and a businesswoman. She has four kids with Antonio Brown, three boys and a girl. They are no longer together as a couple.
Chelsie is active on Instagram and became well-known through her interactions with the media during her relationship with the NFL star.
Chelsie was born on September 1, 1989, in Springboro, Ohio, and is 33 years old as of February 2023. Her father, Todd Kryiss, works in a sports apparel business in Pennsylvania. Chelsie's ethnicity is Caucasian, and she holds American citizenship.
Chelsie Kyriss Instagram Post:
View this post on Instagram
Why Chelsie Kyriss and Antonio Brown Never Wed?
Chelsie Kyriss and Antonio Brown's relationship was full of problems and controversies. In 2017, Chelsie even sued Brown, claiming he made their home a hostile place for their kids.
Things got even more intense when Brown accused Chelsie of taking his Bentley and threw penis-shaped candy at the police, asking them to arrest her.
They often argued about their roles as parents, with Brown calling Chelsie an unfit mother, and she accused him of cheating multiple times. Chelsie also said she wanted him to get professional help for his mental health, but he didn't listen.
How Many Kids Does Chelsie Kyriss Have?
Chelsie Kyriss, although she never married Antonio Brown, shares a family with the former NFL player. They have three children together: Autonomy Brown, Ali Brown, and Apollo Brown.
Despite not being his wife, Chelsie has been a mother to their kids, and they have built a bond as a family. Apart from her children with Brown, Chelsie also has two other kids from a previous relationship, named Kellen and Brooklyn Green.
Chelsie Kyriss Childrens:
View this post on Instagram
Despite the ups and downs in her relationship with Antonio Brown, Chelsie remains a devoted mother to all her children, cherishing the unique family they have created together.
Stay updated with the latest celebrity news by following us on Twitter! Don't miss out on the latest updates, trends, and exclusive insights into the lives of your favorite stars.