Maude Apatow is a well-known American actress who starred in the HBO drama series Euphoria from 2019 to 2022. She is also well-known for her roles in television episodes and films such as Assassination Nation, Girls, and The King of Staten Island.
Maude Apatow made her acting debut when she was seven years old. Judd Apatow, her father, is a filmmaker, and Leslie Mann, her mother, is an actress. Maude has appeared in several of her father's films, including Funny People, This Is 40, and Knocked Up. Several prominent male entertainers have been associated with the American actress.
Aside from her professional accomplishments, fans have been curious about her personal life. Who is Maude Apatow's current boyfriend, and who has she previously dated?
Maude Apatow Boyfriend
Who is Maude Apatow dating now? According to rumors, the American actress is dating Sam Koppelnman. Sam Koppelman and Maude Apatow were seen at the New York Knicks vs. New Orleans Pelicans basketball game in New York City on January 20, 2022. You can check the Tweet we have provided to you below-
She's like the coolest person in here. Welcome, @maudeapatow!

📹 @DouglasElliman Celebrity Row pic.twitter.com/jmulttBhkU

— NEW YORK KNICKS (@nyknicks) January 21, 2022
Our source revealed that the two are dating but prefer to keep their romance private. Regardless, neither the couple has verified nor denied the rumors.
Maude Apatow's boyfriend is a New York Times best-selling author best known for co-authoring Impeach: The Case Against Donald Trump with Neal Katyal. He is also a speechwriter and has written for Time Magazine, The Washington Post, and The New York Times, among others.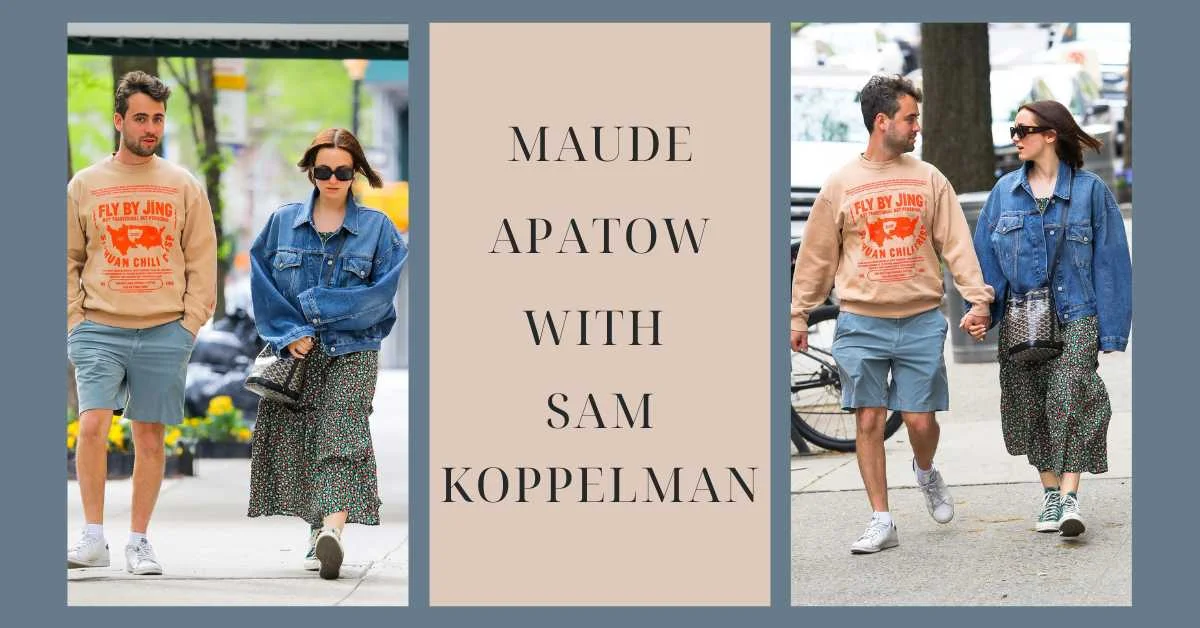 Maude Apatow's Dating History
Charlie Christie
Charlie Christie was one of the first people associated with the actress and the only Maude Apatow relationship she confirmed. Charlie is a United Kingdom-based talent manager. They began dating in April 2018, and after roughly two years, they decided to call it quits in 2020.
She told US Weekly 2018 that she enjoys collecting business cards from different restaurants and still had one from her first date with her partner at London's Bocca di Lupo. Charlie Christie and Maude Apatow celebrated their first anniversary in April 2019, as mentioned in a now-deleted Instagram post.
Charlie declared his love for Maude in an Instagram post on Valentine's Day in 2020. Their romance ended in 2020, and the actress removed images of herself with Christie from her Instagram account.
We've also talked about the boyfriends of some other important people you might be interested in:
Lukas Gage
Following their remarkable on-screen chemistry in the HBO drama series Euphoria, the American actress was rumored to be in a relationship with fellow actor Lukas Gage. They also co-starred in the 2018 black comedy thriller Assassination Nation. Lukas posted a photo of them cuddling on his Instagram page, fueling the rumors. You can check the post below:
View this post on Instagram
In addition, during a trip to New York in January 2022, he posted another photo with Maude and actress Sydney Sweeney. Maude's younger sister, Iris, fueled the fire by playfully claiming she could confirm the two were dating. Neither party, however, disputed or verified the rumors.
Angus Cloud
Angus Cloud is another actor who has been linked to the actress. They both appeared in the TV show Euphoria. They portrayed Lexi Howard and Fezco, respectively. In real life, fans assumed they were romantically engaged.
Angus commented on Apatow's on-screen persona, leading admirers to believe he admired the American actress. Furthermore, the two were seen having a dinner date on Valentine's Day, which Angus called A Lil NYC date.
In February 2022, the Euphoria stars wore matching tartan outfits at the debut of Thom Browne's Fall 2022 tartan line. Maude's father, who made multiple tweets about her daughter's strong relationship with Angus Cloud, further fueled the rumors. It was all supposition because neither of them had verified their relationship.
Take a look at the tweet that Angus Cloud officially shared on Twitter-
Fexi pic.twitter.com/uTK2L3E2ZW

— Angus Cloud (@anguscloud) February 16, 2022
Many people have been curious about Maude Apatow's partner since she rose to fame. She has been linked to a few high-profile guys but has only confirmed one relationship. Maude is dating Sam Koppelman now.
Many notable couples are now dating and may marry in the future. They have also made public statements about their engagement. Follow us on Twitter if you want to learn more about them.