Curious about the "Pumpkin" movie ending? Let's explore it together and discover the emotional resolutions that make us think deeply about relationships.
Pumpkin – The Unforgettable Romantic Comedy of 2002
"Pumpkin" is a romantic comedy movie from 2002 that tells a special love story. It's about a sorority girl named Carolyn McDuffy, played by Christina Ricci, who falls in love with a young man named Pumpkin Romanoff, portrayed by Hank Harris, who has some challenges in his development.
The film explores the themes of love, acceptance, and how society sees relationships in a different way. The story takes place in the United States and follows Carolyn's journey as she becomes involved with Pumpkin. As their relationship grows, Carolyn has to deal with people's expectations and prejudices about their unique love story.
The movie also has other talented actors, like Brenda Blethyn, Dominique Swain, Marisa Coughlan, and Sam Ball. When "Pumpkin" was released on June 28, 2002, it received mixed reviews from critics. But what makes it special is its handling of sensitive topics and the great performances by the cast.
Throughout the 117-minute movie, you'll laugh, feel emotional, and think deeply about love and understanding. "Pumpkin" leaves a lasting impact on those who watch this heartwarming and unique tale of love.
We explained the endings of these movies, Take a look!
Pumpkin Movie Ending Explained
In the movie "Pumpkin," the ending brings a happy resolution for the characters. Despite facing challenges and criticism, Carolyn and Pumpkin's love wins in the end. At the Challenged Games event, Pumpkin wins the race with encouragement from Kent.
When Pumpkin finishes the race, everyone congratulates him, including his mom, Kent, and the sorority sisters, who now appreciate Pumpkin's achievements. Carolyn, who had kept her distance from Pumpkin before, attends the event and sees him win. Pumpkin's mom finally accepts and appreciates Carolyn's role in his progress.
The movie's ending shows the importance of accepting and embracing differences. It proves that true love can overcome societal prejudices and make positive changes in people's lives.
The ending also leaves the audience wondering about the future of Carolyn and Pumpkin's relationship, as Carolyn's expression holds hope and curiosity. Overall, "Pumpkin" ends with a meaningful message about love, understanding, and personal growth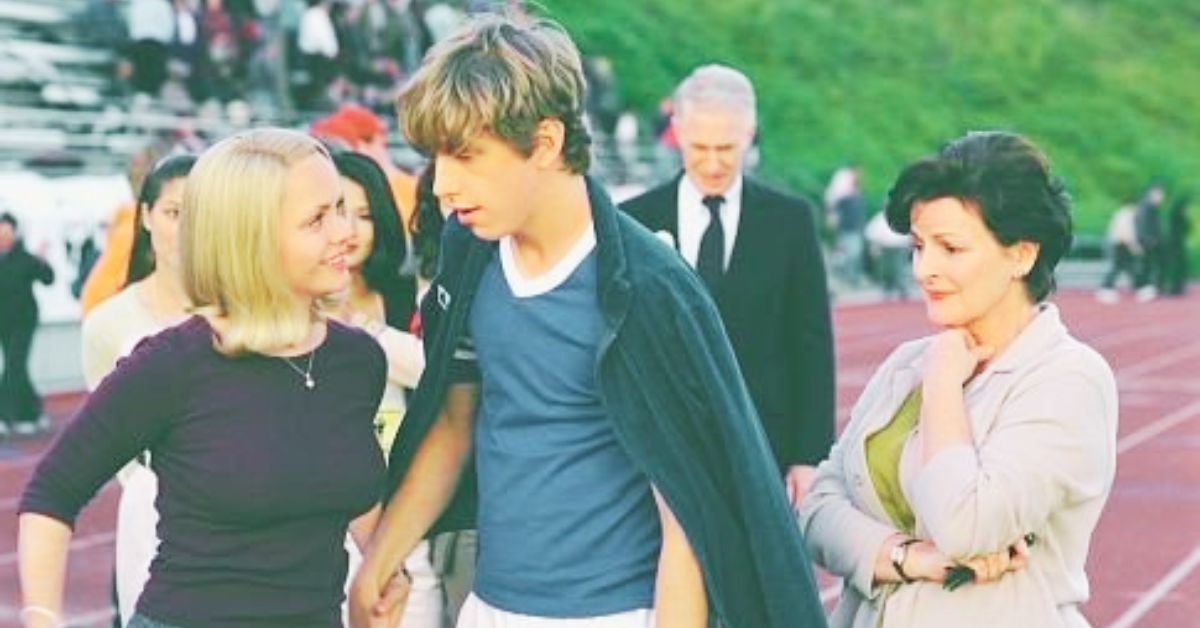 Pumpkin Review
"Pumpkin" is an extraordinary and meaningful romantic comedy that explores love, acceptance, and how society sees things. Christina Ricci plays Carolyn, a sorority girl who unexpectedly falls in love with Pumpkin, a young man with some challenges, portrayed by Hank Harris.
The movie handles their relationship skillfully and encourages the audience to think about their own beliefs about love and disabilities. Ricci and Harris have amazing chemistry, and their portrayal of this special romance is heartwarming and moving.
"Pumpkin" is not afraid to talk about tough topics like ableism and how disabilities are looked down upon. It sends a powerful message about understanding and empathy, urging viewers to see past appearances and value the humanity in every person. This thought-provoking film combines romance and social commentary, leaving a strong impact on the audience and making us think about how we treat people with disabilities in society.
Follow us on Twitter for a daily dose of excitement, celebrity updates, movie reviews, and more!