The stock of Lyft (LYFT) has gone into reverse. Following earnings, shares of the No. 2 ride-hailing company surged 14% after hours on Tuesday, 8 August. Investors were evidently duped into believing some of the first headline rosiness.
Despite intense competition from larger rival Uber (UBER), Lyft's revenue results were in line with expectations. That was regarded as a significant victory. Investors were also drawn to the company's third-quarter sales guidance, which came in a couple of million dollars ahead of expectations.
Despite the optimistic third-quarter projection, Lyft shares fell approximately 6%. The losses continued into Wednesday 9  August, with the stock down 7%. A brief comparison to Uber's second-quarter results from last week may help explain the share reversal. Experts think the company's fourth-quarter earnings guidance is also a concern.
Despite missing on the revenue line, Uber provided a more upbeat forecast and increased its free cash flow. Uber's net profitability was $394 million, a significant increase from the previous year's net loss of $2.6 billion. The core net loss for Lyft was $114 million.
Meanwhile, Uber's trip count increased by 22% in the third quarter. Lyft's active ridership increased only 8.2% year on year, implying that Uber will continue to gain market share. Finally, Lyft issued cautious fourth-quarter guidance as it invests in reducing rates and marketing.
"Softer pricing and higher marketing is a recipe for more EBITDA pressure," Jefferies analyst John Colantuoni told clients in a client note.
The Earnings Rundown
Here are the important figures reported by Lyft in comparison to Wall Street estimates, as collated by Bloomberg:
Revenue: $1.02 billion actual versus $1.02 billion expected
Adjusted earnings per share: $0.16 actual versus -$0.01 expected
Active riders: 21.5 million actual versus 21.1 million expected
Q3 revenue outlook: $1.13-1.15 billion actual versus $1.08 billion expected
Q3 ride-share volume growth outlook: +20%
Q4 margin commentary from earnings call: sees margins down versus Q2 levels amid insurance contract renewals and heightened competition.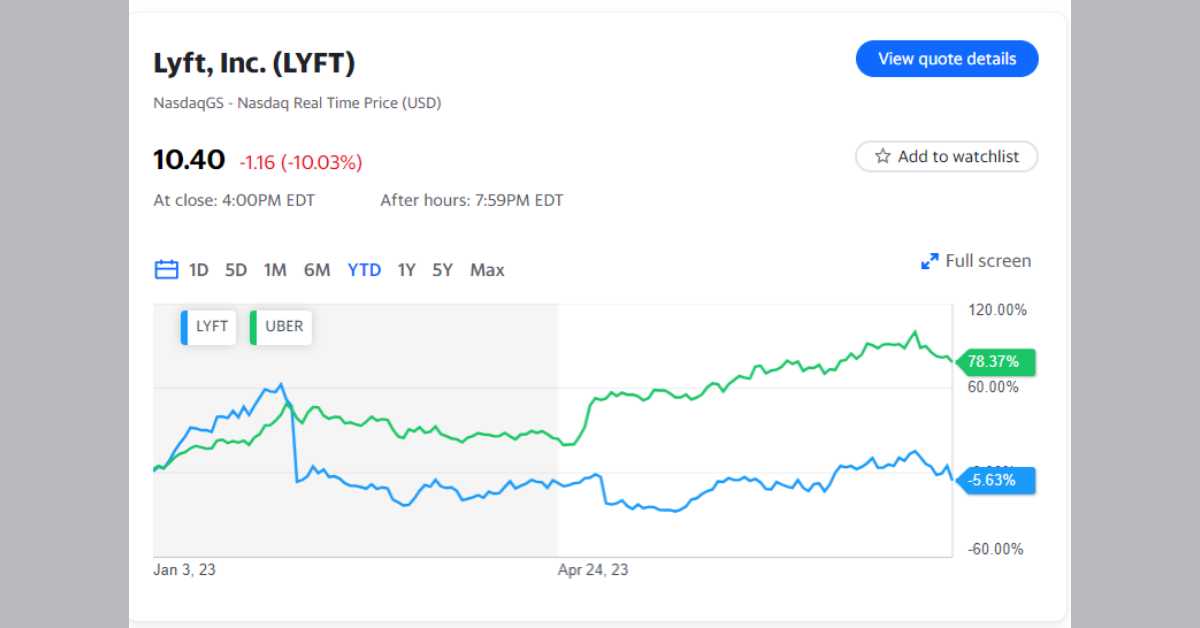 What We're Watching Pricing
Lyft management commented on its pricing efforts during the results call, as predicted by Wall Street. The corporation sounded eager for another price war with Uber.
Lyft's new CFO Erin Brewer told analysts, "Q2 represents a full quarter pricing ride-share competitively and roughly in line with the market. The balance in our marketplace improved, and we had strong driver growth and a strong mix of new and returning riders."
Have a look at the tweet that we have provided to you below:
Yesterday, Lyft's Q2 earnings exceeded expectations, causing their stock to initially rise by over 14% in extended trading. However, the ride-hailing service provider lost momentum, resulting in a 6.7% $LYFT price drop.

Not investment advice. Capital at risk. pic.twitter.com/GJshOHAO6F

— FlexInvest (@flexinvestapp) August 9, 2023
Lyft has pushed to be more competitive in pricing, and Uber has publicly taken notice, with Uber CEO Dara Khosrowshahi labeling Lyft a "tough competitor."
"They've taken some tough actions, and they are competitive in pricing now," Khosrowshahi said during the company's second-quarter earnings call. "Generally, our pricing is quite comparable to Lyft and that has resulted in, I'd say, a constructive competitive marketplace."
You must check out some recent articles we have provided to you below:
What Analysts Are Saying Post-earnings:
"LYFT's 2Q/3Q beat/raise was overshadowed by disappointing 4Q EBITDA guidance, which suggests pricing at parity w/ UBER is constraining profitability. The guidance also appears to incorporate a material uptick in 2H23 marketing spend, an indication that growth is becoming more expensive. Softer pricing and higher marketing is a recipe for more EBITDA pressure. We are keeping our est's/PT unchanged and remaining Hold, but now have a more negative bias post results." –Jefferies' John Colantuoni
"We continue to monitor Lyft's progress as the company reaccelerates growth and implements pricing changes and new products/features to support healthier marketplace dynamics for drivers and riders. We are encouraged by growth in rideshare rides as a whole (+18% Y/Y in 2Q23; +20% Y/Y expected for 3Q23) and see a positive read through from a demand perspective for Uber, with Lyft citing tailwinds from the ongoing return to in-office work and strong travel environment which should benefit both players in 2H23. We maintain our neutral rating and our target price rises to $11 from $10 following our model changes." – Dan Ives, Wedbush Securities