Zooey Deschanel, who has a great career as both an actor and a musician, has long been a household name in Hollywood. Deschanel's first credited role was on "Veronica's Closet" in 1998. Since then, she has appeared in a number of films and television shows, including "The New Guy," "Almost Famous," "Elf," "Bridge to Terabithia," "500 Days of Summer" with Joseph Gordon-Levitt, "Our Idiot Brother," and of course, the popular sitcom "New Girl," in which she portrayed Jess Day for six seasons from 2011 to 2017.
We're looking back at Deschanel's dating history, and there are a few surprising A-listers she's dated over the years, including a "Legally Blonde" actor and a few notable musicians.
Zooey Was Linked to This Legally Blonde Star
Zooey Deschanel allegedly dated "Legally Blonde" move on Matthew Davis from 2000 to 2001. Davis famously played Warner Huntington III, the man who dumped Elle Woods (Reese Witherspoon) soon before flying off to Harvard Law School.
While there isn't much information about their alleged relationship, Us Weekly adds that after Davis and Deschanel split, he married Leelee Sobieski, whom he eventually divorced in 2008.
Zooey Was Madly in Love With This Musician
Zooey Deschanel and actor/musician Jason Schwartzman, well known for his performances in "Spun," "Mozart in the Jungle," "Funny People," "Slackers," "Bored to Death," and "Wet Hot American Summer: First Day of Camp", dated from 2003 to 2005. In a Cosmopolitan profile in 2005, Deschanel dubbed Schwartzman "her first real boyfriend" and couldn't stop gushing about him and their romance.
The couple divorced in 2005, and Schwartzman later dated and married fashion designer Brady Cunningham in 2009. The couple had their first kid, a daughter named Marlowe, in 2010, and their second child, another girl, in 2014.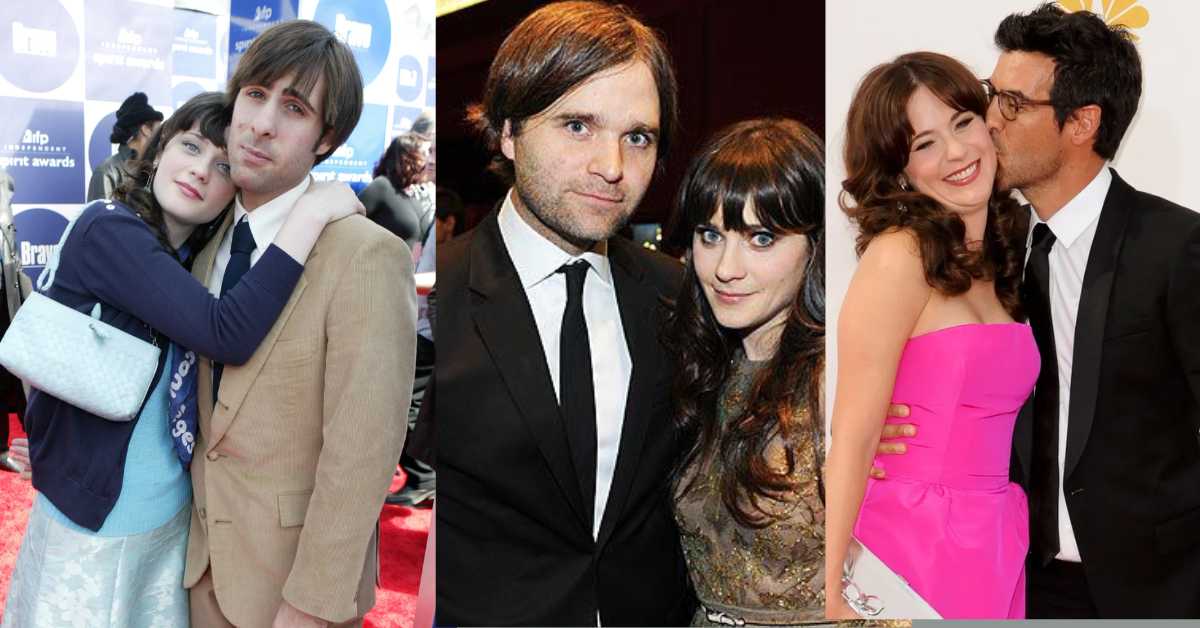 Zooey Married Death Cab for Cutie's Frontman
Zooey Deschanel and Ben Gibbard appeared to be a match made in hipster heaven, and when they married in 2009, admirers all over the world assumed the couple would genuinely go the distance. "I'd seen her in movies and obviously I thought she was very beautiful," Gibbard said of meeting Deschanel, according to Us Weekly. "I was just awestruck that she was even talking to me."
However, the couple abruptly parted in 2012, just over two years after saying "I do," and in a 2015 interview with Billboard, Gibbard opened up about Death Cab's eighth studio album, "Kintsugi," which was said to be partly inspired by his split with Deschanel.
"I'm not going to change the way I've always written for fear of people correctly or incorrectly assigning a name and face to these songs," Gibbard said to the site. "I've always written about my life and the lives of people around me, and how everything intersects."
You can also take  a look  at other famous celebrities' Dating History detail we have covered:
Zooey Moved on Fast After Her Divorce From Ben
Zooey Deschanel dated screenwriter Jamie Linden from 2012 to 2014, shortly after divorcing Death Cab for Cutie vocalist Ben Gibbard. While the couple kept their romance covert, Their divorce in August 2014, just around the time Deschanel was caught cozying up to Jacob Pechenik, who worked as a producer on her film "Rock the Kasbah."
Pechenik and Deschanel announced their engagement in January 2015 and married later that year in a private ceremony. Aside from their secret wedding, it was revealed that Deschanel had given birth to the couple's first child, a daughter called Elsie.
They received their second child, a son named Charley, two years later; however, just two years after the birth of their second child, the couple issued a joint statement announcing their divorce.
Zooey Has a Relationship With This Property Brothers Actor
Many fans and social media users became confused when news of Zooey Deschanel and "Property Brothers" actor Jonathan Scott's romance first surfaced in 2019. However, almost two years later, the HGTV star and new dating show host are still going strong – and haven't stopped gushing about one another ever since they met.
Zooey Deschanel of "500 Days of Summer" and reality TV personality Jonathan Scott are engaged after four years of dating. The 43-year-old American actress shares the happy news on Instagram with a snap of her engagement ring.
View this post on Instagram
Unlock the juicy secrets of celebrity love lives by joining us on our sizzling Twitter account!