Melissa Gorga claimed that her sister-in-law, Teresa Giudice, had a treatment to lengthen her forehead. More information concerning this alleged procedure, as well as Teresa's previous experiences with plastic surgery, can be found below.
Did Teresa Giudice Have Her Forehead Lengthened?
Melissa Gorga said on a recent episode of Bravo's RHONJ: After Show in March that it's usual for people to receive a "little tune-up" after seeing themselves on television for the first time.
"Teresa did her forehead. She went back a little further [with her hairline]. Everybody does something," claimed the Real Housewives of New Jersey actress.
Rachel Fuda expressed her whole support for the women's decision."I need to go a little forward. I got a little bit big of a forehead." Rachel spoke out.
Teresa Giudice has not responded publicly to Melissa's allegations about the alleged forehead lengthening treatment.
Did Teresa Giudice Have Plastic Surgery?
Although Teresa Giudice has not confirmed getting forehead lengthening surgery, her forehead has changed substantially from Season One to the Present, as evidenced by the photographs below.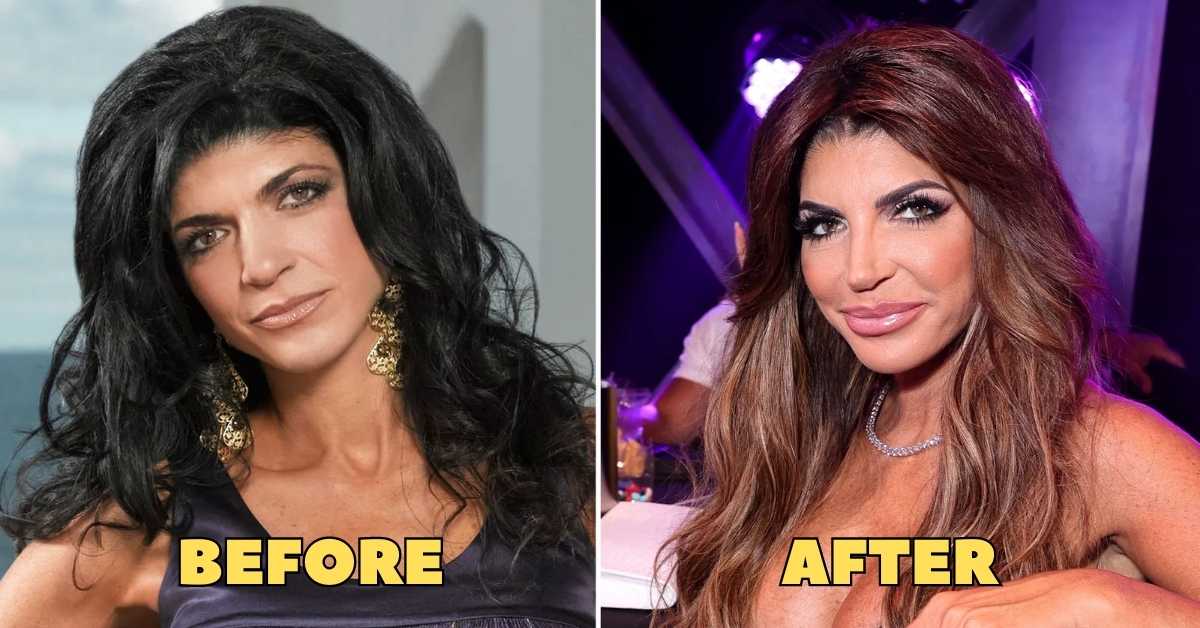 On the other hand, Teresa Giudice has already admitted to having undergone cosmetic surgery.
"I don't know if anybody knows, but I did get the tip of my nose done and I was so nervous about getting it," the TV personality admitted.
Teresa claims that her surgery was conducted by Dr. Geoffrey Tobias, a well-known New York City rhinoplasty specialist. "So I guess I got a nose job — the tip of it — and I used Dr. Tobias in Englewood, [New Jersey]. He was amazing," the mother of four said. "After I got it done, I didn't feel pain whatsoever."
You can check the statements in the post we have provided to you below:
View this post on Instagram
Visit the posts below to learn about other celebrities that have had plastic surgery:
Teresa has had various cosmetic operations done in addition to rhinoplasty. In fact, she disclosed to presenter Andy Cohen during a November 2018 episode of Watch What Happens Live that she had her breast implants changed just five weeks before the show's taping.
Teresa confessed, "I changed out my implants," saying that "they look fuller" despite being the same size.
"I believe it's important to always stand strong and feel like your best most confident self. 10 Years after my first Breast Augmentation I decided to have my breasts re-done," she posted on Instagram, adding that she "could not be happier with the results."
The Real Housewives of New Jersey actress said-
I was very nervous to re-do my breasts, but I felt it was necessary for me to feel like my best self. I encourage anyone who doesn't feel their best self to work on feeling better. Even if it is the smallest thing every day. If it is something that requires cosmetic surgery to feel better.
Stay in the loop! Join us on Twitter for a thrilling glimpse into the world of celebrity activities, health updates, and beyond. Don't miss out on the hottest scoop – follow us now!