When royal families have new babies, it's a really happy moment, but it also means that a new generation of the royal family is starting.
Prince Albert of Monaco has four kids, but only the youngest two, Prince Jacques and Princess Gabriella, are in line to become the next rulers.
Let's read on to learn about all of Albert's children and find out why we don't often see them together. Keep scrolling!
Jazmin Grace Grimaldi
Albert's oldest child, Jazmin, was born in March 1992 in Palm Springs, California. Jazmin's mom, Tamara Rotolo, met Prince Albert while on vacation in the French Riviera in 1991. Even though they had a short relationship, they didn't get married.
Jazmin Grace Grimaldi Instagram Post:
View this post on Instagram
Tamara decided to raise Jazmin away from the royal spotlight, so she grew up in the United States. She didn't really know her dad until she turned 11.
"I wanted that moment to connect with my father, to get to know him, and to have him get to know me," Jazmin shared with Harper's Bazaar in 2015. "Not having had that figure around, I missed that. It's wonderful that it happened when it did, and we've been enjoying a great relationship ever since."
In 2006, Albert officially recognized Jazmin as his daughter. Since then, she's built a strong bond with her royal family, including her stepmom Charlene. However, she isn't in line to be a ruler since she was born outside of marriage.
Like her grandmother Grace Kelly, Jazmin is now an actress, singer, and philanthropist living in New York City. She started the Jazmin Fund at just 14, a project that helps provide basic school and medical supplies to villages in Fiji.
Jazmin is also dating musician and actor Ian Mellencamp.
Check out some other new content we've published:
Alexandre Grimaldi-Coste
Albert's oldest son, Alexandre, was born in August 2003. He's the son of Albert and Nicole Coste, a former flight attendant from France and Togo.
View this post on Instagram
Albert and Nicole met in 1997 during a flight from Nice to Paris. They had a relationship that lasted for five years.
Unlike his sister Jazmin, it didn't take too long for Albert to officially recognize Alexandre as his son. In 2005, just weeks after the death of his father Prince Rainier III, Albert acknowledged Alexandre as his son. This happened after Nicole shared their child's existence with the French magazine Paris Match.
Now, father and son share a close relationship. They bond over sports and politics. Albert shared with PEOPLE,
"He's a very nice kid. I must say he has had a really good upbringing. He's a very nice and polite young man, and I'm always very happy to see him when I can."
Alexandre is now working as a model. He recently celebrated his 18th birthday in Monaco, and his dad threw a lavish birthday party for him at Jimmy'z Monte-Carlo club.
Just like his older sister, Alexandre isn't in line for the throne.
Prince Jacques and Princess Gabriella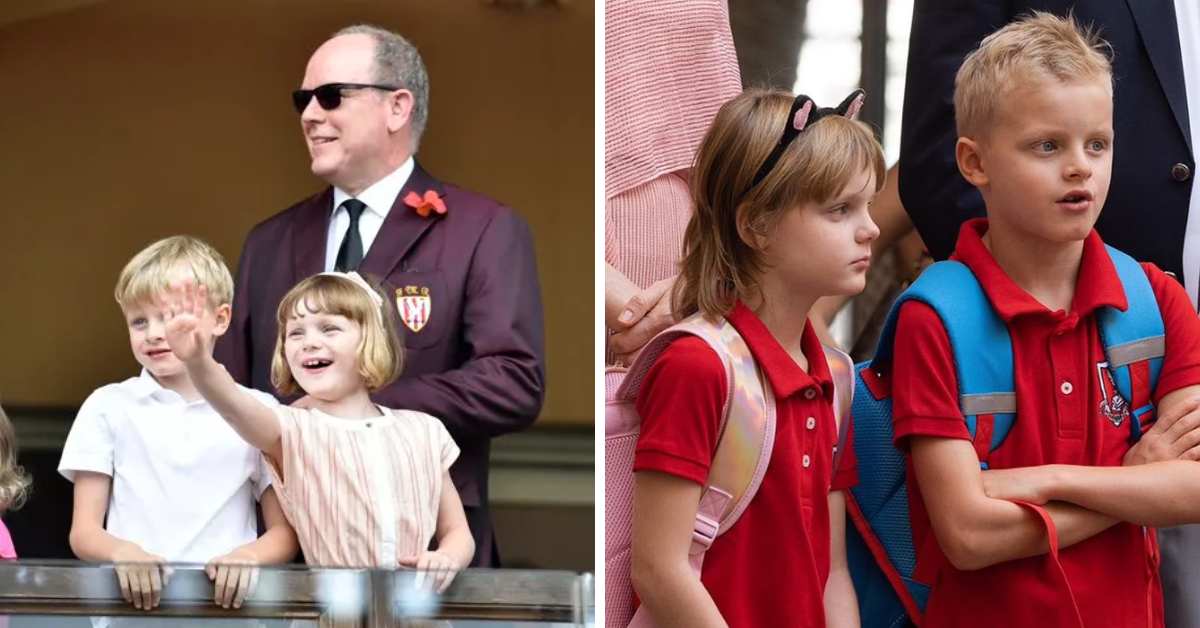 Even though they are Albert's youngest children, Prince Jacques and Princess Gabriella are the only ones in the official line of succession.
In December 2014, Albert and Princess Charlene welcomed their twins, Prince Jacques and Princess Gabriella.
Albert praised his wife's parenting skills, saying, "I don't think they would be as smiling and happy as they are if she weren't as good a mother as she is," when talking to PEOPLE.
Now, at seven years old, the twins are growing up quickly!
Stay in touch with us on Twitter for more interesting information about the lives of royal families, their journeys, and the stories that shape their legacies!